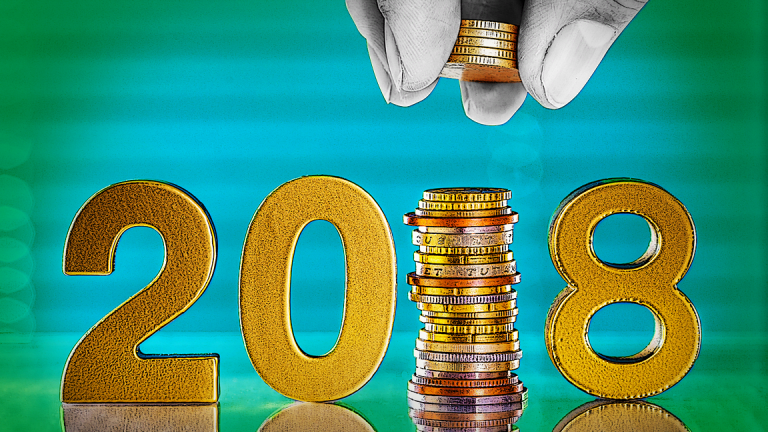 40 Stocks That Could Make You Rich This Winter
Stephen 'Sarge' Guilfoyle gives you a peek inside his order book. From Apple to General Electric, there are many good buys.
It's January, and while it's cold in many locales, the financial markets have been downright hot so far in 2018.
Can this uptrend keep going? Yes. But the constant 11-man blitz? No. It's true that earnings growth is real, and that corporate tax cuts will only enhance them. Those same cuts will also likely inspire some additional U.S. economic growth. I'll let the academics in their ivory towers fight over how exactly how much; I'm just here to make a buck.
Given all of the above, how am I hitting them? Let's see where we stand:
Banks
Although the Federal Reserve has been lifting the Fed funds rate for some time now, any increases to the yield curve's long end had always been fake-outs.
But while it seemed for a while like the 2-year/10-year U.S. Treasury yield spread was heading to below 50 basis points, this spread -- which is so important to traditional banking -- suddenly seems to be working its way closer to 60.
There's now optimism across the group as tax cuts kick in and foreign central-bank activity is expected to let up on the long end. Yes, there will be costly one-time charges associated with tax cuts, but they're a net positive for the group.
Citigroup (C) is still my favorite stock in the sector. Although the name has traded sideways of late, I still like it based on valuation and global exposure despite that expected $20 billion one-time charge related to tax reform. I've also been angling for a way to get involved in PNC Financial (PNC) , but am not currently in the name.
My regional-bank play is KeyCorp (KEY) , which has been an extremely positive contributor since mid-November. I also remain long two ETFs in this space -- the SPDR S&P Bank ETF (KBE) and the iShares MSCI Europe Financials ETF (EUFN) . KBE gives my portfolio broad exposure to the space, while EUFN does the same trick for me in Europe should the European Central Bank ever get its horse and ride the tightening trend a little harder.
Defense/Aerospace
The alarm bells have all gone quiet in this space. North and South Korea seem to love each other again, and the upcoming Winter Olympics outside Seoul should be a piece of cake.
But all of that means nothing over the long term, gang. After all, North Korea remains unpredictable, the global threat of terrorism hasn't gone away, there are bad actors throughout the Middle East and Asia, and Russia is still ... well, Russia.
So, my favorite names in this sector remain Raytheon (RTN)  and Lockheed Martin (LMT) , and both have been excellent plays for me so far in January. Fortunately, I added a bit to my LMT long on a discount in December.
Elsewhere in the sector, II-VI (IIVI)  has seemingly recovered from an early December sell-off and is now approaching a so-called "double top." I've stuck it out so far, but I'm a little less trusting of this name these days.
As for Kratos Defense (KTOS) , what can I say? I took profits back in October at advantageous prices, and then I bought the shares back in November at what seemed at the time like a discount. I'm up small from there, but the company's debt load just seems to be a bit weighty this time around. This must be the only defense stock that's fighting a back-and-forth battle in January.
Energy
Regular readers know that I don't trade the whole energy sector, just two stocks that I love to trade because I think I'm pretty good at it -- Apache Corp. (APA) and Schlumberger (SLB) .
It sounds like bragging (and maybe it is), but the trading that I did with Apache in 2017 was among the best of my career. I originally got into the name early in the year in the high $50s (vs. the stock's $43.16 price late Friday). But APA began to move so predictably by early August that by simply trading its established support and resistance levels, I was able to turn a profit for the year. And now, my average price for Apache is very close to the stock's 2017 low.
More of What's Trending on TheStreet:
I remain long in the name because 1) it's winter, and 2) yes, the Saudis are going shopping. That said, despite signs of a breakout, I recently took a little off of the top on my Apache stake when the name passed $45. For now, I'm sticking with "Buy at $40, Sell at $45" until it doesn't work.
Meanwhile, my trading in Schlumberger has been far less prolific, but has nonetheless turned out to be very positive. This name has simply gone parabolic so far in 2018, and SLB still pays nearly a 2.7% dividend yield even at the higher prices. My advice: Buy some.
FAANG and FAANG Types
I took some off of my position in Apple (AAPL)  twice when the stock hit my $176 price target twice, but I decided to hang onto some the last time it got to that level. Good thing, as the stock rallied Friday to close at $177.09. Apple has seen multiple top at around $176 and the algos see that. The bots are either going to back off or kick the door in. I'll take some more off of the stock next Tuesday after Monday's market holiday, but if Apple breaks back down to $167, I'm "outta here."
Elsewhere in the sector, I remain long on Amazon (AMZN)  and Alibaba (BABA) . Both are rocking and I plan to remain long on both because expect their dominant positions in their respective markets to play out well long term.
That said, there's just too much risk in owning a ton of these kinds of stocks. So, what I like to do such names is maintain a core position and trade a smaller amount around news events such as earnings releases.
Meanwhile, I've added Alphabet (GOOG) , (GOOGL) since last month, and I boosted my long in Netflix (NFLX) on the stock's December sell-off. While I expect to remain long on GOOGL, my NFLX holding is just a short-term trade that I look forward to ringing the register on if it rises.
I know what you're thinking: "Umm, Netflix is already up since December, Sarge." Thanks, but I think I can at least another a few more bucks from here. However, I don't trust that name long term in the wake of the deal between Walt Disney Co.  (DIS) and 21st Century Fox  (FOXA) .
Infrastructure
I got myself long in several infrastructure plays in the wake of the terrible storms that hit parts of America in August and September -- and they all worked.
I've taken profits on three -- Weyerhaeuser (WY) , Owens-Corning (OC) and Valero Energy (VLO) -- but hung on to one: United Rentals (URI) , I thought it would turn into a solid play on a U.S. government fiscal-spending plan, and wow -- it's been absolute dynamite.
I also got into U.S. Concrete (USCR) during the market's mid-December sell-off. That's been another winner.
Retail
Many readers know that I love only two names in this space -- Kohl's  (KSS) and Wal-Mart Stores (WMT) . Both have treated me spectacularly well in 2017, and both are strutting their stuff again so far in January.
Now, you're never supposed to fall in love with your holdings, but it's hard not to with these two. That's probably because I was so far out in front of the move up on both of these that I actually took some ribbing from some well-known financial-media types early on for being long these names.
I've also added Macy's (M) to my retail book. I don't love the name, but I do love its dividend. I was lightening up on a tech position that I felt I was over-exposed in, so I sold it and stuffed the dough in Macy's for safekeeping. However, Macy's has gone precisely sideways since my purchase.
Tech
Two of my best trades ever were owning Nvidia (NVDA)  and Lam Research (LRCX) in 2017. I've traded in and out them several times over the past two months or so and am currently long a reduced amount in both.
LRCX was easy to trade in December, but NVDA has tricked me a couple of times. But what a beast! I don't think I'm ever going to completely give up on that one.
Techs might not see the huge reduction in corporate taxes that stocks in many other sectors will -- they don't need to, they already had low rates -- but that might still provoke some attempts at a rotation out of tech. But ultimately, tech is tech.
Cloud services, artificial intelligence, machine learning, autonomous driving, big data -- all commerce relies upon tech. All commerce. So, that's where I'll plant my flag.
Another big tech winner for me in 2017 was Intel (INTC) . If there's a better CEO in the business than Brian Krzanich, I'm not aware of it. That said, Intel's recent chip woes are cause for at least some caution. So, I shaved 30% off of my position at the first sign of the bad news. (That's where my newfound interest in Macy's came from.)
Elsewhere in semiconductor-associated names, I initiated a long position in NXP Semiconductor (NXPI) as I wait for Qualcomm QCOM to either push the envelope and up NXPI takeover bid or give up. I also remain long Seagate Technology (STX)  for the dividend. I didn't see the Ripple news coming, but yowza! The stock surprised me and turned in a really great month of December even before it spiked higher.
I'm also long Advanced Micro Devices (AMD) , largely because I bought it when I shouldn't have and there just isn't all that much downside risk. The name also acts as a hedge of sorts for when Intel gets shaky.
As for the cloud, my play there had been Oracle (ORCL) , but that's turned out to be wrong. So, I rotated half of that position into Microsoft (MSFT) in early December. I probably should have done the whole thing, but at least this improved my situation. Besides, both of these names are showing signs of life.
Elsewhere in the sector, I initiated Applied Materials (AMAT)  and KLA-Tencor (KLAC)  -- my 2018 top pick -- with partial positions. Both names are acting well so far. I also initiated a small position in Xerox (XRX) after the Carl Icahn news for that stock. Call it an impulse purchase, which I'll play by ear.
Lastly, my exposure to the gaming community remains Activision Blizzard (ATVI) , which might not be upwardly mobile, but is at least tradeable. This name stalled at the $67 level several times, but broke to the upside Friday. I had been "churning" it, but now that its broken upside resistance, I'm likely to ride it for while.
Transports
As the U.S. economy grows, the transports should do well. CSX Corp. (CSX) -- my railroad play -- had been trading in a sloppy fashion, but has suddenly performed well. CEO Hunter Harrison's startling recent death didn't help the stock, but the market's traditional Santa Claus Rally paid a visit to the name.
Christmas was also very kind to FedEx (FDX) , my delivery-services play, which has absolutely roared since mid-November. I hold the SPDR S&P Transportation ETF (XTN) as well. This gives me the transportation exposure that I want while allowing me to keep my active positions at a manageable level
Other Sectors
I had two other plays that are hard to pinhole into certain categories -- Kimberly Clark (KMB)  and General Electric (GE) .
KMB was my "cheap-dollar" play, as they do a large share of their business overseas. This strategy worked, but I've sold out as the U.S. Dollar Index stabilized.
GE is a holding in TheStreet Jim Cramer's Action Alerts Plus.
By contrast, I have to honestly classify GE as a mistake. But fortunately, I've been able to greatly reduce my effective entry point on the name through the magic of selling both sides of the options market,. (Of course, selling puts also got this position to where it is.)
I'm not home yet, but there's definitely light at the end of the tunnel. The position is at this point manageable, and the dividend really ain't so bad even though GE recently cut it in half.
At the time of publication, Guilfoyle was long AMAT, AMD, AAPL, AMZN, APA, ATVI, BABA, C, CSX, EUFN, FDX, GE, GOOGL, IIVI, INTC, KBE, KEY, KLAC, KMB, KSS, KTOS, LMT, LRCX, MSFT, NFLX, NVDA, NXPI, M, ORCL, RTN, SLB, STX, URI, USCR, WMT, XRX, XTN, although positions may change at any time.