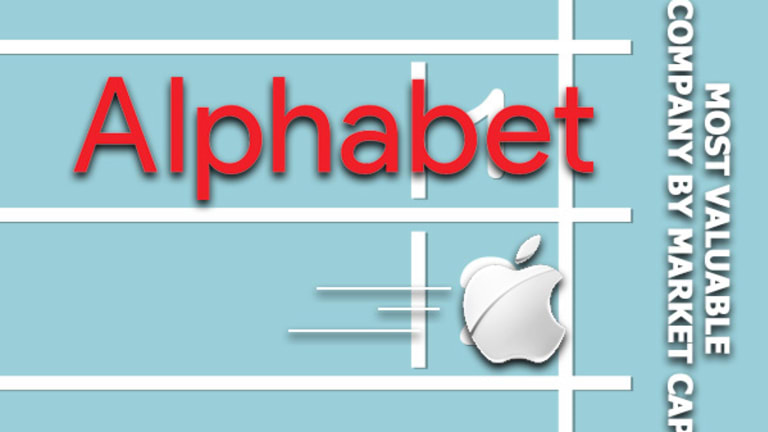 Apple vs. Alphabet/Google -- Which Stock Should You Buy Now?
As the two tech giants battle it out for the title of world's largest company by market cap, is one of them a better investment than the other?
Editors' pick: Originally published May 13.
Apple (AAPL) - Get Free Report is struggling to keep its world dominance as the largest company on earth by market capitalization as Alphabet/Google (GOOGL) - Get Free Report  nips at its heels. Does that mean you should dump Apple stock in favor of Alphabet? Does it really matter which company is No. 1?
Not really, according to analysts. "It's nothing more than having the title of the world's most valuable company," said Monness Crespi Hardt & Co. analyst James Cakmak.
That's mostly true. Market capitalization is characteristically tied to the stage of business development that a company is in. And, again typically, large-cap stocks tend to be considered more conservative investments than mid- and small-cap stocks. But that doesn't matter with these two because they're both behemoths among the big-cap boys.
In the merger-and-acquisition world, the higher the stock price, the stronger the currency when it comes to shopping sprees, which both company appear to be on. If a company is going to use its own stock as currency, of course, the higher the price the cheaper the deal for them. But beyond that, it's really more about bragging rights.
Apple and Alphabet are holdings in Jim Cramer's Action Alerts PLUS Charitable Trust Portfolio. Want to be alerted before Cramer buys or sells AAPL or GOOGL? Learn more now.
Looking at the numbers, the two companies were neck-and-neck for the market cap crown on both Thursday and in intra-day trading on Friday. Apple shares are down nearly 19% since peaking in mid February, while Google shares have advanced 3% since bottoming for the year two weeks ago.
On Friday, the two were moving in opposite directions, with Apple to the upside, though barely. Still, it was enough to reposition the market cap crown. One moment Apple was up, sitting with a $501 billion market cap to Google's $493 billion. But that changed an hour later, with Google's market cap sitting at $492.2 billion to Apple's $487.3 billion. Apple closed with a market cap of $484.1 billion, while Google sat at $490.9 billion.
Did anything in the company's strategy change in those minutes? And in this race, which is the turtle and which is the hare?
"In the big picture, Google is a slow-and-steady story," said Gene Munster, senior research analyst at Piper Jaffray. "Search is a utility. We can't live without it...and they'll just power away all the profits of that into other bets. Eventually one of those other bets is going to hit big."
But Apple is an innovation leader, the company that creates products you don't know you need and then realize you can't live without, although some are starting to argue Apple is starting to lose its way some. "Apple is going to be around and is going to innovate and do great things," Munster said.
So which to buy? The best advice is probably to load up on them both. On a dollar level, Apple is more affordable for many investors in the $93 range compared with Google's $725 range (Apple splits it stock 7-for-1 in mid-2014 and Alphabet's current lofty price has prompted some calls for it to do the same, but so far Alphabet hasn't indicated any plans to do so).
Apple's pullback, to levels not seen in two years, could represent a good buying opportunity, said analysts. The analysts' consensus on Apple is a strong buy, some with price targets as high as $185 per share. Ditto for Google, with price targets hitting peaks of $1,100.
On a price-to-earnings ratio, Apple is trading at nine times next year's earnings while Google is at a lofty 18 times earnings. This underscores investors' sentiments that Google is a better growth story than Apple. For dividend-chasing investors, however, remember this: Apple has a dividend yield of 2.51% -- which would increase if the stock keeps falling -- while Google has yet to issue a dividend in its history.