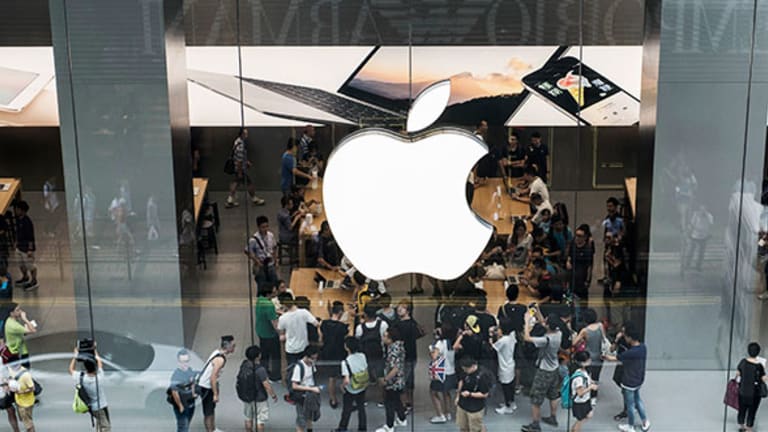 Apple Stock May Look Sour Now, but It Could Sweeten Soon
Shares of Apple could be poised for a bullish move. Here are the indicators that will tell you the stock's going to shrug off its recent move lower.
NEW YORK (TheStreet) -- Is Apple (AAPL) - Get Apple Inc. (AAPL) Report poised for a strong bullish move? And if so, what signs should you look for?
From March through August, Apple shares were trading in a narrow 12-point range between $121 and $133. During August, the stock broke out below support and the price action turned bearish. And of course, the stock moved in a 20-point range from Monday through Wednesday of this week.
So what's next?
For many, the chart indicates the possibility of a surge to the upside and a new bullish move or, at least, a return to the consolidation seen earlier this year. Some specific signals could be expected to emerge to signal this.
Momentum: The relative strength index dipped into an oversold reading Monday but quickly returned to a mid-range reading on Tuesday. This was no surprise given the overall market volatility. However, with the RSI, watch for any further moves into oversold or overbought territory. These could be leading signals pointing to unexpected corrections in the short term. In comparison, the moving average convergence divergence (or MACD) shows both averages well below the signal line, a strongly bearish sign. For MACD, look for a turn toward or above the signal line to forecast a bullish move.
Secondary Support: At the beginning of August, following the breakout below support, Apple settled at support of $112.50 per share. This held until Monday's big market drop. So if the price does move to or above $112.50, that indicates that price may return into previously established range.
Primary Support: The previously set support of $121.00 extended for several months until the breakout occurred. This support level was intact less than one month ago, so it is still too early to decide whether Apple has set a new, lower trading range or whether this breakout is going to fail. If price does return to $121 or higher, that signals strength and support for that price and higher.
Bullish Signals: Look for signals that confirm the move toward previous support. On Tuesday and Wednesday, Apple formed a bullish harami. This provides an initial forecast of higher prices, but that will not be confirmed unless Apple's price moves above $112.50. To determine whether price will continue moving higher, seek additional bullish price patterns, momentum, or volume signals.
At times like these, following volatility across the entire market, reading charts for individual stocks is more challenging than usual. How much of the price movement is caused by broader market volatility, and how much by Apple-specific factors? Beta for Apple is close to 1.0 (Yahoo Finance identifies it at 1.13 and Google Finance pegs it at 0.94), so Apple is likely to track the broader market closely.
So the question comes down to identifying signals strongly indicating the direction of the next move. If you see MACD turning bullish, price moving above 112.50, and confirming candlestick signals, then chances are that Apple will recover from the recent volatility and move back into range. If this trend holds, and price moves higher than $121.00 per share, that further confirms a bullish trend.
This article is commentary by an independent contributor. At the time of publication, the author held no positions in the stocks mentioned.