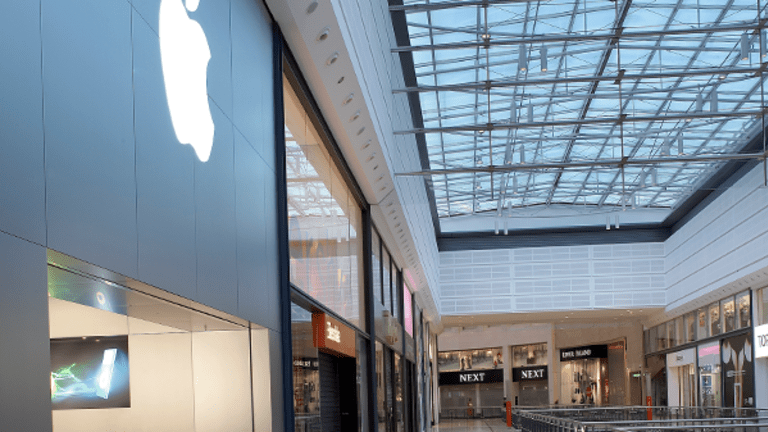 This commentary originally appeared on Real Money Pro at 10:00 a.m. ET. Click here to learn about this dynamic market information service for active traders.
Let's talk about Apple (AAPL) - Get Apple Inc. (AAPL) Report . I understand that some people may just want to own AAPL and not trade it. But for others, there are some parameters I would like to make you aware of in case you are more of a trader than an investor.
Way back when I talked about the May 2016 low potentially being more important, I posted my initial upside target after the initial rally first got going at the $146 handle. Some people thought I was a bit crazy, but we did eventually make target #1. Recently, we also met target #2, which came in at the $162 handle and was the 1.618 extension of the swing into the May 2016 low.
This is illustrated on the first weekly chart below. This is where I start to get more cautious. One of the statements I make almost every day in my career is that many market moves tend to terminate at extensions of prior swings, if only temporarily.
Apple AAPL -- Weekly Chart

View Chart »View in New Window »
Since we have now met two weekly upside targets, I have to say that we are now more vulnerable to a deeper downside correction, due to the extensions made. It does not mean that we will definitely see this correction, but we want to remain alert to the possibility of this and see what the current technicals are signaling to the shorter-term trader.
Note that the 30-minute trigger chart shown at the end of this article signaled an exit from the long side of AAPL when the eight-day exponential moving average (EMA) crossed back below the 34-day EMA, along with a pattern shift as we also took out a prior swing low.
My second weekly chart illustrates what a larger pullback might look like.
Apple AAPL -- Weekly Chart 2

View Chart »View in New Window »
If the daily chart work I show you next does not end up holding up, then this is a support decision that stands out below the market at the $150 area. However, we don't have to worry about this zone unless we test it in the future.
As far as the daily chart of this Action Alerts PLUS charity portfolio holding is concerned, I am comparing the most recent pullback with some of the prior pullbacks since the June 29 low was made. This decline is very similar to some of these swings, and it also overlaps some other key Fibonacci price relationships at the $157.54-$158.57 area. This is actually an area where I want to watch for a possible resumption of the rally. In other words, this is a potential buy opportunity.
There are also a couple of other key price relationships that come in below here, in case this first zone does not hold up. Besides this price support, I also want to show you the Fibonacci timing factors that are suggesting a possible low early this week.
Apple AAPL -- Daily Chart

View Chart »View in New Window »
First, we have the timing histogram that shows up below this chart. Those standout bars below this chart illustrated a cluster of timing cycles are due here for a possible low. I will also illustrate the other Fibonacci time cycle ratios on the next chart.
Apple AAPL -- Daily Chart 2

View Chart »View in New Window »
This second daily chart above illustrates a cluster of timing cycles that includes many of the low-to-low swings in the past, along with others between Sept.9 -Sept.12. So between the price analysis and the time analysis, my work is telling me to watch for a possible resumption of the rally in this name early this week.
Now, rather than just assuming that this reversal will occur and stepping in front of this decline, I want to remind you that I like waiting for a technical signal to suggest that it is worth placing a new bullish bet on this stock.
For a swing trade, I like seeing a 30-minute chart with the 8/34-day ema cross over to the upside after testing support and timing after testing a zone or timing. I also like to see a prior swing high taken out to confirm it's worth stepping up to the plate.
Apple AAPL -- 30-Min Chart

View Chart »View in New Window »
My initial risk will be defined below the price cluster zone or below the low made prior to the buy trigger firing off. If we don't see any reversal indications in the next few days however, I would back off the buy side and anticipate a deeper downside correction instead.
More of What's Trending on TheStreet:
Hooters Has a Big $1 Million Problem in One of Its Key Overseas Markets
At the time of publication, Carolyn Boroden had no positions in the stocks mentioned.