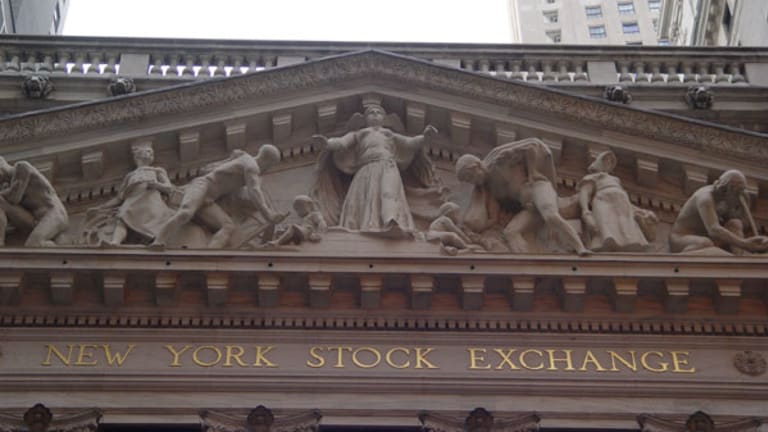 Apple, Starbucks, Cisco: Doug Kass' Views
Doug Kass shares his thoughts on a strange, possibly ominous day, and a 'ludicrous forecast.'
Doug Kass shares his views every day on RealMoneyPro. Click here for a real-time look at his insights and musings.
My Takeaways and Observations
Originally published Dec. 1 at 5:48 p.m. EDT
What a strange day -- maybe even ominous.
This table tells it all.
The divergences I have been mentioning this week intensified today, with the technology-laden Nasdaq taken out to the shed and the Russell 2000 Index trading lower for the third consecutive day. Breadth was poor as were new highs and new lows. Moreover, put/call was still low indicating continued complacency.
The Good, the Bad and the Ambiguous from Wednesday's trading.
Goldman Sachs (GS) - Get Goldman Sachs Group, Inc. (GS) Report and the financials were upside leaders and carried the DJIA and led to slightly better relative performance for the S&P 500 Index. Tech led the downside in a vicious rotation away from the sector.
It was short pressing time for me. Though I took off my Trade of the Week (short iShares Russell 2000 Index (ET (IWM) - Get iShares Russell 2000 ETF Report calls and long IWM puts) -- which worked like a charm and was quite profitable.
I cleaned up tag ends in a number of very small shorts Thursday and took off five names from my Best Ideas List.
Halved my favorite large-cap long, DuPont (DD) - Get DuPont de Nemours, Inc. Report , and my favorite large-cap short, Coca-Cola (KO) - Get Coca-Cola Company Report , down to small size, based on changing risk/reward ratios.
A short grows in Apple (AAPL) - Get Apple Inc. (AAPL) Report .
I covered half of my remaining Starbucks (SBUX) - Get Starbucks Corporation Report short at around $55.25 after the Howard Schultz resignation announcement.
Thoughtful "El Capitan" comments/input.

Closed-end muni bond funds and more.
Danielle and the French Connection.
The downside to lower tax rates for Citi (C) - Get Citigroup Inc. Report and the other financial intermediaries.
Regarding the Donald Trump speech at the Carrier facility, I have some brief thoughts:
I believe that speech was one of the more reckless speeches I have ever heard from a president or president-elect. Let me explain. To me it is chilling when companies are threatened -- and many Republicans and Democrats will think the same. To say, public/tax policy will made on the basis of making companies fearful is insane. A president should want to create a sustainable atmosphere in which companies will stay in the U.S., not participate in ad hoc or isolated and random attacks on companies. While the president has vast powers, I don't even think he has the "authority to tax heavily at the border." What criteria is he basing such a decision on? This is going to be an eventful four years.
Campbell Soup (CPB) - Get Campbell Soup Company Report rallied higher by $1 from my purchase add on earlier in the day. Umm umm good!
Stocks closed near the lows.
The U.S. dollar weakened.
The price of crude oil rallied for a second day in a row, rising $1.50 to almost $51.
Gold flat, no bounce.
Agricultural commodities: Wheat up $0.07, corn down $0.05, soybean unchanged, oats up $0.05.
Lumber up $1.
Bonds got schmeissed but traded well off the day's lows (as the 10-year yield touched 2.5%).
The 10-year and long-bond yields rose by 9 basis points.
The 2s/10s spread rose by another 5 basis points to 130 basis points.
Muncipals were lower.
Junk bonds got hit badly, despite the rise in crude oil.
Blackstone / GSO Strategic Credit Fund (BGB) - Get Blackstone / GSO Strategic Credit Fund Report rose $0.08.
Banks were powerful to the upside. I reshorted at reasonably good prices in the afternoon, after covering my small rental shorts in pre-market trading earlier.
Insurance stocks flew. Long Hartford Financial (HIG) - Get Hartford Financial Services Group, Inc. (HIG) Report , which rose.
Brokerages so strong--Morgan Stanley (MS) - Get Morgan Stanley (MS) Report and Goldman Sachs (GS) - Get Goldman Sachs Group, Inc. (GS) Report (up $7).
Retail was strong led by Target (TGT) - Get Target Corporation Report , Foot Locker (FL) - Get Foot Locker, Inc. Report , Nike (NKE) - Get NIKE, Inc. (NKE) Report and JC Penney (JCP) - Get J. C. Penney Company, Inc. Report (long).
Autos were the "world's fair." I still have tag end short positions. I expect the upside move to get over-done short term, and I will reload on the short side.
Energy stocks up, but small relative to the commodity.
Old tech was clobbered. International Business Machines (IBM) - Get International Business Machines (IBM) Report , Intel (INTC) - Get Intel Corporation (INTC) Report , Cisco (CSCO) - Get Cisco Systems, Inc. Report (short and working nicely) and Microsoft (MSFT) - Get Microsoft Corporation (MSFT) Report got bashed along with the entire sector.
Biotech was down 2%. Allergan (AGN) - Get Allergan plc Report and Gilead Sciences (GILD) - Get Gilead Sciences, Inc. (GILD) Report were weak. New lows Vertex Pharmaceuticals (VRX) . Spec weak again Portula Pharmaceuticals (PTLA) - Get Portola Pharmaceuticals, Inc. Report , Sage (SAGE) - Get SAGE Therapeutics, Inc. Report , Intrexon (XON) - Get Intrexon Corporation Report , FibroGen (FGEN) - Get FibroGen, Inc. Report , ACADIA Pharmaceuticals (ACAD) - Get ACADIA Pharmaceuticals Inc. Report .
Here are some value-added contributions on the site:

1. Jim "El Capitan" Cramer on " Not What Bulls Wanted to See."
2. "Meet" Brett Jensen on rotation.
3. Tim "Not Judy or Phil" Collins.
4. What happens when this extreme rotation ends? from Rev Shark.
5. And another from Rev Shark.
Positions: Long HIG large, JCP large, CPB large, SDS large, DD small, RDN, OAK
Short SPY, TLT small, KO small, DIS small, AAPL large, CSCO, CAT small, SBUX small, C small, BAC small, JPM small, GM small, F small.
A 'Ludicrous Forecast' May Soon Occur
Originally published Dec. 1 at 1:44 p.m. EDT

Remember these comments from Thursday at 10:50 a.m. EST -- because I think this ludicrous forecast may occur soon:
"Also, while I won't likely be aiming for it, I suspect we are closing in on a reversal day in bonds and financials. An island reversalcould lie ahead, maybe sooner than later."
-- Kass Diary
As well, DoubleLine's Jeff Gundlach just announced he sees a top in the equity market and a high in yields/rates by January inauguration.
This could precipitate the "island reversal" in bonds and financials that I mused about earlier in the day.
I underscore Jim "El Capitan" Cramer's thoughtful comments and, by contrast, I reject the universal optimism I watch in the business media.
Finally, with stocks at their day's lows -- the decline seems to be accelerating -- a good thing for the ursine crowd and for our Trade of the Week (short IWM calls and long IWM puts).
Position: Long SDS large; short SPY, IWM common .
Action Alerts PLUS, which Cramer co-manages as a charitable trust, is long AAPL, SBUX, AGN, GOOGL, FB, C and CSCO.
Doug Kass is the president of Seabreeze Partners Management Inc. Under no circumstances does this information represent a recommendation to buy, sell or hold any security.