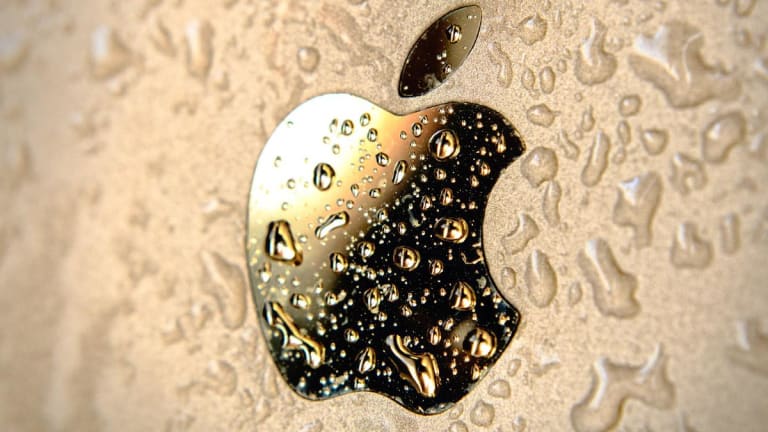 Apple's Big Earnings Report: 5 Important Things to Watch
Keep an eye on commentary about iPhone mix, emerging markets demand and services growth as Apple reports and hosts its earnings call.
While Apple's (AAPL) - Get Reportearly-January sales warning took some of the suspense out of its upcoming earnings report, there should be at least a few new disclosures of note on Tuesday afternoon.
With Apple having forecast on Jan. 2 that it expects December quarter revenue of about $84 billion, the analyst consensus is currently for revenue of $83.97 billion (down 5% annually). GAAP EPS, benefiting from major stock buybacks, is still expected by analysts to have grown 7% to $4.17.
Apple hasn't yet shared its sales expectations for the March quarter, and should do so in its report. The March quarter revenue consensus is currently at $59 billion (down 3.5% annually), after having fallen by about $5 billion since Apple's warning. With Apple's shares down over 30% from their 52-week high going into earnings, it's safe to assume that investor expectations for the March quarter aren't too high.
Check out Eric Jhonsa's new tech blog, Tech Check, on Real Money, our premium site for active investors.
TheStreet will be live-blogging Apple's earnings, which are expected at 4:30 P.M. Eastern Time on Tuesday, as well as its earnings call, which starts at 5 P.M. (please check our home page then for more details). In addition to Apple's revenue and EPS figures, here are some things for investors to keep an eye on:
1. Commentary About iPhone Sales Mix and ASP Trends
On its Nov. 1st earnings call, Apple announced (to some criticism) that it will no longer break out its iPhone, iPad and Mac unit sales, instead only sharing the revenue delivered by each of these product families. And without knowing unit sales, it's naturally impossible for investors to calculate a product's average selling price (ASP).
Remarks made in the company's warning suggest iPhone revenue fell about 15% annually, and accounted for about 62% of the quarter's sales. In the absence of a unit sales disclosure, any remarks made on Apple's call about the relative strength or weakness of particular iPhone models -- especially the iPhone XR, XS and XS Max -- is worth paying attention to. The same goes for comments about ASP trends.
On average, analysts think Apple's iPhone units fell by nine million annually in the December quarter to 68 million, and that its iPhone ASP rose by $8 to $804.
"The main thing to focus on here is management's guidance for the March quarter as a decline in unit sales and deceleration of Services growth are the main concerns atop investors' minds," said Zev Fima, research analyst for Jim Cramer's Action Alerts Plus portfolio, which owns Apple. "Given that the headline numbers are more or less known at this point, we believe guidance and segment margins, which will be broken out for the first time this quarter, are the primary factors deserving attention."
2. Trends in China and Other Emerging Markets
Apple blamed its warning in large part on soft demand in the Greater China region, while also stating (as it did in its November earnings call) that it's seeing macro pressures in other emerging markets. Since then, a slew of other U.S. multinationals have also reported seeing soft Chinese demand.
One key question, then, is whether Apple has seen demand in China and other emerging markets (adjusted for seasonality) stabilize since its warning, or are conditions still deteriorating? Also, to what extent are healthier sales trends for non-iPhone businesses propping up Chinese sales?
3. Services Commentary
Apple said in its warning that its Services revenue was above $10.8 billion last quarter. That was above expectations and implied annual growth of 28% or better.
As it has done in the past, Apple might use its earnings call to share a few stats about individual services businesses. During its September quarter call, for example, the company noted its Apple Pay transaction volume tripled annually and that the total number of paid subscriptions supported by its ecosystem had risen by 30 million sequentially to over 330 million.
Also, given Tim Cook's recent comments about upcoming services launches during a talk with Jim Cramer, look for analysts to ask the company a question or two about its plans for new services. Cheddar just reported that Apple is planning a gaming subscription service, and there has been speculation for a while that Apple could launch a subscription offering that bundles services together with hardware upgrades.
4. iPad, Mac and Wearables Commentary
Apple mentioned in its warning that its iPad revenue rose by a double-digit percentage, and that its Mac revenue was higher (it didn't say by how much). The company also said its "wearables" revenue, which covers the Apple Watch and headphones and (along with products such as Apple TV set-tops, HomePods and accessories) is included in its Other Products reporting segment, rose almost 50%.
Apple could give an additional comment or two about how these businesses are trending. From the looks of things, the company's recent iPad Pro, MacBook Air and Apple Watch refreshes are going well.
5. Gross Margin Guidance
In spite of its sales shortfall, Apple forecast its December quarter GAAP gross margin would be around 38% -- down just 0.4 percentage points from a year earlier and at the low end of a prior guidance range of 38% to 38.5%. Lower DRAM and flash memory prices appear to be buffering the margin impact of lower iPhone unit sales volumes, as is healthy Services revenue growth.
With memory prices still dropping, Apple's March quarter gross margin guidance almost might not look too bad. As it is, the consensus is for a gross margin of 38.2%, down just fractionally from a year earlier.