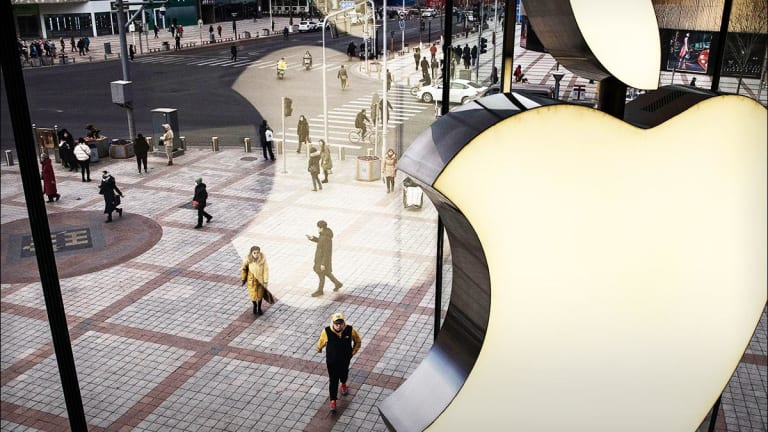 Apple's Surprise Settlement With Qualcomm Still Leaves 5 Lingering Questions
Among the many important details that remain unknown are what Qualcomm's new iPhone royalty rate looks like, and how Qualcomm's battle with the FTC will play out now.
The settlement that Apple (AAPL) - Get Apple Inc. (AAPL) Report  and Qualcomm (QCOM) - Get QUALCOMM Incorporated Report announced on Tuesday afternoon is clearly a major financial positive for Qualcomm, and had the side benefit of driving yet another modem rival out of the market.
And though there's a cost involved for Apple, the deal does effectively put to rest any uncertainty about its widely-reported plans to launch 5G iPhones in 2020.
At the same time, with Apple and Qualcomm having only shared so much about their settlement, and with some third parties set to make important decisions of their own, the deal raises a few major questions about what will happen in the coming months and years.
The Settlement and Its Immediate Impact
Apple and Qualcomm announced that they've settled their massive, two-year, legal battle over royalties owed on the sale of iPhones and other devices featuring Qualcomm's intellectual property. The deal features a six-year patent license, with a two-year option to extend. It calls for Apple to make a one-time payment to Qualcomm of undisclosed size, as well as pay per-device royalties of unknown size going forward.
In addition, Apple and Qualcomm have inked a "multi-year chipset supply agreement." A few hours after this news was announced, Intel (INTC) - Get Intel Corporation (INTC) Report , which is the sole modem supplier for Apple's 2018 iPhone models and was widely reported to be working with Apple to supply 5G modems for 2020 iPhones, announced that it no longer plans to launch 5G smartphone modems. Intel added it will continue meeting its commitments for 4G modem shipments, and will "complete an assessment" of its 4G and 5G modem opportunities for devices such as PCs and IoT hardware.
Apple is a holding in Jim Cramer's Action Alerts PLUS member club. Want to be alerted before Jim Cramer buys or sells AAPL? Learn more now.
From the looks of things, Apple's reported concerns about Intel's ability to have its XMM 8160 5G modem ready in time for its 2020 iPhones, together with the strategic, political and/or performance concerns it may have had about relying on 5G modem developers such as Huawei, Samsung (SSNLF) and MediaTek, had something to do with the Qualcomm settlement.
Japan's Nikkei reported overnight that Apple "has long been concerned that Intel could not meet its 5G schedule," and that Apple asked its suppliers to start testing Qualcomm's 5G modems, which are set to go into most of the 5G phones launching this year, several weeks ago. Qualcomm is two months removed from unveiling a pretty competitive second-gen 5G modem known as the Snapdragon X55 that should go into many 2020 5G phones.
Qualcomm, whose EPS consensus for this fiscal year stood at $3.84 before the Apple deal was announced, says the deal will provide about a $2.00 boost to its annual EPS once chip shipments to Apple ramp. Based on its current share count, that would imply an annual net income boost of more than $2.4 billion, though it's worth keeping in mind that Qualcomm has been lowering its share count via major stock buybacks.
Qualcomm's shares have risen over 30% since news of the settlement first broke. Apple's shares are up about 1.5% since the news arrived. And though its stock slipped on Tuesday afternoon, Intel is up over 3% in Wednesday trading, as markets applaud its decision to exit a smartphone modem business that's believed to have featured low margins and for which Apple has been Intel's only major customer.
5 Lingering Questions
Given what is and isn't known right now, here are a few questions related to the settlement that are important for Qualcomm and/or Apple investors.
1. What Does Qualcomm's New iPhone Royalty Rate Look Like?
There appear to be three components to Qualcomm's forecast that the Apple deal will eventually boost its annual EPS by about $2.00: The profits it will get from royalty payments, the profits it will get from chip sales, and a major reduction in its legal expenses.
Apple said last year that it had been paying Qualcomm a royalty of $7.50 per iPhone -- a level that suggests a pre-tax annual profit of more than $1.5 billion for Qualcomm on iPhone royalties -- before their legal fight broke out. So is the new deal's royalty rate close to that level? Whether or not it is could have implications for future licensing talks with other major phone OEMs.
2. Will the Deal Motivate Huawei to Settle?
Though it has gotten a fraction of the media attention that the Apple battle has seen, Qualcomm has also been embroiled in a patent-licensing dispute with China's Huawei, which is now the world's third-biggest phone OEM.
Qualcomm struck an "interim" licensing deal with Huawei in January under which Huawei is paying $150 million per quarter (less than what Qualcomm thinks it should be getting). Just maybe the Apple deal motivates Huawei to strike a long-term agreement with Qualcomm.
3. How Will Qualcomm's Battle with the FTC Play Out Now?
A San Jose federal court is set to issue a ruling on a recently-concluded non-jury trial involving Qualcomm and the FTC. The FTC had accused Qualcomm of violating antitrust law through a host of actions, including refusing to sell its modems to OEMs that refused to agree to its terms for licensing standards-essential patents (SEPs); providing Apple with billions of dollars worth of royalty rebates in exchange for using its modems; and (notably) by refusing to license its SEPs to rival modem makers, who would then be able to pass on those licensing rights to OEMs using their modems.
In November, ahead of the trial, Judge Lucy Koh (of Apple/Samsung trial fame) issued a partial summary judgment ordering Qualcomm to license its SEPs to modem makers on fair, reasonable and non-discriminatory (FRAND) terms. If such a ruling was to ultimately be enforced, it would result in Qualcomm only getting paid for its cellular SEPs, which account for much of the total value of its patent portfolio, based on the modem's selling price rather than the price of a phone. That in turn could lead OEMs to push for existing licensing deals to be renegotiated.
It's quite likely that Qualcomm will appeal Koh's summary judgment following her final ruling. And with Apple, which had testified on the FTC's behalf, having settled with Qualcomm, it's possible that the FTC, which has reportedly been pressured by the Department of Defense and Department of Energy to settle with Qualcomm, could be more willing to reach a deal that doesn't require massive changes to Qualcomm's licensing model. But a lot is still unknown for now.
4. What Other Qualcomm Chips Will Apple Be Using?
Though it's pretty clear that Qualcomm will be supplying modems to Apple, no color was shared on which other Qualcomm chips will be supplied. Historically, iPhones containing Qualcomm modems have also contained a handful of other Qualcomm chips, such as a power management chip and an RF transceiver.
This time around, it's possible that Qualcomm will also supply RF front-end chips such as amplifiers and filters. Historically, Apple has relied heavily on Skyworks (SWKS) - Get Skyworks Solutions, Inc. Report , Broadcom (AVGO) - Get Broadcom Inc. Report and Qorvo (QRVO) - Get Qorvo, Inc. Report to supply these chips, which are often packaged within modules.
However, Qualcomm has gotten serious in recent years about growing its RF front-end business, and has reported landing RF front-end design wins for most of the 5G phones launching this year. The company appears to have an especially strong position in the market for front-end chips used to support high-frequency, mmWave, 5G radios.
Macquarie Group downgraded Skyworks on Wednesday on concerns that the Apple/Qualcomm deal will impact Skyworks' 5G-related RF sales. If Qualcomm has won a portion of Apple's future 5G RF front-end business, it would be a pretty big coup for its chip unit. And it would also have some implications for how much of that expected $2.00 EPS boost is forecast to come from chips versus royalties.
5. What Does the Deal Mean for Apple's Own Modem Efforts?
There have been multiple reports recently that Apple now has a large engineering team dedicated to cellular modem development. In addition, the company has begun aggressively recruiting wireless engineering talent in Qualcomm's hometown of San Diego.
Developing cellular modems is a costly and time-consuming effort (just ask Intel). But there are still major incentives for Apple to give it a shot: The company could lower its component costs for the 200 million-plus iPhones it sells each year, and could also develop a system-on-chip (SoC) that (like Qualcomm's Snapdragon SoCs) packs both a modem and an app processor.
It's possible that (as others have speculated) Apple only plans to use Qualcomm's modems until a home-grown 4G/5G modem is ready for primetime -- after all, Qualcomm didn't say how many years its "multi-year" chipset supply deal with Apple lasts. But having Qualcomm available as a modem supplier might reduce the pressure for Apple to rush an in-house modem solution out the door.