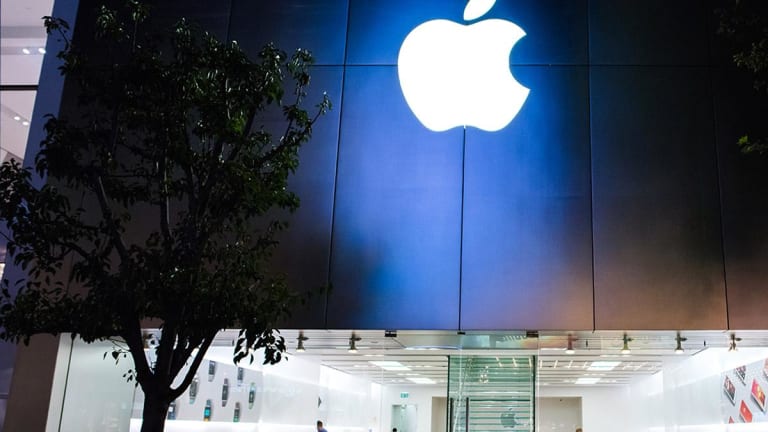 Apple Plunges After Hours After Slashing Revenue Forecast
Apple shares fell sharply lower in after-hours trading Wednesday after the world's biggest tech company cut its current quarter revenue forecasts citing slowing sales in China, trade tensions with China and strength in the U.S. dollar.
Apple Inc. (AAPL) shares fell sharply in after-hours trading Wednesday after the world's biggest tech company cut its current quarter revenue forecasts thanks in part to slowing sales in China.
In a letter to investors published after the close of trading, Apple CEO Tim Cook said revenue for the three months ending in December would come in around $84 billion, notably shy of the Street consensus of around $94 billion and the company's own previous guidance of between $89 billion and $93 billion. 
"While we anticipated some challenges in key emerging markets, we did not foresee the magnitude of the economic deceleration, particularly in Greater China," Cook said. "In fact, most of our revenue shortfall to our guidance, and over 100 percent of our year-over-year worldwide revenue decline, occurred in Greater China across iPhone, Mac and iPad."
The Apple chief pinned the weaker iPhone demand in China on several factors, including a slowing economy worsened by "rising trade tensions with the United States." Cook also cited high prices tied to the strength of the U.S. dollar, fewer carrier subsidies and customers taking advantage of reduced battery replacements in the softened demand for new iPhones. 
Speaking to CNBC on Wednesday night, Cook elaborated on what he saw as the effect of the trade conflict on Apple's China sales, an important market for Apple both as a customer and a manufacturing base.
"What I believe to be the case is that the trade tensions between the United States and China put additional pressure on their economy," Cook said.  "And so we saw, as the quarter went on, things like traffic in our retail stores, traffic in our channel partner stores, the reports of the smartphone industry, contracting, particularly bad in November -- I haven't seen the December number yet, but I would guess that would not be good either," Cook said.
Nonetheless, regarding trade relations, Cook told CNBC that he is "encouraged" by recent discussions that Apple has had with the U.S. and China.
Slower iPhone demand was a source of worry for Apple investors throughout last quarter, with reports of production cuts and promotional discounts to boost sales raising red flags that demand for Apple's flagship device was weaker than expected. Apple will also stop reporting unit sales of the iPhone as of its next earnings report, which is expected on February 7, 2019. 
Apple shares fell more than 7.4% in after-hours trading following the release, and changed hands at $146.22, the lowest since July 12, 2017 and a move that extends the stock's three-month loss to around 35.5%.
Shares of Apple suppliers also fell in after-hours trading. Analog Devices (ADI) fell 1.3% to $84.75, Jabil Circuit (JBL) fell more than 3% to $23.95 and Texas Instruments (TXN) fell 3.7% to $91.
Apple is a holding in Jim Cramer's Action Alerts PLUS member club. Want to be alerted before Jim Cramer buys or sells AAPL? Learn more now.