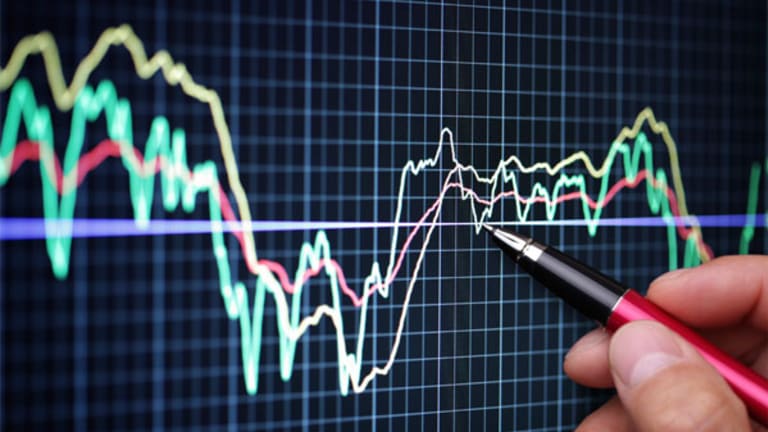 Apple, Mylan and SPY: Doug Kass' Views
Doug Kass shares his thoughts on Fridays in August and how some things are just so very predictable.
Doug Kass shares his views every day on RealMoneyPro. Click here for a real-time look at his insights and musings.
Ringing the Register on Apple, SPY and SDS

Originally published Aug. 26 at 12:35 p.m. EDT
The S&P 500 has reversed gears by some 20 handles from Friday's highs, while volume should soon die down because this is a Friday in August.
So, I've decided to take in the day's short of the SPDR S&P 500 ETF (SPY) - Get SPDR S&P 500 ETF Trust Report and long of the ProShares UltraShort S&P 500 ETF (SDS) - Get ProShares UltraShort S&P500 Report .
I added to existing positions in both names earlier Friday when the market was ramping much higher. But now, I'm taking my SDS stake back to medium-sized from an earlier large-sized position, and am shrinking my SPY short as well.
I'm also taking off this week's Trade of the Week -- a short of calls on Apple (AAPL) - Get Apple Inc. (AAPL) Report -- for a nice profit. After all, I always intended to only use this as a short-term trade. However, I'm maintaining my longer-term short of Apple stock.
Position: Long SDS, Short SPY, AAPL .
As Predictable as the Sun Rising

Originally published Aug. 25 at 3:45 p.m. EDT
Some things are just so predictable:
Position: None .
The business media will inundate us with hours of "analysis" of Mylan (MYL) - Get Mylan N.V. (MYL) Report this week. Yet, though time-consumptive, the dialogue on Mylan will not likely be particularly revealing. (Thirty minutes would have sufficed).
I will remain bearish.
Wharton's Dr. Jeremy Siegel will remain bullish.
The faith in the Fed will continue to erode. Even the cheerleaders are losing confidence in our central bank.
Buyers live higher, sellers live lower in an investment backdrop dominated by volatility trending and risk parity strategies and by other quant strategies that chase price.
Market volume will dry up in the last two weeks of August.
Market volatility will continue to drift lower.
Investors will become ever more complacent.
The Atlanta Braves will continue to lose and occupy the cellar of its division.
The Little League World Series will provide most of this period's excitement.
And, most importantly, Olympian Ryan Lochte will be seen on this fall's "Dancing With the Stars." That was quite predictable!
Wall Street's Growing Disconnect From the Real Economy

Originally published Aug. 24 at 8:54 a.m. EDT
It looks from my perch like the schism between financial-asset prices and the U.S. real economy is growing ever wider.
For example, we got word Tuesday that Markit's U.S. Manufacturing PMI declined to 52.1 in August from 52.9 in July. That's below the 52.7 reading that analysts had expected. Manufacturing employment also saw its slowest growth in four months, while new orders declined even though exports increased.
And yet, Mr. Market remains nonplussed. For now.
Position: Long SDS, Short SPY .
Action Alerts PLUS, which Cramer co-manages as a charitable trust, is long AAPL.
At the time of publication, Kass and/or his funds were long/short XXX, although holdings can change at any time.
Doug Kass is the president of Seabreeze Partners Management Inc. Under no circumstances does this information represent a recommendation to buy, sell or hold any security.