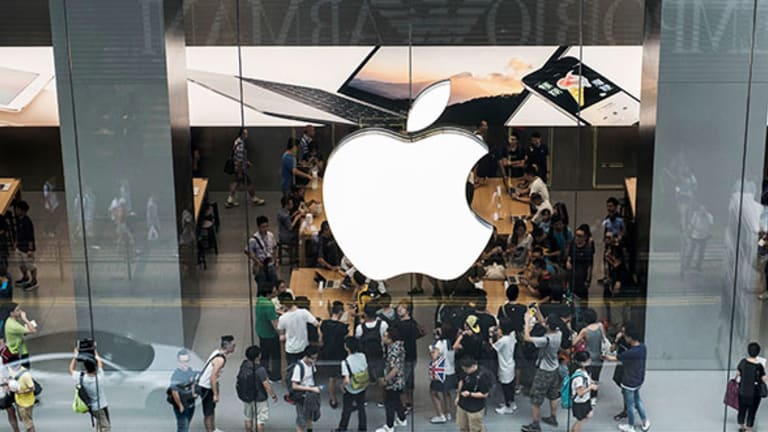 Apple Is Still an Innovator, Former CEO Sculley Says
Sculley points to Apple Pay, Apple TV and the company's newly announced music streaming service.
NEW YORK (TheStreet) -- John Sculley, a former CEO of Apple (AAPL) , said the company's product cycle isn't stalling and eventually Apple TV will "reinvent television as we know it."
Sculley, who served as CEO of Apple during the 1980s and early 1990s, said the company has brilliant management now.
"Tim Cook has done an incredible job of being able to take over from probably the world's greatest CEO ever, Steve Jobs, and to be able to adhere to those principles that Steve laid down," Sculley said.
"At the time I worked with him, he was not the experienced executive that he later became. But he was still brilliant, he had great innovative ideas, he saw the world in big frameworks of constructs that literally changed the world as we know it, and Tim Cook has been able to keep those important principles alive," Sculley added.
Sculley noted that Cook  has been able to add things that are important at this stage of Apple's growth, such as managing the "incredible complexity of the world's most valuable corporation when you're selling everywhere in the world and everyone is trying to know you off."
On Monday, Apple introduced its new music streaming service at its Worldwide Developers Conference, but Sculley doesn't see Apple as a media company like Google (GOOGL) or Twitter (TWTR) .
He also said Apple is distancing itself from Samsung (SSNLF) , which has not been as successful as Apple in integrating software and hardware.
"So what does Apple have today? It's got Apple Pay, it's got streaming music with Beats, it is eventually going to take Apple TV I think and reinvent television as we know it, it's moving into automobiles," Sculley said.
Although Apple postponed the release of Apple TV, he said the timing of the release is less important because Apple has so many things going for it, particularly the success of the iPhone6.
When asked about Apple's vulnerability, Sculley said any successful company has to worry about being a victim of its own success, which happened with Intel (INTC) and Microsoft (MSFT) . But he doesn't see that happening at Apple.