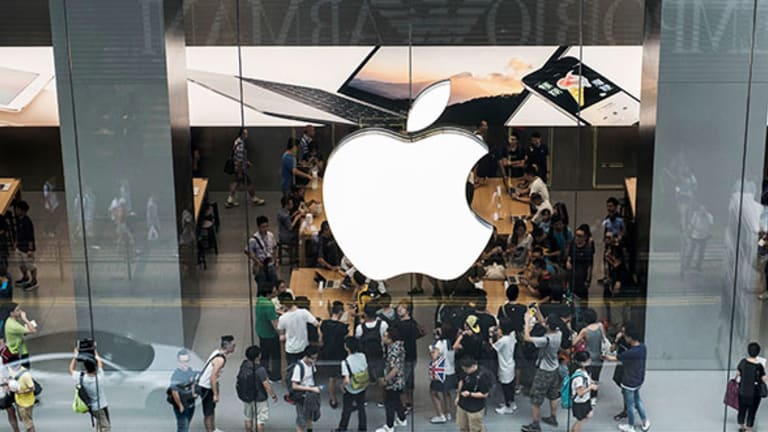 Apple Is Gaming Fed Policy to Counteract Its Stagnating Stock Price
The Fed hoped quantitative easing would induce companies like Apple to use cheap money to grow. Instead, Apple has been more focused on boosting its stock with buybacks and dividends.
NEW YORK (Real Money) -- Since the ominous 666 S&P 500 March 2009 stock market bottom, the financial world has operated with unprecedented Federal Reserve accommodation.
In response to the Great Recession and a nuclear winter in global credit, the Fed took on a herculean effort to restore order to chaos and save the economy. Fed Chairman Ben Bernanke embarked on a zero interest rate policy (ZIRP) by vastly expanding the Fed's open market operations, branded quantitative easing (QE). This means the Fed purchases government or other securities directly in the open market to increase money supply with the end goal of lowering interest rates. That, in effect, floods financial institutions with capital/liquidity to encourage them to take advantage of their ability to borrow short-term money at lower interest rates and lend it out at higher interest rates, thawing the sudden and steep credit contraction.
As expected, QE had many effects, but not necessarily the intended one of healing the economy. It forced savers and the risk averse to transfer money from sub-inflation-pace-yielding safe havens like money markets and CDs into the stock market for a shot at positive returns. It's also facilitated large corporations like Apple (AAPL) to change capital structures with borrowing costs below that of the government.
In February 2015, Apple was able to raise $6.5 billion through sales of 10-year notes and 30-year bonds to institutional investors, insurance companies and pension funds. Yields reportedly ranged from 1.6-3.5%. At the time of issuance, 10-year Treasury yields were hovering below 1.7% and Apple seemingly top ticked the market.
The Fed's hope has been for companies like Apple to use their cheap money policy to lower the hurdle rate on growth projects to invest in property, plants, equipment and labor. While this has happened with billion-dollar investments in Nevada for iCloud Server Farms and a new UFO-shaped campus in Cupertino, Calif., the larger part of those funds has gone to combat the effects of slowing global growth on Apple's share price. This has been accomplished by paying dividends and through huge share buybacks. From the start of this capital return program in August 2012 through March 2015, Apple has returned $112 billion to shareholders, including $80 billion in share repurchases. In April 2015, Apple upped its program to return capital to shareholders by 50% to $200 billion by the end of March 2017, according to capital return program data taken from Apple's investor relations website.
The most relevant effect for the readers of this article is on the stock market. Since the start of ZIRP and QE, the S&P 500 has steadily risen from the March 2009 low of 666.79 to an April 2015 high of 2125.92. The 218.83% increase of gains off the 2009 low and 34.89% increase of gains over the October 2007 top of 1576.09 (not including dividends) has investors wondering when the end will be in sight.
Given the recent lackluster economic data in the form of weak durable goods orders, stall-speed GDP, slowing consumer sentiment, and the lowest labor participation rate since 1978, Wall Street is left scratching its head. On one hand, growth is clearly slowing and Fed Chair Janet Yellen is engaged in a type of moral suasion saying, "I would highlight that equity market valuations at this point generally are quite high. They are not so high when you compare the returns on equities to the returns on safe assets like bonds, which are also very low, but there are potential dangers there."
On the other hand, the risk-free rate is well below the historical normal and this new normal of ZIRP has commanded equities to trade at a price-to-earnings multiple premiums above the historic healthy market 15x earnings normal. Additionally, if the Fed is true to its data dependence, there's no urgency for a raise in interest rates any time soon. In my estimation the Fed should be easing, not raising, rates. The real economy outside of Wall Street isn't well. There is a narrow margin for error not to slip back into recession and there's always vulnerability to economic shocks like the Japan earthquake in 2011 or a potential Greece euro exit.
In the past, earnings multiples below 10x in declining markets have been unsustainable, as have 20x in rising markets. But given the well-below-normal 10-year Treasury rates, there are no precedents to fall back on for answers.
In my view, one of two things is likely about to happen.
Interest rates rise and the stock market fall after the narrow-range eight-month-long consolidation.
The price-to-earnings multiple expands still further to test the 1929 level up at 30x-plus.
When the easy money game of musical chairs stops is anyone's guess. But I expect a violent move up or down from here sometime very soon. Bull markets don't die of old age, they die from recessions.
The Fed is highly aware of this and I believe we live in a golden age of Fed competence. The risk of raising interest rates prematurely looms large. And there's the distinct possibility of damage to Fed credibility if they move and then soon after are forced to reverse course by easing again. I find it hard to believe that after nearly eight years of combating a stagnant economy, the Fed wants to high tail it before the job is done and has multiple expansionary economic data points on which to hang its rate-rising hat.
If there is an interest rates increase in the near future, the Fed will do its best in press conferences to walk back market concerns of a 2004-2006-style policy overshoot when it raised the discount rates a quarter point 17 times in a row. As discussed in my last article, "The Rise of The Investing Twitterati", there's a lack of euphoria in the stock market, so the music plays on.
This article was originally published at 11:08 a.m., EDT, May 18, 2015, on Real Money.