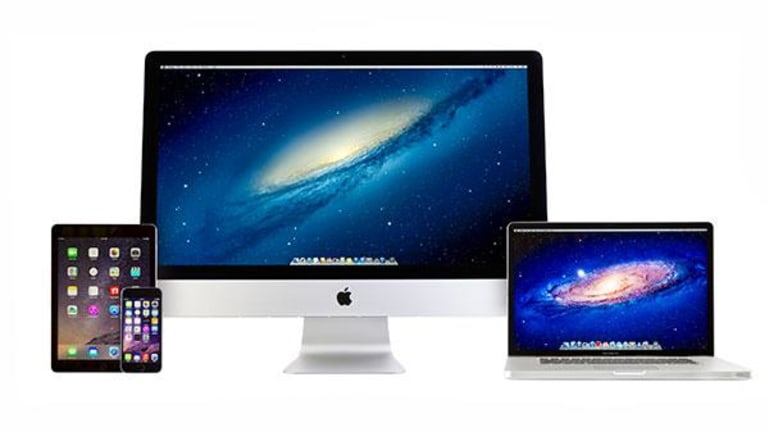 Apple Investors Hope for a Bright Side
Apple is scheduled to release its earnings results after the closing bell, but expectations are low due to flagging smartphone sales.
Editor's Note: This article was originally published on Real Money at 12:53 p.m. on July 26.
Expectations for Apple (AAPL) - Get Report haven't been this low in some time. However, despite all of the negative sentiment, there may be a silver lining for the technology company.
After reaching a year-to-date high of $112.04, Apple's stock has fallen sharply, down to the $96 to $97 level. The stock was falling 0.7% on Tuesday ahead of the release of its second-quarter earnings results after the closing bell.
Apple has also underperformed the Nasdaq so far this year, falling 7% vs. a 2% gain in the index. Apple has historically had a 4% to 6% reaction to earnings, so depending on which way today's earnings release goes, the gulf between the wider index and Apple could get wider.
The stock's decline coincided with the release of the company's current quarter guidance. Apple is expecting revenue between $41 billion and $43 billion vs. Wall Street's consensus $47.3 billion. That translates to iPhone unit sales of about 42 million. In the same period last year, the company sold 47.5 million iPhones.
"As far as iPhones, there is a lot of speculation surrounding iPhone 7, which is expected to be released this fall. Therefore, any commentary surrounding the new release will be of interest. Earlier this year, Nikkei Asian Review reported potential Q2 iPhone production cuts," wrote Action Alerts PLUS co-managers Jim Cramer and Jack Mohr. "However, would note that it is normal for sales for fall off ahead of major product introductions. Earlier this month, they also reported that AAPL suppliers in Japan are seeing decline in orders for a 3rd quarter in a row."
The company is also expecting for gross margins to be between 37.5% and 38%, the lowest since the 38% margin it reported in the September 2014 quarter.
Besides details on the upcoming release of the iPhone 7, most investors will be looking for signs that the company's dip is finally basing. That may cause investors to look for a heroic forecast from CEO Tim Cook, but Cook has been burned in the past by iPhone forecasts that have been too ambitious, according to Jack Mohr, so that isn't going to happen.
For months, industry checks have indicated declining smartphone sales and Apple suppliers have guided for lower quarters due to expectations of lower demand.
Global smartphone sales growth is expected to be a single digit -- 7% on 1.5 billion units -- for the first time ever. Sales are still expected to reach 1.9 billion units by 2020, but growth is definitely slowing. In 2010, for example, the sales growth rate was 73%.
China especially has been in a rough patch for iPhone sales. Baidu (BIDU) - Get Report , China's biggest search engine, recently estimated that Apple's revenue in China would decline by about 20% this quarter based on the search engine's map queries. Map queries for Apple stores fell 24.5% annually, reflecting a 26% sales decline.
While there are multiple headwinds ahead of Apple, the Action Alerts PLUS team also identified the company's burgeoning Services business as a potential catalyst.
"We remain excited about the Services business and believe that its long-term value is underappreciated by the market. We reiterate our long-term $130 price target, but we recognize the near-term pressures that will weigh on the stock for the time being," Cramer and Mohr wrote.
That business includes Apple Pay, the App Store, Apple Music and the Apple Health kit, but it is still years away from being mature. In the meantime, the iPhone is still the money-maker for Apple, and sales will continue to slow until the company cycles through to the launch of the iPhone 7 this year, and the iPhone 8 next fall.