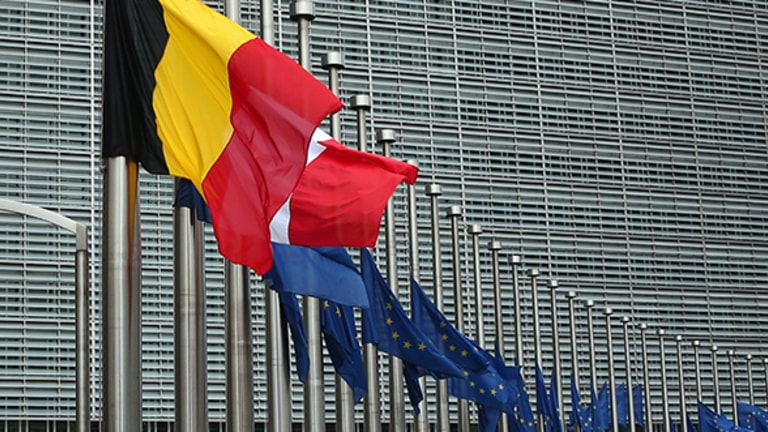 Apple Hit With Hefty EU Tax Ruling; What Cramer, Kass Think
Apple was ordered to pay $14.5 billion in back taxes dating back to 2003. Jim Cramer is sticking with the stock.
On Friday, Real Money queried what Apple  (AAPL) was going to do with its $200 billion cash pile. If the EU has its way, at least $14.5 billion of it will be used to pay back taxes, according to a European Commission ruling Tuesday. While investors punish Apple shares, the team at Real Money has divergent opinions on the implications of today's news. 
The European Commission charged the Irish government with giving Action Alerts PLUS holding Apple a sweetheart tax deal that resulted in the world's richest company paying a lower share of taxes than it should have.
The EU estimates that Apple has paid an effective tax rate of just 1% on its European sales since 2003, with that rate falling even lower -- to 0.005% -- in 2014. Today's ruling concludes a two-year investigation into the company's Ireland-based EU operations. The EU charges that the tax benefit gave Apple an unfair competitive advantage. 
Investors appear worried the tax ruling could negatively affect the stock, with shares currently down 0.6% Tuesday. Jim Cramer, on the other hand, isn't worried at all. 
Monday on CNBC, Cramer mentioned that Apple had the worst chart in the AAP portfolio. But today, Cramer quashed any notion that he was turning on the stock, writing, "My take is this: If you want to trade it, be my guest. The chart says sell. But the company? Bigger than the chart. Worth owning, not trading. Sorry, I am just not good enough to get you out and then get you back in when the time is right. If you are, be my guest."
While Cramer sees the ruling as "outrageously unfair," Seabreeze Partners Management President and Real Money Pro contributor Doug Kass -- who is short Apple -- took a different view of the ruling, telling Real Money in an email exchange that the "1% effective tax rate in Ireland, from my perch, provides an unfair competitive advantage for Apple.
"I think, as it relates to Apple and other multinationals with large non-U.S. cash hoards, the EC decision will dent legislation in the U.S. meant to repatriate overseas profits," Kass continued. "This is especially true if Democrats win the presidency, which seems likely."  
Apple isn't the only major U.S. conglomerate being targeted by the EU's tax watchdogs. Both Growth Seeker holding Amazon  (AMZN) and fellow AAP holding Starbucks  (SBUX) are also currently under investigation.
Yesterday Apple sent out invitations to a Sept. 7 conference that most expect to be the platform that the company uses to introduce the iPhone 7.
Kass believes Apple's problems run deeper than today's ruling. "I'm sticking with this negative investment thesis on Apple, which transcends today's news and is directed toward the company's less-than-attractive intermediate-term profit outlook relative to consensus expectations," Kass wrote in his Daily Diary today. "After all, it remains my view that the Apple iPhone's last important product upgrade cycle is now behind us."
Trifecta Stocks chartist Bob Lang is bullish on the stock, pointing out that Apple does not really have a problem making money.
The U.S. Treasury Department weighed in on the investigation last week, saying the investigation would have major implications on the U.S. and that U.S. tax payers could end up footing the company's tax bill. That would be the case if the companies under investigation decided to claim that spending as a deduction on their U.S. tax bills, according to Treasury Department deputy assistant secretary Robert Stack.
Today's ruling has been anticipated for some time by the Action Alerts PLUS team. The team -- whose stance remains to own and not trade Apple -- believes that the ruling could provide a buying opportunity for investors.
"Should an adverse ruling be announced by the EC, we believe the shares could provide more enticing buying levels than current prices. Again, this could be as early as next week. In our view, this is why Apple has underperformed the broader market thus far this week," AAP co-managers Jim Cramer and Jack Mohr wrote last week. 
Unfair tax bill or not, sagging iPhone sales or not, Cramer is standing by Apple. Doug Kass, on the other hand, sits on the other side of the fence. Only time will tell which investment thesis wins out. 
Editor's Note: This article was originally published at 10:45 a.m. EDT on Real Money on Aug. 30.
Employees of TheStreet are restricted from trading individual securities.
Action Alerts PLUS, which Cramer co-manages as a charitable trust, is long AAPL and SBUX.