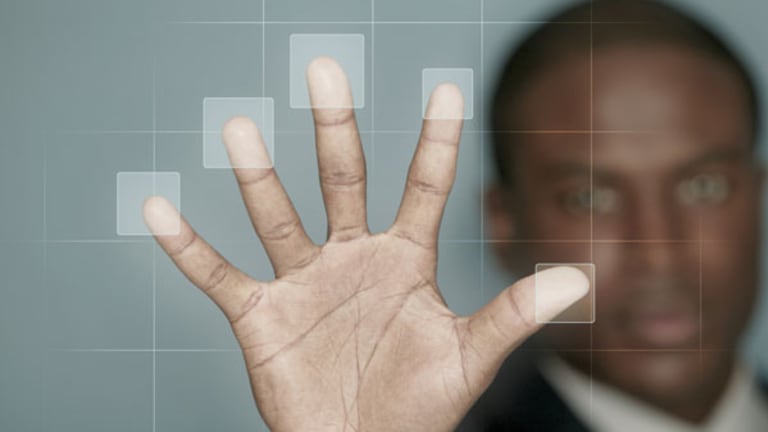 Apple, Google Connect on iPhone
Two tech behemoths with big ambitions look set to work more closely together.
Updated from 6:26 a.m. EDT
The march toward
Apple's
(AAPL) - Get Report
iPhone launch has sparked widespread buzz, but the bigger development may be how the device is bringing together two titans of tech.
Beginning with the iPhone, Apple and Internet search leader
Google
(GOOG) - Get Report
are set to cross paths in more than one way as the companies stake their claim in the growing mobile market for communications, entertainment and Internet browsing.
Apple has already intimated that its new phone, selling at $500 for the base model, will come loaded with Google's search and mapping applications. And last week, Apple Chief Executive Steve Jobs announced that videos from Google's YouTube can be streamed wirelessly from computers to Apple TV set-top boxes for viewing on televisions.
The collaboration foreshadows a deeper partnership that extends into video distribution and advertising on mobile devices.
"Apple already has a big lead in the portable music market, and the next big thing is portable video," says Richard Parower, portfolio manager at J. & W. Seligman. Seligman owns both Google and Apple shares.
Apple could gain a similar advantage in mobile video by working with Google to give users of its iTunes online music store easy access to YouTube's trove of video clips. That would be the first step in replicating the success that Apple had with digital music.
"Apple is good at getting the right device and the right content together, and putting the content in one place for users to access easily," says Parower. "YouTube can help by providing the video content."
The iPhone's success will become increasingly important to Apple over the next three to five years, as slower iPod sales growth can be expected because of the mix of sales shifting toward replacements rather than first-time purchases, says Parower.
Apple products have an intangible "cool factor" that surrounds their sleek designs and user-friendly software. But the company needs more than that to compel consumers to shell out $500 or $600 for the iPhone, which is scheduled to be released on June 29. Hesitant buyers may be more likely to open their wallets if videos from YouTube -- already available on many mobile devices -- are forthcoming.
The major handset makers, including
Motorola
( MOT) and
Nokia
(NOK) - Get Report
, work with scores of developers -- which they invest in and sometimes acquire -- in order to spur creation of must-have applications that would increase the value of owning their phones.
But at last week's All Things Digital industry conference in San Diego, Jobs quashed speculation that Apple would work with third parties to develop applications for the iPhone. Google, however, already has a foot in the door through the Apple TV project and the inclusion of Google Maps and search on the iPhone.
What's more, Google CEO Eric Schmidt is a member of Apple's board.
For his part, Schmidt is actively pushing Google into the mobile market. The company has released mobile versions of its email and mapping applications for phones running Java as well as operating systems from
Microsoft
(MSFT) - Get Report
and
Palm
( PALM).
Google is also working with
Research In Motion
( RIMM) and
Helio
, a joint venture between
SK Telecom
(SKM) - Get Report
and
EarthLink
(ELNK)
, to link GPS data to search results to help people find the closest stores, movie theaters and other locations while they're on the go.
The principal motivation is to put its search engine in users' hands wherever they happen to be. This could boost the volume of Google searches and its related advertising revenue.
Similarly, taking YouTube to mobile devices could increase the number of videos viewed, and hence lift Google's ad sales -- an area of heightened focus in the wake of the company's planned purchase of DoubleClick.
Google currently runs ads alongside of some videos on YouTube. Shortly after acquiring the Web site, Google and
Verizon Wireless
, a joint venture of
Verizon Communications
(VZ) - Get Report
and
Vodafone
(VOD) - Get Report
, announced plans to format YouTube videos so they can be viewed on Verizon Wireless phones.
The iPhone adds another key mobile venue for Google, which clearly isn't wedded to the iPhone to satisfy its mobile ambitions (rumors have even surfaced this year that Google has mulled its own branded phone device). But the company is going to "hitch its wagon to the top
cell-phone horses," says ThinkEquity analyst Jonathan Hoopes. ThinkEquity makes a market in Apple and Google shares.
Projections for iPhone shipments vary between 10 million and 15 million in 2008, and 25 million by 2009.
Even if sales falls short of these lofty levels, the iPhone would still be on pace to match shipments of Research In Motion's BlackBerry shipments, putting it safely among top Internet-ready phones that will include Google services.
Click here to see a Stockpickr list of iPhone suppliers
.
As originally published, this story contained an error. Please see
Corrections and Clarifications.