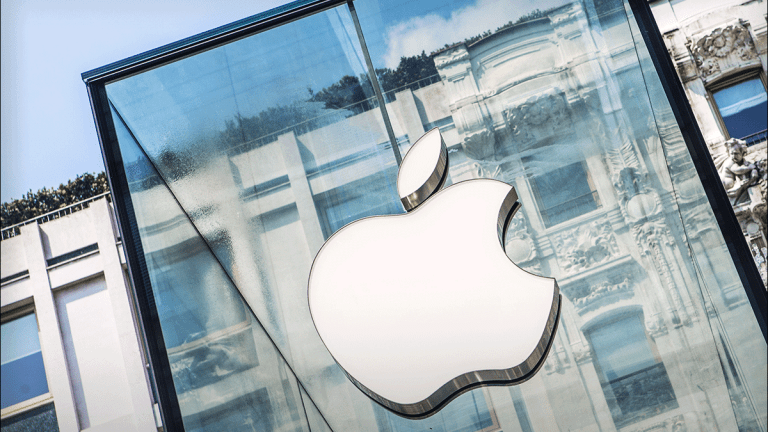 Apple Gains on Better-Than-Feared Guidance and New Disclosures: 7 Key Takeaways
Numbers shared by Apple about its services margins, the performance of various services businesses and the size of its iPhone installed base have been well-received.
Three months after Apple's (AAPL) shares were hurt by its plans to stop disclosing hardware unit sales, its stock appears to be getting a post-earnings boost from a different set of disclosures.
After the bell on Tuesday, Apple reported December quarter (fiscal first quarter) revenue of $84.31 billion (down 5% annually in dollars and 3% in constant currency) and GAAP EPS of $4.17 (up 7%). Revenue was slightly above a $83.97 billion consensus and the guidance issued in Apple's early-January sales warning. EPS slightly topped a $4.17 consensus.
For the seasonally weaker March quarter, Apple expects revenue of $55 billion to $59 billion. That's mostly below a $58.98 billion consensus and implies an annual drop of 4% to 10%.
Nonetheless, Apple's recently-beaten-up shares rose 5.7% in after-hours trading to $163.48, and took the shares of chip suppliers such as Cirrus Logic (CRUS) , Skyworks (SWKS) , Qorvo (QRVO) and Broadcom (AVGO)  higher with them. Low expectations are helping Apple's cause, as are some of its disclosures.
Wednesday Apple shares were up 6.83% to $165.25.
Here are some notable takeaways from Apple's report and call.
1. Apple's Services Margins Are Pretty High
During its Nov. 1st earnings call, Apple -- in addition to stating it will no longer break out iPhone, iPad and Mac unit sales -- said it would start separately breaking out its gross margin GM for product businesses and services businesses. And sure enough, the company just disclosed that it had a December quarter product GM of 34.3% (down from 36.1% a year ago thanks to lower iPhone sales) and a services GM of 62.8% (up from 58.3% a year ago).
That disclosure is going over well, since Apple's services revenue (up 19% annually last quarter to $10.88 billion in spite of an accounting change that hurt the annual growth rate) has been steadily growing as a percentage of total revenue, and is expected to continue doing so. The high margins recorded (from all indications) by businesses such as the App Store, iCloud storage and AppleCare services have much to do with the gap between product and services GMs.
Apple is a holding in Jim Cramer's Action Alerts PLUS member club. Want to be alerted before Jim Cramer buys or sells AAPL? Learn more now.
2. There Are Over 900 Million iPhones in Use
Apple says its total active device installed base, which was at 1.3 billion in Jan. 2018, surpassed 1.4 billion last quarter. Perhaps more notably, the company shared the size of its iPhone installed base for the first time, disclosing there are over 900 million iPhones being actively used today, with the base growing by almost 75 million over the last 12 months in spite of recent iPhone sales pressures.
Given how pivotal of a role the iPhone plays in driving both services revenue and the adoption of other Apple hardware, that remark, which suggests there's a pretty large base of iPhone owners relying on older and/or used devices, is also going over well.
CFO Luca Maestri added that Apple's iPad and Mac installed bases also hit new highs last quarter -- in October, Apple noted the Mac base was above 100 million -- and that half of all iPad and Mac buyers were first-time users of a Mac or iPad.
3. There Were a Slew of New Stats About Individual Services Businesses
Apple Pay transactions totaled over 1.8 billion last quarter, with annual growth said to be "well over" 100%. Cloud services revenue (driven by iCloud Storage subscriptions) rose over 40%, and the total number of paid subscriptions that Apple either directly provides or takes a cut on grew by another 30 million sequentially to over 360 million, with Apple forecasting the number will top 500 million next year. Paid Apple Music subscriptions are said to have topped 50 million; in November, it was reported that total Apple Music subscriptions (both paid and free trial) had topped 56 million.
Maestri added that Apple's paid services accounts grew by a strong double-digit percentage annually, and Cook mentioned that no services business accounted for over 30% of total services revenue. In addition, Maestri indicated (as Cook did earlier this month) that Apple is prepping new services offerings that will arrive later this year..
4. Chinese Sales Were Weak, But Other Regions Did Better
As indicated in its warning, Apple had a rough time in China last quarter: Its "Greater China" revenue, which covers the mainland, Hong Kong and Taiwan, fell 27% to $13.17 billion. Cook reiterated that Greater China iPhone, iPad and Mac sales all fell, while adding that the region's wearables revenue was up over 50% and that Apple's installed base continued growing.
European revenue fell 3% to $20.36 billion, and Japanese revenue (hurt by phone subsidy reductions) fell 5% to $6.91 billion. However, Americas revenue rose 5% to $36.94 billion, and (in spite of Apple's remarks about seeing pressures in many emerging markets) "Rest of Asia Pac" revenue rose 1% to $6.93 billion.
5. The iPad, Mac and Wearables Offset iPhone Pressures to an Extent
In line with what Apple signaled in its warning, iPhone revenue fell 15% to $51.98 billion (still 62% of total revenue). The company reiterated macro and forex pressures in emerging markets weighed on sales, as did lengthening smartphone upgrade cycles in developed markets.
iPad revenue, benefiting from the launch of new iPad Pros as well as holiday discounts on the standard iPad, rose 17% to $6.73 billion. Mac revenue, benefiting from an overdue MacBook Air refresh, rose 9% to $7.31 billion. And "Wearables, Home and Accessories" revenue (formerly referred to as "Other Products") rose 33% to $7.31 billion thanks to a near-50% increase in wearables (Apple Watch and headphone) sales.
6. Apple Is Trying to Address iPhone Pricing Concerns Via Actions Other Than Price Cuts
When asked whether Apple had priced its latest iPhones too high, Cook insisted it hadn't. However, he did admit that forex swings had (by increasing local-currency prices for iPhones) become an issue in emerging markets, and so had reduced phone subsidy activity by carriers in developed markets.
He added that in January, Apple has chosen in some regions to "absorb part or all" of the impact of a forex move, rather than raise local-currency prices for its products. Also mentioned: Apple is relying on enhanced iPhone trade-in offers (via its GiveBack program) and efforts to make it easier to pay for iPhones via installment plans to boost upgrade activity.
7. Buyback Activity Slowed
After having spent $19.4 billion on stock buybacks in the September quarter and $20 billion in the June quarter, Apple spent a more modest $8.2 billion last quarter. With Apple having repurchased 38 million shares, it looks as if its average purchase price was above $215 per share, or more than 30% above where the stock currently trades. That average purchase price, meanwhile, suggests most of Apple's December quarter buybacks happened in October.
When asked about last quarter's buyback slowdown, Maestri noted Apple takes "overall market conditions" into account when deciding whether to repurchase shares. He reiterated that Apple, which ended the December quarter with $130 billion in net cash (cash minus debt), aims to eventually become net cash neutral.
TheStreet's Eric Jhonsa previously covered Apple's earnings report and call through a live blog.
Score a Touchdown with Jim Cramer's Big Game Special
Get access to the best stock picks in Jim Cramer's investment portfolio by executing a two-minute drill on our Big Game Special on Action Alerts PLUS, Jim's VIP club for investors. Sign up now through Feb. 4 and receive 58% off of the normal subscription price. Now that's a real touchdown!