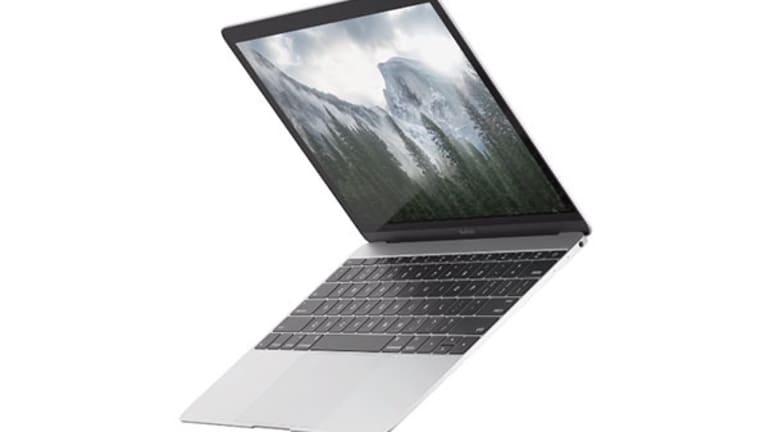 Apple Earnings Inside Scoop -- Watch Qualcomm, Corning Too
When Apple reports quarterly earnings after the closing bell Tuesday, remember that its suppliers like Qualcomm and Corning stand to benefit from strong shipments too.
NEW YORK (Real Money) -- After Tuesday's market close, Apple (AAPL) - Get Apple Inc. (AAPL) Reportwill report quarterly earnings. No doubt, this will be a focal point all afternoon, and you should expect to hear all sorts of chatter about expectations for iPhone, iPad and Apple Watch shipments. Let's remember, however, there are a number of suppliers that stand to benefit, particularly if Apple delivers better-than-expected shipment numbers.
Remember, last quarter it crushed iPhone deliveries and it sounds like the company has enjoyed more share gains during the June quarter at the expense of Samsung (SSNLF) and others. Ahead of these results, let's think about what Apple's earnings mean from a "buy the bullets" perspective. In other words, which suppliers are poised to benefit if Apple crushes shipments again or get hit if, for some reason, this leadership company in our increasingly connected society comes up short?
For Real Money Pro readers, several obvious players should spring to mind, including semiconductor suppliers such as Qualcomm (QCOM) - Get QUALCOMM Incorporated Report, Skyworks Solutions (SWKS) - Get Skyworks Solutions, Inc. Report and Qorvo (QRVO) - Get Qorvo, Inc. Report. Yes, I said Qorvo, the resulting company from the merger between TriQuint Semiconductor, which was an RF semiconductor supplier to Apple, and RF Micro Devices, which was not a supplier until the most recent iPhone model added a switch module. Also buried inside the iPhone 6 are products from Avago (AVGO) - Get Broadcom Inc. Report, including several power amplifiers per device, and InvenSense (INVN) , which is supplying the iPhone 6's gyroscope and accelerometer.
Continuing with the iPhone, Broadcomundefined is the touchscreen controller supplier, and NXP Semiconductor (NXPI) - Get NXP Semiconductors NV Report has several components, including the one that helps make Apple Pay, as Steve Jobs would say, simply work. Of all the chip suppliers found inside the iPhone 6, the one with the greatest number of chips is Qualcomm.
Looking at the iPad Air 2 model, right off the bat we find NXP Semiconductors has the Touch ID sensor as well as the NFC controller (just like in the iPhone 6 and 6 Plus models). Other suppliers for various components include Cirrus Logic (CRUS) - Get Cirrus Logic, Inc. Report, Maxim Integrated (MXIM) - Get Maxim Integrated Products, Inc. (MXIM) Report, Texas Instruments (TXN) - Get Texas Instruments Incorporated Report and Broadcom. Murata (MRAAY) has the Wi-Fi module and SK Hynix is the NAND flash supplier, while Micron Technology (MU) - Get Micron Technology, Inc. (MU) Report is the one for RAM.
Inside what will surely prove to be just the first iteration of the Apple Watch, key suppliers include STMicroelectronics (STM) - Get STMicroelectronics NV ADR RegS Report for the gyroscope and accelerometer, Analog Devices (ADI) - Get Analog Devices, Inc. Report for the touchscreen controller, and Texas Instruments, which is the supplier for certain aspects of the Watch's sensor package.
One of the suppliers that we tend to take for granted is Corning (GLW) - Get Corning Inc Report, which supplies Apple with the Gorilla Glass that we swipe our fingers across every time we use our iPhones and iPads. Let's remember that larger glass-panel sizes tend to benefit Corning's revenue and prices, which mean better-than-expected iPad shipments could help Corning's results.
Apple usually does not share new product details until they are formally announced, but the rumor mill has Apple introducing a larger iPad Pro in the back half of 2015. Any mention of this -- directly or indirectly -- could push Corning shares higher.
Editor's Note: This article was originally published on Real Money Pro at 8:30 a.m. EST on July 21.
This article is commentary by an independent contributor. At the time of publication, Versace's Thematic Growth Portfolio was long QCOM and SWKS, although positions may change at any time.