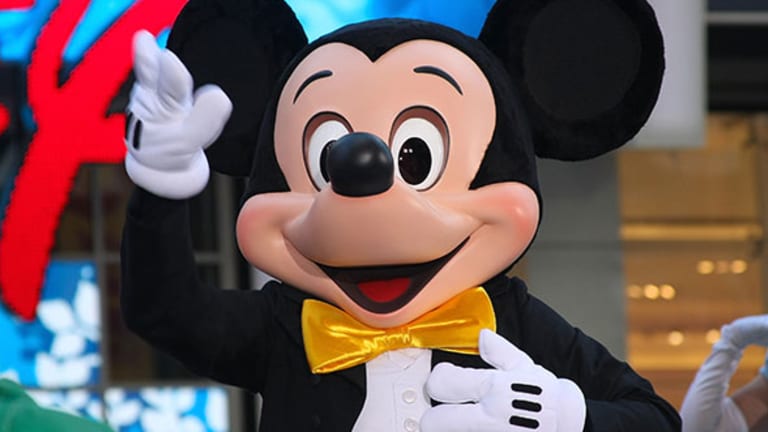 Apple, Disney and Best Buy: Doug Kass' Views
Doug Kass shares his thoughts on how to navigate and remains anticipatory.
Doug Kass shares his thoughts on how to navigate and remains anticipatory.
Doug Kass shares his views every day on RealMoneyPro. Click here for a real-time look at his insights and musings.
Let's Be Careful Out There
Originally published at 3:30 PM EDT on May 13, 2016
I remain anticipatory and manifestly bearish and substantially short in my portfolio.
Few stocks represent adequate value to me based on reward vs. risk.
This week's and last week's action continue to signal a large and important market top -- a continuing process that began in May 2015.
I fully expect market technicians to be reactionary in joining my fundamental concerns for an exacta (old horse racing bet/term.)
My advice?
As Michael Conrad said in "Hill Street Blues," "Let's be careful out there."
Position: None
How to Navigate Markets and Form Independent Views
It's fair to ask how so many people failed to foresee the recent downturn in business prospects for Apple (AAPL) - Get Report , the earnings disappointment at Disney (DIS) - Get Report or this week's "Retail Wreck."
Originally published at 1:31 PM EDT on May 13, 2016
As a partial explanation, I'd like to review my own analysis and methodology, and also discuss the tactical moves that I took among retail stocks earlier this year. (These moves allowed me to avoid the Retail Wreck and profit on the short side.)
How I Analyze Stocks
To begin with, I conduct ongoing channel checks and bottom-up research, often with offbeat contacts who typically don't spew the company line. That's why I sometimes disappear for hours at a time in between diary postings. This isn't easy -- it's labor intensive, and sourced by nontraditional contacts that I've developed over years.
Secondly, I take all company-management interviews that I see in the business media with a healthy dose of skepticism. (More on that next week.)
Always remember that like just about everyone, CEOs have something to sell. Particularly avoid paying attention to those who have overpromised and underdelivered in the past. The CEOs of Macy's (M) - Get Report and Caterpillar (CAT) - Get Report come to mind.
Case Study: How I Navigated Retail
I initiated and expanded longs on several retailer stocks late last year and during the market's January and February weakness. That's because I believed that U.S. consumers' financial conditions would improve in part because of an expanding job market and lower oil prices. As such, I saw an improving risk-vs.-reward ratio for retail stocks as their prices fell dramatically.
But channel checks that I made in March and April began to uncover an absence of a recovery in same-store sales relative to consensus, in part due to the disruptive impact of Amazon (AMZN) - Get Report . This suggested to me that the retail segment's profit outlook was compromised.
Here's the sequence of my moves in recent months -- from buying retail stocks early in 2016 to moderating my bullishness, opportunistically reducing my longs and eventually initiating a net-short exposure in retail by shorting Nordstrom (JWN) - Get Report :
Late 2015/Early 2016: Buying M and Other Retailers
I went long on Macy's and other retailers in late 2015 and added to these positions in early 2016.
As I wrote as recently as Feb. 23: "Macy's (M) - Get Report remains my favorite retailing investment, and the chain beat lowered expectations and provided better-than-expected guidance this morning before the bell."
March 10: Selling BBBY and Shorting JWM
But just 2-1/2 weeks later, I profitably sold Bed Bath & Beyond (BBBY) - Get Report amid my growing negative outlook for the retail sector and stocks in general.
I stuck with longs of M and Best Buy (BBY) - Get Report at the time, but shorted JWN at around $56.20 based on bottom-up analysis. So, I was short JWN against longs of M and BBY.
As I noted that the time:
"I'm basing my move on Nordstrom's outsized enterprise-to-cash-flow multiple relative to what the retailer's peers currently have. JWN trades at nearly 8x EV/Ebitda -- way more than just the 5x that Kohl's (KSS) - Get Report is offering or the 6x ratio at Macy's. ...
In an increasingly competitive department-store space, the only things that justify such a big EV/Ebitda premium are better margins and/or improving relative sales comparisons, neither of which Nordstrom has.
While JWN's comps should be slightly positive this year, that will likely come at the expense of margins. But Nordstrom's gross margins have already dropped by about 225 basis points from their peak six years ago to 35% today.
In fact, JWN's margins fell every year from 2011 to 2014. The chain's margins should also face a headwind from the 2015 sale of Nordstrom's receivables book. That alone should cost JWN more than 100 basis points of margin in the periods ahead. ... So, I'm shorting the name and putting Nordstrom on my "Best Short Ideas" list at $56.20."
-- Doug's Daily Diary, Shorting Nordstrom and Its Undeserved Premium (March 10, 2016)
March 15: Selling Off BBY
I next profitably sold my BBY long on March 15 based on weakening retail conditions, noting:
"With today's sale of my stake in Best Buy (BBY) - Get Report and last week's disposal of Bed Bath & Beyond (BBBY) - Get Report , I'm now market neutral in retail because I'm long Macy's (M) - Get Report and short Nordstrom (JWN) - Get Report ."
The U.S. retail outlook is deteriorating, and I'm responding in my portfolio. The Commerce Department said today that retail sales dropped 0.1% in February -- but the real bad news was a revision to January's numbers. Commerce revised its initial reading of a strong 0.2% gain down to a dramatic 0.4% decline.
Reflecting this and my bearish market and global economic concerns, I'm selling my long of Best Buy (BBY) - Get Report and taking the stock off of my 'Best Long Ideas" list.'"
-- Doug's Daily Diary, My Latest Take on Retail (March 15, 2016)
April 18: Exiting M
I next sold Macy's (my only remaining retailing long) for a profit on April 18 when my analysis uncovered concerning reversals in previously bullish trends at the company. (This certainly proved prescient in the weeks that followed.)
As a wrote that day:
"I'm eliminating of Macy's (M) - Get Report from the rundown, and I've sold out my long of the stock as well for a small profit.
I believe the retail sector will likely suffer from the headwinds of rising costs and reduced pricing power going forward as traffic remains challenging.
Channel checks also indicate that Macy's and other retailers might have experienced lower-than-consensus comps during March -- a trend that seems likely continue.
I now have zero retail longs and one retail short: Nordstrom (JWN) - Get Report ."
-- Doug's Daily Diary, Time to Leave Macy's (April 18, 2016)
My Current Take
In my latest outlook for the market's major sectors, I updated my pessimistic view of retail:
"The retail industry is being disrupted, with this week's miserable retail-comps reports supporting 'The Death of the Mall.' That will continue -- although this fact is well-known and some companies are trying to adapt to change.
Still, too many big-box chains remain, and I expect to see some marginal players declare bankruptcy over the next few years. Likewise, there's an oversupply of restaurants. ...
Given all of the above, I sold my longs in Bed Bath & Beyond (BBBY) - Get Report , Best Buy (BBY) - Get Report and Macy's (M) - Get Report since my last sector update (mostly for gains). I'm also short on Nordstrom (JWN) - Get Report due to my downbeat outlook for the chain. Additionally, I'm short on Starbucks (SBUX), whose comps disappointed in last week's earnings report. My overall view of both JWN and SBUX is that high-priced retailers could see adverse impacts from price elasticity in the slowing world economy that I expect.
All told, I'm slightly net short in the retail sector."
-- Doug's Daily Diary, My Outlook for the Market's Major Sector(May 6, 2016)
The Bottom Line
The above timeline illustrates that you should always remain independent in view.
I admit that primary analysis is time consuming, but just think of how much preparation that Jim Cramer does every night before doing hard-hitting for Mad Money interviews with CEOs like Joe Papa of Valeant Pharmaceuticals (VRX) . Jimmy doesn't accept glittering generalities as responses. Instead, he takes deeper dives and is persistent in his questioning.
You should do your homework, too -- or at least follow sources like Jim and our other Real Money Pro columnists who do creative analysis and are willing to go against the consensus. That beats simply listening to CEOs who all too often spill their pablum of optimism to the business media!
Position: Short JWN, CAT, AAPL, DIS, SBUX
Good News for Our Short Trades of the Week
Originally published at 12:24 PM EDT on May 13, 2016
Our last two Short Trades of the Week -- shorts of the
iShares MSCI United Kingdom ETF
(EWU) - Get Report
and the
iShares China Large-Cap ETF
(FXI) - Get Report
-- are both starting to "earn."
FXI has likely broken down, and EWU looks like it's rolling over.
I'm currently short China, Britain and the United States (through a short of the SPDR S&P 500 ETF (SPY) - Get Report and a long of the ProShares Short S&P 500 (SH) - Get Report , which is an inverse S&P 500 play).
I plan to expand my geographic shorting in the weeks ahead (subject to price, as always). I also hope to have a new and "juicy" Trade of the Week to share with you in a few days.
Position: Long SH, Short SPY, FXI, EWU (small)
APPLE is a holding in Jim Cramer's Action Alerts PLUS Charitable Trust Portfolio. See how Cramer rates the stock here. Want to be alerted before Cramer buys or sells APPL? Learn more now.
Doug Kass is the president of Seabreeze Partners Management Inc. Under no circumstances does this information represent a recommendation to buy, sell or hold any security.