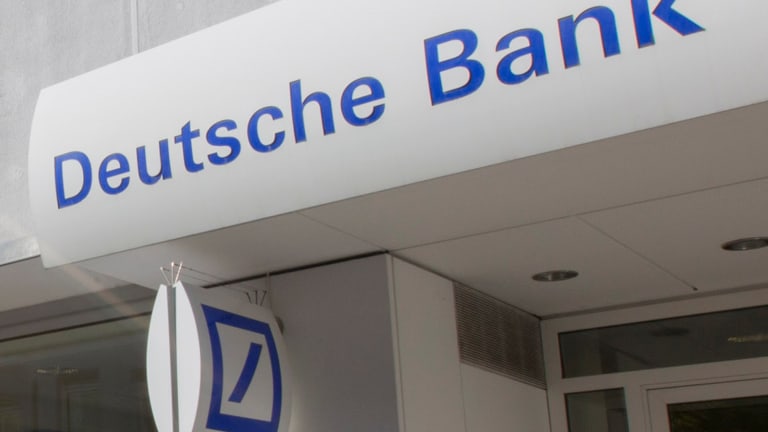 Apple, Deutsche Bank and Tesla: Doug Kass' Views
Doug Kass shares his thoughts on the purple line of skepticism and what's going on over at Deutsche Bank.
Doug Kass shares his thoughts on the purple line of skepticism and what's going on over at Deutsche Bank.
Doug Kass shares his views every day on RealMoneyPro. Click here for a real-time look at his insights and musings.
Skepticism Looks Like It's Climbing
Originally published at 2:31 PM EDT on May 6, 2016
This chart (Hat tip to "The Little Chief," Bloomberg) helps to explain why there is a bid under the market.
Skepticism -- as manifested in the sharp drop in the call/put ratio -- seems to climb as stocks decline.
Just look at the purple line, which shows the reduction in call buying and the increase in put buying.
Position: None
My Takeaways and Observations
Mo' Apple (AAPL) - Get Report . Apple, are you Sirius (SIRI) - Get Report ?
Originally published at 3:53 PM EDT on May 5, 2016
Food for thought from a leading economic voice, Larry Lindsey. Makes me want to buy gold on weakness!
Staying short Tesla ( (TSLA) - Get Report ) and bearish on Elon "P.T. Barnum" Musk.
Thanks for the big response to our contest, "Where's Donald?" And here he is!
Watch Deutsche Bank (DB) - Get Report shares; they're my favorite current market tell, and down half a beaner today.
ProShares Short S&P 500 ETF (SH) - Get Report , my Trade of the Week, was up three cents.
The U.S. dollar weakened meaningfully in the trading day.
The price of crude oil rose by 35 cents a barrel to $44.13.
Nat gas dropped by six cents.
Gold was essentially flat at $1,274.
Agricultural commodities = schmeissburger. Wheat -9.75, corn -3.50 and soybean -21.75.
Lumber +3.40.
Bonds rose in price, and were lower in yield. The 10- and 30-year note and bond moved down by 2.5 basis points, yielding 1.75% and 2.61%, respectively.
Municipals were well-bid, and closed-end municipal bond funds continue to float higher to new 2016 highs. I had premature termination in this space late last year!
High-yield debt was flat, but Blackstone/GSO Strategic Credit Fund (BGB) - Get Report was up three pennies to $14.
Banks stocks were disappointing and continued a multiday selloff. I remain short Financial Select Sector SPDR ETF (XLF) - Get Report at good prices.
Brokerages were lower by about one-half percent. I covered my Goldman Sachs (GS) - Get Report and Morgan Stanley (MS) - Get Report shorts earlier in the week.
Life insurance, my favored short sector because of reduced reinvestment opportunities in a low-rate setting got whacked. Lincoln National (LNC) - Get Report was down $2 and MetLife (MET) - Get Report a beaner. Hartford Financial Services Group (HIG) - Get Report was conspicuously higher, up 15 cents. I like the pair trade long HIG/short MET-LNC.
Energy stocks were unchanged.
Old tech traded flat, save IBM (IBM) - Get Report , up $2.
Retail got hit on L Brands' (LB) - Get Report bad comps and mall concerns. Nordstrom (JWN) - Get Report , a short is my only holding in retail.
Agricultural equipment, on the heels of a Caterpillar (CAT) - Get Report diss from Greenlight's David Einhorn, were down measurably.
Autos, despite a plug of General Motors (GM) - Get Report by Einhorn at the Sohn Conference, were flat.
Consumer nondurables fell as our currency strengthened.
Disney (DIS) - Get Report led media, up $1.10.
Biotech is still drek. Speculative biotech rolling over.
(T)FANG was weaker, led by Amazon (AMZN) - Get Report , down $11, and TSLA, down $10. I added to the latter short Thursday.
NOSH was yuck.
In individual names, Mr. Market gave yesterday but took away today in Twitter (TWTR) - Get Report and Potash (POT) -- I wouldn't bottom fish, as I have mentioned recently. The Mighty OAK -- Oaktree Capital Group -- was flat, and DuPont (DD) - Get Report was down 55 cents.
Apple continues to trade rottenly, down $1.15. Apple needs a visionary, a house hippie, in my view.
Here are some great posts on Real Money Pro today:
Jim "El Capitan" Cramer on what's working now.
Tim "Not Phil or Judy" Collins goes Texas on us in his discussion of a controversial Freeport-McMoRan !
Robert "Not Rita" Moreno on CAT's technicals. Another controversial one in which Jimmy and I hold to differing viewpoints.
James Passeri on a great review of the Ira Sohn Conference -- a must read!
Chris Laudani rains on Macy's parade.
Position: Long SH, HIG, OAK, DD; short SPY, IWM, QQQ, NFLX small, TSLA small, LNC, MET, SBUX small, CMCSA small, DIS small, XOM small, SLB small, CAT, AAPL, JWN, BRK.B, small XLF Deutsche Bank Isn't Uber Alles
Originally published at 12:30 PM EDT on May 3, 2016
I've continually warned that we should all monitor Deutsche Bank (DB) - Get Report , which is down some 6% as I write this on Tuesday.
That's not a good signpost, and I remain short on the overbought banking sector via a short of the Financial Select Sector SPDR ETF (XLF) - Get Report .
Position: Short XLF
Our FXI Short Looks Good
Originally published at 10:14 AM EDT on May 3, 2016
I spend a lot of time filtering through my trading ideas to come out with a single Trade of the Week, which aims to identify which long or short can deliver a good jolt in the near term.
I expect last week's Short Trade of the Week -- a short of the iShares China Large-Cap ETF (FXI) - Get Report -- to do well again this morning. After all, Peter Boockvar noted Tuesday that we got some weak Chinese data overnight:
"The private-sector-weighted Caixin China manufacturing PMI fell to 49.4 in April from 49.7 in March. The latest read is slightly below the 49.8 that analysts had expected, and the index has now been below 50 for 14 straight months.
Caixin said that according to survey respondents, "relatively weak market conditions and softer client demand led firms to be cautious towards their production schedules. Furthermore, new order books stagnated in April, following a slight expansion in the previous months. The latest data indicated that weaker foreign demand continued to weigh on overall new orders, with new export work falling for the fifth month running."
In other words, Chinese manufacturing continues to suffers from weak global trade, excess debt levels and excess capacity in many industries (although the Chinese are at least facing up to that last factor). The market's response to the report was mixed. The retail-driven Shanghai index rose 1.9%, but Hong Kong's institutionally influenced H share index fell 2.1%. The onshore and offshore yuan were both also lower."
I don't buy China's "recovery story," and that forms the basis of my FXI short. And I don't buy yesterday's S&P 500 rally, either -- as you can tell by this week's Long Trade of the Week, which is a long of the ProShares Short S&P 500 (SH) - Get Report . That's a 1x inverse play on the S&P 500.
Frankly, I see Wall Street's recent rally as nothing more than part of a long, important market top that began to form in May 2015.
Position: Long SH; Short SPY, FXI
Doug Kass is the president of Seabreeze Partners Management Inc. Under no circumstances does this information represent a recommendation to buy, sell or hold any security.