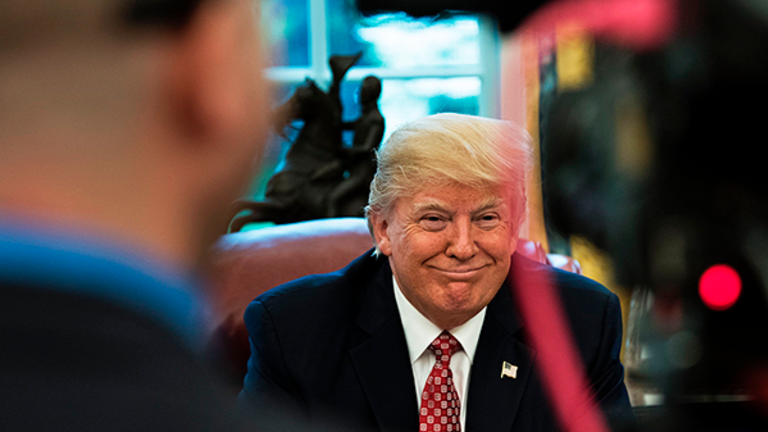 This article originally appeared at 07:20 ET on Wednesday on Real Money, our premium site for active traders. Click here to get great columns like this from Brian Sozzi and other writers even earlier in the trading day.
Apple (AAPL) - Get Apple Inc. (AAPL) ReportCEO Tim Cook should take a few minutes out of his day and picture the profits that could be about to rain down thanks to President Trump's tax proposal.
"Our analysis shows a reduction in the U.S. tax rate will drive a 6% benefit to EPS while a cash repatriation holiday and share buyback could drive an incremental 10% EPS benefit (assuming 25% of repatriated cash used for stock buyback)," Citi analysts wrote on the impact on Apple from Trump slashing the corporate tax rate to 15% from 35%. 
"We see Apple as a significant beneficiary of Trump tax reforms," said the report's analysts Jim Suva and Asiya Merchant.
That is some serious coin. Forget the iPhone 8 supercycle; Apple could be staring down the barrel of a tax-cut-driven profit explosion. Playing around with Citi's numbers and doing some analysis, Trump's tax proposal -- as it was laid out on Wednesday -- could boost Apple's stock price by at least another 32%. If the iPhone 8 supercycle happens, that could make the gain even greater. 
There's your daily dose of stock hype. You're welcome.
Read This Or Lose Out
Forget the unicorn frappuccino, try this sugar bomb instead: A kind thank you to my buddy Kevin Chupka over at Yahoo Finance for the expert review (below) of the Starbucks (SBUX) - Get Starbucks Corporation Report cherry pie frap. But before you drag yourself to your local Starbucks, be advised that this drink apparently is a Japanese exclusive (Mr. Chupka is currently touring Japan with his family). Knowing Starbucks, I wouldn't be surprised if it brings this drink to the U.S. and sells it for $10 before year's end. The problem: it looks incredibly hard to make (has a pie crust on top) and could slow the lines even more. 
On another note, did you know these weird frapps have no caffeine in them? 
In the battle of the beverage wars: And the winner in the first quarter is PepsiCo (PEP) - Get PepsiCo, Inc. Report , which beat nicely on earnings Wednesday and reiterated its full-year outlook for 8% earnings growth. The results are in stark contrast to rival Coca-Cola (KO) - Get Coca-Cola Company Report , which missed on earnings and sees profits falling slightly this year.
Reiterate: Incoming Coca-Cola CEO James Quincey must be the one that finally gets Coke into the snack food business. I think he will be that guy (see video below). 
The market for skilled labor is tight, and raises are coming: The biggest chicken company around, Tyson Foods (TSN) - Get Tyson Foods, Inc. Class A Report , is weighing whether to raise wages again for its plant workers, reportsReuters. The increases would come after Tyson jacked up base wages for poultry workers by between 3 and 3.5% in November. 
Seeing this immediately opens up concern to retailers such as Walmart (WMT) - Get Walmart Inc. Report . The company has been pretty out in front of lifting wages for workers over the past year and articulating the profit hit to investors. But, if wages are poised to spike like Tyson suggests, Walmart and other retailers could be in a tough spot later this year. 
If you try Chipotle's first-ever dessert, I want photos:Chipotle (CMG) - Get Chipotle Mexican Grill, Inc. Report will soon start testing its first-ever dessert -- some kind of fried chip with honey. If these things land in a Chipotle by you, send photos to @BrianSozzi on Twitter. 
China made an aircraft carrier: Take away what you want from this one. China launched its first domestically designed and built aircraft carrier on Wednesday morning, points outDaily Mail. It's a massive 50,000-ton carrier based on the Soviet Kuznetsov class design.
Let's just hope we don't see this thing off the coast of Long Island, New York anytime soon.
Today's good guy award goes to: Sadly, I have to relinquish my good guy title to San Antonio Spurs head coach Greg Popovich. The 68-year-old reportedly left a $5,000 tip on an $815.73 bill at McEwen's, a Memphis restaurant, reportsBleacher Report.
There is inflation...in how much it costs to fix your car: Yes, this sucks. A new study looking at average repair costs in 2016 has found that the price rose 2.7% between last year and 2015. That brings the average repair bill for a visit to the old mechanic $398.
Wonder if John Legend iTunes downloads will plunge this week: The popular singer had this to say about President Trump ahead of a gala on Tuesday evening:
"He's manifestly unqualified, not curious, not good at legislating or really anything the job requires," Legend said. "He doesn't have any depth about any subject. And he's also using the office of the presidency as a way to make money with himself with his businesses, so he's corrupt. I can't say anything nice about the guy, I think he's one of the worst people I've ever encountered in public life."
Oddly, a rich guy like Legend stands to benefit the most from Trump's proposed tax plan changes. 
Jim Cramer and the AAP team hold a position in Starbucks, Pepsi and Apple for their Action Alerts PLUS Charitable Trust Portfolio. Want to be alerted before Cramer buys or sells SBUX, PEP and AAPL? Learn more now.
Trending news on TheStreet:
Unfortunately for Chipotle, the Price for One of Its Most Beloved Ingredients Is Soaring
Taking Apart Samsung's Galaxy S8 Beside an iPhone Shows How Picky Apple Is About Design
Editor's Pick: Originally published April 26.