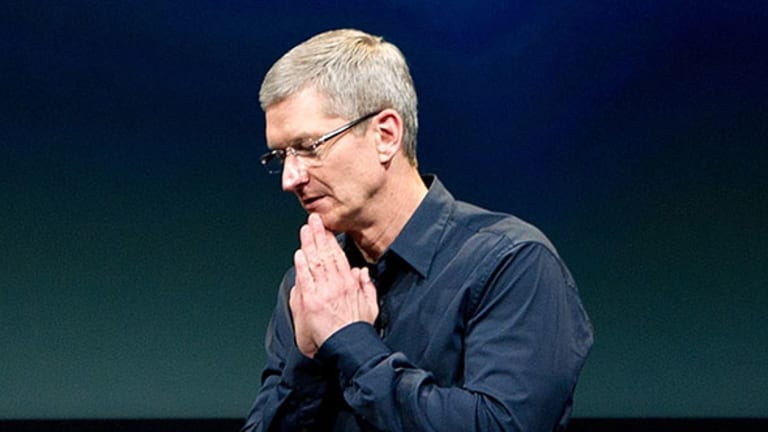 Apple Chart - iPhone 8 Selloff Accelerates, Watch These Support Levels
Downside momentum is accelerating as selling interest pickups.
Apple (AAPL) - Get Apple Inc. Report shares are down about 4% since the Sept. 12 launch of the new iPhone 8. The technical case for a pullback following the announcement was outlined on TheStreet.com earlier last month. A key zone of support was broken at the open on Friday which could be a catalyst that accelerates the downside momentum. Let's take a look at future levels support on the weekly and daily time frames.
At this point in the last session of the week, the long-term uptrend line on the weekly chart has been broken. A close in the lower range of this candle would form a particularly ominous looking long solid dark candle. It would suggest that Apple is not done going lower and the momentum and money flow indicators are in agreement. The relative strength index and the TRIX indicator, which is a triple exponentially smoothed moving average designed to filter out insignificant price movement, had been in bearish divergence to the stock price prior to the announcement and have continued to track lower. Overall volume has picked up and money flow continues to deteriorate. This reflects a shift in investor sentiment and possible institutional distribution.
The levels of support outlined on this chart are the intersection of the 40-week moving average and the horizontal support line in the $142 area. Below this is the 38% Fibonacci retracement level of the 2016 low and this year's high, and after that is the reinforced $126 level which is the 50% retracement level and marks the 2015 high. A move to the 50% retracement level would be just over a 20% decline and put the stock in an official bear market.
Friday, Apple shares gapped below a key zone of support in the $155 to $152 area. The breakdown from the rising triangle pattern earlier this month, along with Friday's subsequent failure of the $152 level has set into motion what is beginning to look like a waterfall decline. If the recent negative price momentum picks up, the stock could quickly test the key $142 level highlighted on the weekly chart.
These levels are all potential inflection points which, if they were to fail could send the stock significantly lower, but could just as easily be a platform for a substantial bounce. The point of highlighting them is to help traders with a position to define stop loss levels and for those looking for potential entry points, either to the long or short side. Look for continuing Apple updates at Rightviewtrading.com.
The author is an independent contributor and at the time of publication had no position in the stocks mentioned.