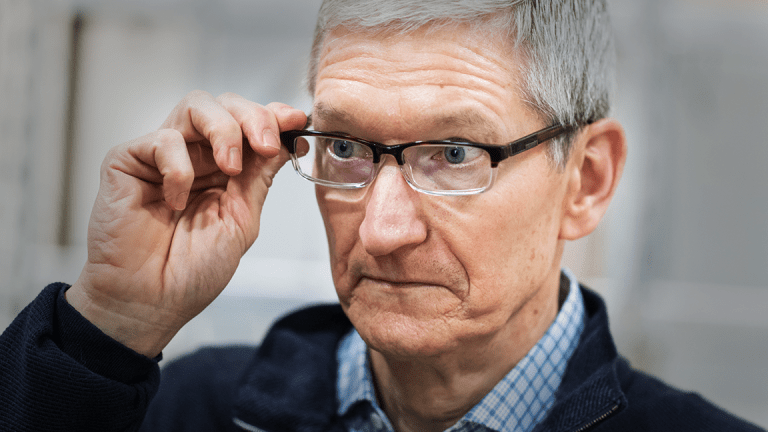 Apple CEO Tim Cook Gets a Big Raise, but He'll Have to Fly by Private Jet
Apple CEO Tim Cook saw his pay rise nearly 50% this year to $12 million and change.
Apple (AAPL) - Get Apple Inc. (AAPL) Report CEO Tim Cook saw his pay rise nearly 50% this year to $12 million and change, thanks to a big increase in performance incentive compensation.
But that's not the cool thing. The cool part is that Apple's board ordered him to take private planes everywhere including for personal travel.
"This policy was implemented in 2017 in the interests of security and efficiency, based on our global profile and the highly visible nature of Mr. Cook's role as CEO," an Apple proxy statement filed with the SEC Wednesday said.
Cook's annual pay was about half of what other senior Apple executives made. But have no fears for him.
The unvested shares and units of stock Cook holds added up to about $450 million in value, according to the company's proxy statement.
And while the company's latest iPhone X may be struggling, it's clear that the stock's performance has been strong under Cook (who became CEO in 2011, after Steve Jobs). "Net sales and operating income for 2017 were $229.2 billion and $61.3 billion, respectively, and year-over-year, our stock price increased 36.7%," the proxy noted.
Apple saw its market capitalization top $900 billion for the first time at the beginning of November. The milestone appears to be just one more step on the path to becoming the first trillion-dollar company.
When Jobs died in 2011, Apple was already into the $300 billion market capitalization range. Then the iPhone growth kicked into hyperdrive and the company saw its value surge by a quarter of a trillion dollars to $600 billion in a matter of months.
By 2015, after splitting its stock 7-for-1, Apple joined the Dow Industrials. And while the Apple Watch, the first new product launch after Jobs' death, failed to inspire the same kind of cult loyalty the iPhone had, it hardly mattered. The growth engine kept turning over and pouring billions more into Apple's cash hoard.
Of course, there are places where Apple seems to be a little chintzy with their CEO. They only kicked in $16,200 to his 401k. That means he would have come up with almost $38,000 to reach the overall federal limit of $54,000 for the year.
While it may seem a little odd that the multi-millionaire CEO of the world's most valuable company would even want to bother with the paperwork of a retirement account, Cook is 57. And if that money is allowed to grow tax-free for a few years, it could really turn into a nice cushion, just as long as he puts it into a nice diversified fund and doesn't bet it all on some volatile tech stock.
Jim Cramer and the AAP team hold a position in Apple for their Action Alerts PLUS Charitable Trust Portfolio. Want to be alerted before Cramer buys or sells AAPL? Learn more now.
More of What's Trending on TheStreet:
Employees of TheStreet are restricted from owning individual equities.