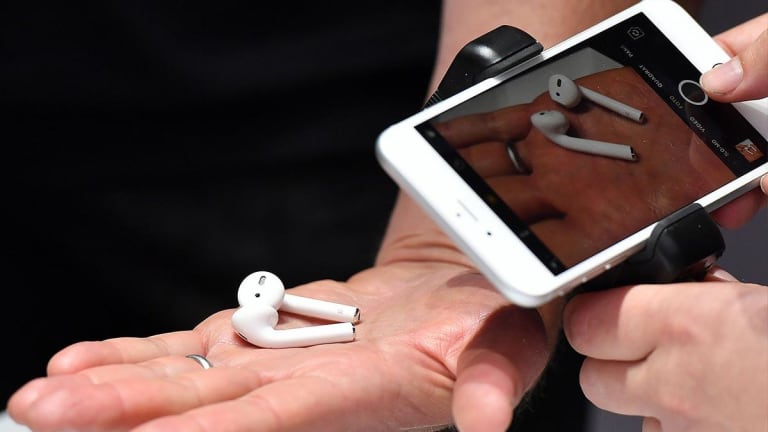 Apple's Big Earnings Report Is Irrelevant to Plunging Tech Stocks
All eyes on Apple to swoop in and save the falling tech stock complex. Tesla's earnings on Wednesday will be ugly. McDonald's should just focus on breakfast, not MacCoins.
Hit the investing textbooks again if you think Apple's (AAPL) - Get Report earnings report after the close today means a hell of a lot to the now plunging tech sector.
Think for a second what this key FAANG stock component is right now: a slow revenue growth tech giant that yields 1.5%. Apple is a play on its cash giveaway to investors such as Warren Buffett (large shareholder), not necessarily on excitement for an iPhone XX later this year that will call you a SpaceX rocket to Mars via gesture control.
Apple is no longer the Facebooks (FB) - Get Report , Amazons (AMZN) - Get Report Adobes (ADBE) - Get Report , Palo Alto Networks (PANW) - Get Report  or Netflix's (NFLX) - Get Report of the world posting mind-blowing quarterly growth rates and attracting the lazy money who rides momentum but can't read financial statements. The spreading tech sector weakness, resigned currently to high growth names, is likely the start of investors finally reasoning valuations are too high here ahead of a 2019 filled with interest rate hikes and slowing economic growth. Moreover, the growth rates of hot tech are beginning to top out and that has to be accounted for in valuations.
For high growth to recapture some of its footing, a transaction has to happen to suggest companies are seeking new ways to reignite growth. Facebook has to go out and buy Netflix. Salesforce (CRM) - Get Report has to out and buy Nvidia (NVDA) - Get Report . Or, an Adobe has to smash profit forecasts by 50 cents and lift guidance by a $1.00. Until then, realize Apple is not the savior -- but enjoy its earnings call later.   
Market Fun Facts 
Dubai's stock market is poised to notch its biggest monthly gain in a year. After five straight months of losses, the DFM General Index is up more than 5 percent this month.
Instead of handing out MacCoins to mark the Big Mac's 50th birthday on Thursday, perhaps McDonald's (MCD) - Get Report should hand out #McMuffinMoney. Shares of the Golden Arches haven't out-performed the benchmark Dow Jones Industrial Average I:DJI since mid-December amid slowing sales in breakfast and fears of profit-busting inflation. McDonald's has also chosen not to be too sharp on menu prices to drive traffic while rivals -- such as Dunkin' Brands (DNKN) - Get Report -- have gone low.
Said McDonald's CEO Steve Easterbrook on the second quarter earnings call: "When you look at our breakfast performance overall, that's an important part of our overall sales mix, as you know, and it's been a stronghold for us for many, many years. But we've just begun to lose a little bit of share at that daypart, in particular." 
Around TheStreet
Fun day for TheStreet on tap as we will be on the ground at the annual KBW community banking conference. Chatting with the smaller banks always provides great insight into what's happening on Main Street. If you want to know how Trump's tariffs are hurting farmers, there is nothing like sharing a coffee with the CEO of a 50 branch bank in the Midwest.
Meanwhile, we will also be talking to the CEO of payment processing powerhouse First Data (FDC) - Get Report . The $22 billion market cap First Data is fresh off another strong quarter on Monday thanks to a healthy U.S. economy and the shift to online shopping. First Data's performance this year is especially notable given intense competition from Paypal (PYPL) - Get Report , which is an Action Alerts PLUS holding. Since TheStreet is the exclusive media partner at the event, keep a close eye on the @BrianSozzi Twitter handle today.
If Tesla doesn't quiet its many critics on earnings day Wednesday, it may ruin the year for the 10 Wall Street analysts that rate the stock a buy. These 10 Tesla bulls could be characterized as hardcore upbeat. Price targets among the bulls range from $385 (James Albertine, Consumer Edge Research) to $530 (Pierre Ferragu, New Stree Research). Tesla's shares closed Monday at $290, down 10% on the year.