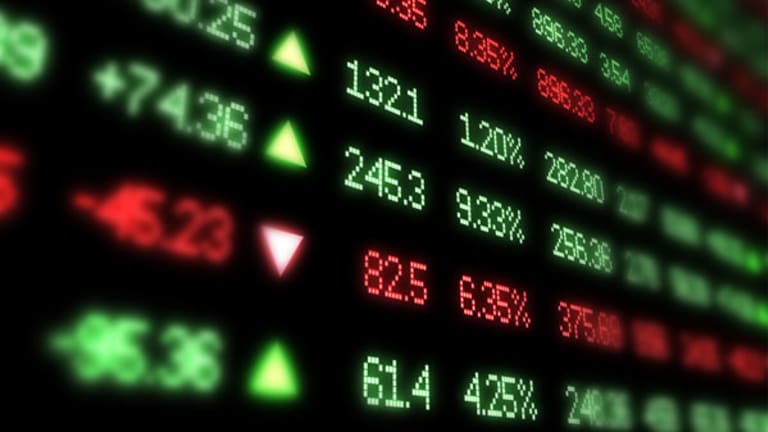 Apple as Consumer Product Company; Trump as Loose-Cannon-in-Chief: Jim Cramer's View
Cramer shares his views on why Apple should be graded like a consumer product company and discusses how President Trump is beginning to confuse everyone in the business world.
Jim Cramer shares his views every day on RealMoney. Click here for a real-time look at his insights and musings.
Cramer: Apple Should Be Graded Like a Consumer Product Company
A consumer product goods company trounces the earnings consensus, with 10% earnings growth, giving you an eight-cent beat off a $2.02 basis. The company has accelerating revenue growth, with 5% global growth, despite severe foreign exchange headwinds. It raised the average selling price of its principal product and the price stuck--highly unusual in a year of compressed prices for almost all consumer goods.
Originally published May 3 at 8:10 a.m. EST
The company boosts its already above-average quarterly dividend by 10.5% to $0.63 and increases its current share repurchase by $35 billion from the current $175 billion--that's right, $175 billion--to $210 billion. The company ended the quarter with $256.8 billion in cash and marketable securities, an increase of $10.8 billion; 93% of that money is overseas, eligible for a potential tax windfall that could dramatically increase capital return program, already the largest in the world.
It's bought back 20% of the company's stock in the last five years.
What do you pay for that stock?
It's a pretty easy question. The company's revenue, earnings growth, balance sheet and dividend capabilities put is right in the mix with a stock like Procter & Gamble (PG) - Get Procter & Gamble Company Report or Clorox (CLX) - Get Clorox Company Report , certainly better than a stock like Kimberly Clark (KMB) - Get Kimberly-Clark Corporation Report or Coca Cola (KO) - Get Coca-Cola Company Report .
But let's be judicious; let's give it an average of the price-to-earnings multiples of those companies, call it 21x earnings.
The result? $189.
But what if the company makes a different kind of consumer product company, a cellphone?
And what if that company's name is Action Alerts PLUS charity portfolio Apple (AAPL) - Get Apple Inc. Report ?
Or, for that one, the one that hasn't been able to produce a device that could blow away people's expectations?
For that, we pay 16x earnings, MAX!
I know; to me, it just sounds unfair. And I think it sounds unfair to Tim Cook, the CEO, too. What's the narrative he is fighting?
OK, let's put it in the negativists' way.
This is a company on a treadmill, each year trying to put out a better product that can dazzle yet, because its previous products are so darned good all it can do is pretty much equal the sales of previous phones.
Not only that, but sales in the fastest-growing market in the world, China, haven't been that strong, so even though they had strong iPhone growth in four of their five operating segments and experienced, and I quote, "especially strong results in Western Europe, the Middle East and our rest of Asia Pacific segments", it's not enough.
And, it's got a once-hobbled competitor, Samsung, that's doing much better after sitting out a round, and it has a rival product that is well-received by critics.
Therefore, you need to sell it, because it doesn't have the kind of growth that you get from other technology companies.
Now, how does the company get off the treadmill?
I could argue that it's had some success doing so, because it's selling for an appreciably higher price-to-earnings multiple than it was a year ago, when the stock stood at $93.
I think that's been happening because its service revenue stream is the blade to the iPhone's razor, and that stream, which we all pay pretty much without thinking of it, brought in $7 billion in revenue this quarter--a new record. It will soon be producing at a rate of about $28 billion and it has a gigantic profit margin, far bigger than the already juicy margins of the razor.
Now, of course, the real issue here is that Apple isn't in a "jam." It has the best products out there, the highest customer satisfaction, and no one doubts that each phone has something that they wanted more than they realized.
The company does admit that there has been a bit of a pause in buying, but it did say that some of that is because of the hype for the big change, the supercycle, the next phone, the iPhone 8. It also admitted that it misjudged demand for the Plus, so perhaps numbers could have been even better. And the trajectory of Chinese growth, while definitely off course, is getting better.
Oh, and if repatriation gets done--and I think it will if the company continues to return the excess cash flow--then another one third of the share count could go away.
But, the only way I can possibly see that the debate is closed about the company's stock and where it should go? It needs to do something to make that service revenue stream to its 165 million subscribers more valuable.
That way, the stock could move out of the cohort that is Facebook (FB) - Get Meta Platforms Inc. Class A Report and Google  (GOOGL) - Get Alphabet Inc. Class A Report and Microsoft (MSFT) - Get Microsoft Corporation Report and Salesforce  (CRM) - Get salesforce.com, inc. Report and into the category that more suits it, that of the best consumer branded businesses out there. Is that a sin?
No, it's a solution for the stock price, even if the stigma of being graded as a consumer product company may just be too much for anyone in Silicon Valley to bear.
Action Alerts PLUS, which Cramer co-manages as a charitable trust, is long AAPL, GOOGL and FB.
Cramer: With Trump as the Loose-Cannon-in-Chief, What's a Company to Do?
Originally published May 2 at 5:45 p.m. EST
The Trump trade has become a bit erratic of late. In fact, our president is becoming someone who is starting to confuse the heck out of everyone in the business world and, while he's certainly able to ponder anything--he's the president of the United States--you can't invest on his musings. Companies' stocks are going up because of earnings, they are going up because of self-help, and then there are some that are going down because of uncertainties created by the offhanded tweets and the casual comments that then reverberate around the world.
When you say out loud that maybe the big banks should be broken up, when you tweet that the country needs a good shutdown in September, you are giving a signal to the American people: "Don't take me seriously, I just think and tweet as if I am not president, but a provocateur-in-chief who doesn't know my own power."
We've come a long way in the past 100 days. We've gone from thinking that Trump's going to save American business to asking if American business can handle the erratic nature of this man's pronouncements. Can American business bank on a one-page tax plan that seems to have few friends in Congress? Can the modern-day CEO run a company without thinking, oh man, what's he going to tweet next?
It's not as onerous as the endless regulations put through in the past eight years. But it's also not what was expected when he came in with guns blazing, vowing to help the American worker while supporting American businesses.
So what happens? Domestically, we're stalled. We got some really weak car numbers today, sales so putrid that the idea our auto sales haven't peaked is now out the window. The incentives are too high, the supply too great, the used-car prices too low to think this industry can give us some oomph. My hope had been that small business would grow so much that it could be a spur to sales. Instead, I think the repeal-and-replace buzzkill repealed and replaced boom with gloom.
Gross domestic product, a fancy name for how much business is getting done in this country, has slacked off to a level that it is getting increasingly hard to justify raising rates twice this year, something the banks need badly. It sure doesn't help, by the way, if you now have to think your bank should be broken up. I don't care, an idle comment by this president is then backed up immediately by a phalanx of people willing to testify that they are too big, a casualty of the Great Recession when banks were allowed to merge in an unprecedented concentration of power so they all didn't go under.
And yet the market, so disconnected from the American economy, continues to go higher.
Why?
Not a stupid question.
In order to get your stock up in this environment, you have to do one of four things:
Split your company into separate entities to bring out value.
Buy companies that augment your core business in order to grow.
Have a sizable business in Europe and Asia to offset American weakness.
Have a better mousetrap.
Every stock that roared today had one of those boosters going.
Let's start with the most obvious, the split-up. Barry Diller, the founder and chairman of IAC/InterActive (IAC) - Get IAC/InteractiveCorp. Report , has created a huge amount of value since he started a company that has had many moving parts over the years. Yet he doesn't get the credit for making brilliant moves. That ends tonight. This morning his company bought Angie's List (ANGI) - Get Angi Inc Class A Report and then merged with it with Home Adviser, an overlooked division that pre-screens and rates service professionals, which is the original mission of Angie's but the latter just couldn't scale.
Maybe only Diller can spend $570 million buying Angie's and then see his stock go up almost $900 million as Home Adviser will now be its own stand-alone company. Twelve points made; bravo.
How about No. 2, buy some additional companies to augment your core. That's what Cramer fave Martin Marietta Materials (MLM) - Get Martin Marietta Materials, Inc. Report has done acquiring aggregate companies all over the place--making it so it has grown from being a small regional player to one with businesses in every growing state. That's how it could act like a fast-growing tech company when it blew out the quarter last night. Stones aren't supposed to have growth--and a rock feels no pain (couldn't resist Simon & Garfunkel)--but the numbers here suggest this company isn't waiting for the president's infrastructure plan to pass or fail at the hands of that genius, House Speaker Paul Ryan. State road budgets will do just fine. MLM ramps 17 points or more than 7%.
I was agog at the strong quarter from Cummins (CMI) - Get Cummins Inc. Report this morning. The engine maker reported such a fantastic number that I found myself thinking, how could I be so wrong about how soft the American truck market is?
Whoops, I got it right. North American engine shipments declined by 1%. But international revenues increased by 17% and, most important, first-quarter revenues including joint ventures were $1.1 billion, an increase of 49% because of growth in Cummins' highway and constriction business. Industry demand for medium- and heavy-duty trucks in China increased by a staggering 73%, aided by aggressive infrastructure spending and truck replacements. The stock tacks on nine points or 6%. I think there's more to come.
Finally there's No. 4, the better mousetrap. To me, that defines Apple (AAPL) - Get Apple Inc. Report , which traded to still another all-time high today, up 27% for the year. Why? Better mousetrap. The world's largest company reported after the close, and even before the cyber ink was dry, we heard that while the headline numbers were better than expected, there was disappointment in the number of phones sold, especially in China. (Apple is part of TheStreet's Action Alerts PLUS portfolio.)
Here's what I have to say. If you are going to play the handset game, meaning you are trying to pin the tail on the number of units sold and hold it against Apple that it sold 1.2 million phones fewer than some thought, even as inventories were down big, then you shouldn't be in the stock. If you are going to assess this company as if it is one phone away from death's door, then by all means sell it. That is, if you didn't sell it at $93 last year, or $103, or $113, or $123 or wherever else panic guided your "thinking."
Me? With a price-to-earnings multiple way below the average stock, with a gigantic buyback that you are more than welcome to sell into because CEO Tim Cook is adamant that the stock is cheap -- and he has been more right than any analyst -- and with a potential for repatriation of tens of billions of dollars at low tax rates if the president and Congress could see eye to eye on anything, I say be my guest. But after scrutinizing the quarter I am sticking with my long-held view to own it, not trade it.
Oh, and don't forget, Warren Buffett, who has a lot of firepower, agrees with me and he will be on CNBC from 6 to 9 a.m. with Becky Quick on Monday and I don't think he's trading out of it. I bet he's a buyer if it comes in.
Of course, there are some other counterintuitive ways to see your stocks go higher. Getting hauled in front of Congress, for example, as United's (UAL) - Get United Airlines Holdings, Inc. Report Oscar Munoz was today because of the now infamous drag-by. I think this was one of those cathartic experiences and the next data point will come again when Buffett praises this group on CNBC. No wonder the stock of United Continental is now above where it was when the unfriendlier skies paid customers a visit. In fact, it was up $3.67 or more than 5%.
And then there's Coach (COH) , a franchise written off as mall roadkill when it is anything but. It's got style and new brands besides just Coach and I think we should have all known it could have an upside surprise when Selena Gomez wore a Coach dress to the much-ballyhooed Metropolitan Museum gala. That stock advanced more than $4 or 11%.
But the bottom line is in an environment where Trump's trumping himself with inconsistent pronouncements that are throwing off pretty much everyone, it pays to merge, spin, sell internationally or have a better mousetrap. Without one of these, all I can say is good luck.
Action Alerts PLUS, which Cramer co-manages as a charitable trust, is long AAPL.
Action Alerts PLUS, which Cramer co-manages as a charitable trust, is long AAPL, GOOGL and FB.