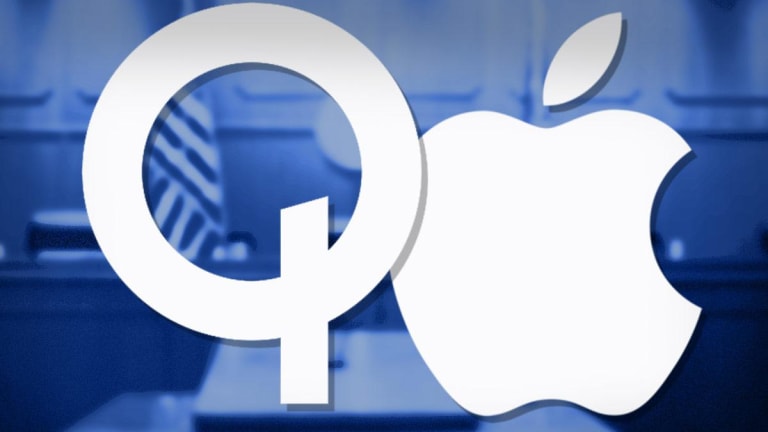 Apple and Qualcomm Head Into Earnings Season With Legal Battle Settled
Both Apple and Qualcomm will report quarterly earnings next week, just two weeks after settling a long-running legal battle over patent rights and royalty payments. Both companies are expected to report positive trends in earnings.
By now, you've heard the news: Apple  (AAPL) - Get Apple Inc. (AAPL) Report  and Qualcomm (QCOM) - Get QUALCOMM Incorporated Report have settled their legal dispute, ending a two-year battle over royalty payments and patent rights in dramatic fashion. The companies announced the agreement just as lawyers began their opening arguments in court. So much for the battle of the tech giants.
For investors, however, there is a lot to be cheerful about. Settling the legal dispute frees up both companies to focus on their core businesses - devices and services for Apple, high-end communication chips for Qualcomm - without a courtroom distraction in the background. Both stocks have shown gains since the settlement was made public, with Qualcomm being the greater beneficiary.
So now let's turn to the TipRanks data on these two major tech players, see where they stand today, and what to expect when they report their earnings next week.
Take a Bite at the Apple?
We'll start with Apple. The tech giant is set to report fiscal second-quarter earnings on April 30, and the estimates are a mixture of positives and negatives. On the downside, Q1 earnings included a 4.5% drop in revenue, attributable to a 15% drop in iPhone sales. The Chinese market saw the biggest drop, of 27%. In response, Apple has lowered prices for its products in China, by 6%. The effect of Apple's new prices - against competition from Huawei and Xiaomi - is not clear, but the Q2 earnings should provide some insight.
Apple's biggest move in reaction to the Q1 numbers, and the move most likely to impact Q2, was CEO Tim Cook's unveiling of the major shift toward enhanced services. Building the 900-plus billion strong iPhone user base, Apple will this year release a set of content services: News+, TV+, and Arcade will join Apple Music. Apple clearly has the resources to create quality content on the scale needed to compensate for the slowing iPhone new-sale market.
And there is the Qualcomm settlement. Apple had initiated the suit, saying that Qualcomm was charging too much for modem chip licensing and putting too many patent restrictions on the technology. In the settlement, Apple has agreed to pay a fixed sum, not disclosed, and to purchase a six-year license to use Qualcomm chips. The agreement effectively locks in Qualcomm as the supplier for iPhone modems, but Apple saves face by avoiding a court battle.
Wall Street analysts have taken note of both the Qualcomm settlement and the upcoming earnings. Writing from D.A. Davidson, Tom Forte gave AAPL shares a $245 price target, suggesting an upside of 18%. He noted positive initial performance of News+, as well as management's clear plans to counter slower iPhone sales and reward shareholders through buybacks and dividends.
Focusing on the legal issues is Jim Kelleher from Argus. He said, "The decision to settle was driven by the realization that Apple may miss out on the 5G phone cycle upgrade... Apple stock remains attractive compared to its historical valuations and to peer average multiples." Kelleher's price target, $225, indicates a potential upside of 8.5%.
Overall, AAPL retains a moderate buy consensus rating, based on 17 buy reviews and 13 holds. The share price has gained considerably in recent weeks, and raced above the $199 average price target. AAPL is trading for $207.
Qualcomm Is Looking at a Bright Future
Qualcomm appears to have been the clear winner in the legal battle with Apple. From the chipmaker's perspective, there is the lump sum payment from Apple. But more importantly, iPhone, with its 18% market share, is a guaranteed customer for Qualcomm's modem chips for the next six years.
The earnings report, due out on May 1, is likely to bring a pleasant surprise to investors. QCOM is expected to report earnings of 54 cents a share; the last two quarters saw EPS beats averaging 9.7%. With the company's share price up $29 (a 51% jump) since the settlement announcement, Qualcomm is well positioned for another beat.
Christopher Rolland, five-star analyst from Susquehanna, agreed that the legal battle was a win for QCOM. Writing on April 17, he said, "This is a huge step forward for Qualcomm, a company making silent progress behind lawsuit headlines ... We now see >$7 of EPS [full year]." In line with his upbeat outlook, he raised his price target to $95, suggesting an upside of 9.5% for this stock.
Morgan Stanley analyst James Faucette, on April 23, also gave QCOM shares a $95 target. Additionally, he upgraded his outlook on the stock to overweight, explaining in a research note: "We upgrade as we see new opportunities and optionality as more attractive than risks potentially overlooked by any near-term settlement-induced euphoria."
These recent analyst reviews, with their 10% upside, are a good sign for QCOM, because like AAPL this stock has raced past its average price target in recent trading sessions. Shares are selling for $86, while the average PT is still $80, an indication that the analysts have simply not caught up to the new conditions in which QCOM is operating. The same holds for QCOM's consensus rating of moderate buy; this is based on 14 buy ratings and seven holds, but five of those holds were given two or more months ago.
offers exclusive insights for investors by focusing on the moves of experts: Analysts, Insiders, Bloggers, Hedge Fund Managers and more. See what the experts are saying about your stocks now at
. Author: Michael Marcus. This author holds a long position in Apple, Inc.