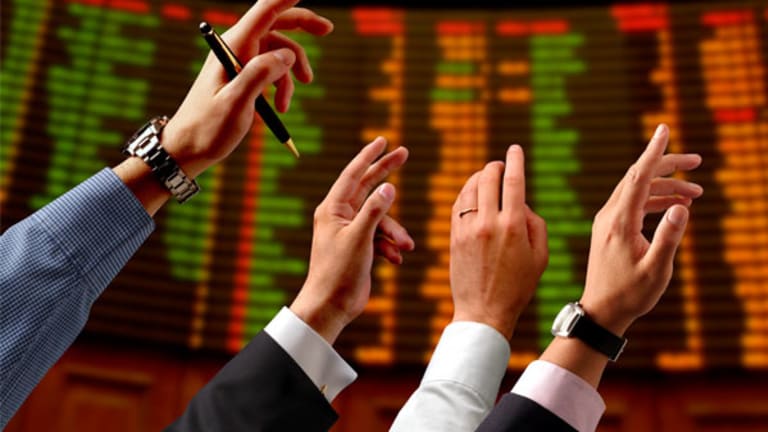 Apple, Amazon, Cisco: Doug Kass' Views
Doug Kass shares his thoughts on how volatility is now underpriced.
Doug Kass shares his views every day on RealMoneyPro. Click here for a real-time look at his insights and musings.
My Takeaways and Observations
Originally published Dec. 8 at 4:16 p.m. EDT
Was Wednesday "FOMO" or something else?
I waited and then moved on the volatility trade.
"How many syllables Mario?" (A Putney Swope reference!)
Wall Street is now a fear-free zone.
Mark Hanson on negative homeowners' equity.
Shorted small IWM and purchased small TZA.
Hartford Financial (HIG) - Get Hartford Financial Services Group, Inc. (HIG) Reportcall activity was conspicuous Thursday. HIG and Campbell Soup (CPB) - Get Campbell Soup Company Reportsuit my tastes.
Though off the highs, the market conducted itself quite well after yesterday's "moon shot" as the multiple expansion rally continues apace.
The U.S dollar was quite strong. This will likely pressure multinational company profits.
The price of crude oil rose by $1.05 to nearly $51 a barrel.
Gold fell by $5 to $1,172.* Ag commodities: wheat down $0.08, corn down $0.04, soybeans $0.24, oats unchanged.
Lumber down $6.
Bonds pressured. The 10-year U.S. note yield rose by over 5 basis points and the long bond by 7 basis points. (The Generational Bottom in yields appears quite safe).
The 2s/10s spread widened by 5 basis points to 129 basis points -- a new high. Good for financials with an imbalance of rate sensitive assets over liabilities.
Municipals fell after a strong day on Wednesday, and closed end muni funds were broadly lower.
Junk bonds were little changed. (Blackstone / GSO Strategic Credit Fund (BGB) - Get Blackstone / GSO Strategic Credit Fund Report down by $0.08 after recent strength.)
Banks still the "world's fair."
Insurance more of the same, higher. I added to (HIG) - Get Hartford Financial Services Group, Inc. (HIG) Report .
Brokerages fab, led by Goldman Sachs (GS) - Get Goldman Sachs Group, Inc. (GS) Report , again.
Retail was storng led by Urban Outfitters (URBN) - Get Urban Outfitters, Inc. Report , Kohl's (KSS) - Get Kohl's Corporation (KSS) Report and Nordstrom's (JWN) - Get Nordstrom, Inc. (JWN) Report , JC Penney (JCP) - Get J. C. Penney Company, Inc. Report inched higher.
Old tech was mixed. I covered Cisco (CSCO) - Get Cisco Systems, Inc. Report yesterday.
Biotech was slightly higher but Celgene (CELG) - Get Celgene Corporation Report and Gilead Sciences (GILD) - Get Gilead Sciences, Inc. (GILD) Report were laggards.
Big pharma can't get going.
Consumer non-durables were lower. I added to (CPB) - Get Campbell Soup Company Report .
Autos were flat after a sensational Wednesday.
Media stronger, led by Disney (DIS) - Get Walt Disney Company Report (short small).
(T)FANG lagged. Amazon (AMZN) - Get Amazon.com, Inc. Report , Tesla (TSLA) - Get Tesla Inc Report and Netflix (NFLX) - Get Netflix, Inc. (NFLX) Report lower.
In indiviudal stocks--Radian (RDN) - Get Radian Group Inc. Report was radiant (rising by nearly 5% to over $16), DuPont (DD) - Get DuPont de Nemours, Inc. Report (a new high), Oaktree Capital (OAK) - Get Oaktree Capital Group, LLC Class A Report flat and Apple (AAPL) - Get Apple Inc. (AAPL) Report (short) up for the second day in a row.
Here are some value added columns from our contributors:

1. Jim "El Capitan" Cramer on the great business thaw.
2. Carley Garner on the euro.
3. Ben "Goldfinger' Cross on gold.
4. Mike Norman is on my (ursine) side.
5. "Meet" Brett Jensen isn't scared of the president-elect.
Positions
Long: TZA small, SDS small, VVX small, HIG large, JCP large, GLD small, RDN, DD, OAK, CPB large
Short: SPY small, IWM small, DIS small, AAPL large
Position: [See above].
Volatility Is Now Underpriced
Originally published Dec. 7 at 8:04 a.m. EDT

Buy volatility -- it is now priced far too low. mall.
VIX closed at 11.50 on Tuesday (down 0.64). Here is the one-year chart.
Over the next few days I plan to go long volatility:
For some time relatively outlandish outbursts and vitriol from President-elect Trump have been dismissed by the markets. But, based on the events and the president-elect's comments/ideas over the last four weeks I continue to believe that Donald Trump will make volatility and uncertainty great again as we move closer to his inauguration.
Without commenting on right or wrong, the recent attacks on United Technologies (UTX) - Get United Technologies Corporation Report and Boeing (BA) - Get Boeing Company Report introduce a degree of business uncertainty and potential market volatility. Trump's rejection of Friedrich Hayek's economic principles, which are based on as little arbitrary interference as possible and staying away from picking winners and losers, and instead favoring what appears to be the adoption of "crony capitalism" -- so foreign to the beliefs of many Republicans and Democrats -- in time can be market-upsetting/unfriendly and could lead to difficulty in implementing policy.
The baton pass from monetary to fiscal stimulation seems likely to be less seamless than the consensus assumes. Donald Trump is no Ronald Reagan. (More on Monday.)
According to Goldman Sachs, policy uncertainties are great while financial conditions are tightening.
The Bull Market in Complacency as measured by investor sentiment (bullish) and the VIX (low) is intact and even is strengthening in the last 10 days. The crowd, certain in a bullish view, is now uniquely well-defined.
Fear and doubt have been driven from Wall Street. Not only is sentiment moving toward the bullish extreme, but so are the talking heads in their self-confident and bullish banter. Interestingly, many had the poop scared out of them at the thought of a Trump election victory.
Markets are technically overbought.
With fear nearly nonexistent, the ratio of reward versus risk (upside/downside) may have shifted unfavorably for investors.
The current setting seems to be a classic point of time to embrace the contrary and fade the consensus on volatility.
Stay tuned for my volatility trades. I am trying to time a good entry point and chose the proper vehicle to accomplish my trading goals.
Position: None
Investment Vision Is Always 20/20 ... in Hindsight!
Originally published Dec. 6 at 1:05 p.m. EDT

Socrates once said that "Knowing you don't know is the beginning of wisdom."
More frequently, when I watch the business media, I find myself asking whether I am the only one who has made investment mistakes and whether I am the only one who doesn't have an answer to every question on any subject.
More and more I feel I am one of the few who, in response to a question, says, " I don't know."
I marvel at the self-confident and glib "talking heads" who are now out in force -- increasingly bullish (after the out-sized market advance).
And increasingly bullish on the Trump victory after being scared s___less before the November election if the Republican candidate was to be the victor.
Again, for emphasis: Hide your portfolios and your children from what Grandma Koufax used to call, "know-it-alls" who are trying to look smart or are trying to sell you something.
Think independently and always assess reward vs risk. And turn off your TV (at times) and do some real homework and research.
Position: None.
The Narrative Changes, Though Fundamentals Haven't Changed
Originally published Dec. 6 at 12:31 p.m. EDT

I am listening to the growing narrative in the business media (and currently on Fast Money Halftime) that the prospects for the U.S. economy are accelerating (even before Donald Trump gets inaugurated).
Riddle me this:
* Goldman Sachs GS just lowered (by 0.2%) its 4Q 2016 Real GDP prospects.
* Is that an acceleration in growth?
It is always amazing to me that the narrative changes with higher stock prices.
"So goes life," as Grandma Koufax used to tell me!
As expressed in today's opener, there is a lot of distance between the cup and lip of the incoming administration's ability to jump start domestic economic growth (through cutting burdensome regulations, cutting taxes, etc.)
And I will use this growing disparity between financial asset prices and the real economy, the growing policy uncertainties and tightening financial conditions by increasing my net short exposure.
Position: Long SDS large; short SPY.
Action Alerts PLUS, which Cramer co-manages as a charitable trust, is long AAPL and CSCO.
Doug Kass is the president of Seabreeze Partners Management Inc. Under no circumstances does this information represent a recommendation to buy, sell or hold any security.