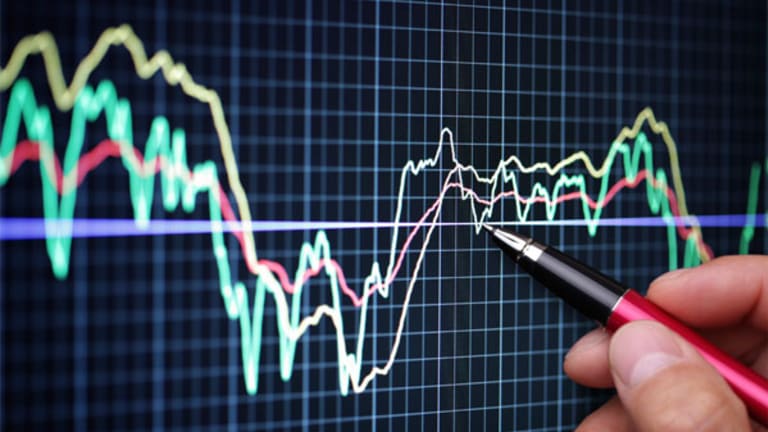 Apple, Allergan, Twitter: Doug Kass' Views
Doug Kass shares his thoughts on his latest 'Best Ideas' long and discusses how the market may have reached its Outer Limits.
Doug Kass shares his views every day on RealMoneyPro. Click here for a real-time look at his insights and musings.
Allergan: My Latest 'Best Ideas' Long
Originally published Dec. 23 at 8:13 a.m. EDT
I have purchased a small long in Allergan (AGN) - Get Report , and I am placing the stock on my Best Ideas List (at $194).
AGN has been part of an out-of-favor group that may continue to be out of favor. Nevertheless, the time to make long-term investments may be precisely at this time as a favorable reward vs. risk is lining up for the shares.
Here is the upside and downside potential I see for AGN:
Twelve-month upside $260 (+33%)
Twelve-month downside $175 (-10%)
AGN has a significant pipeline and a potentially important near-term catalyst:
The company and its partner, Ironwood Pharmaceuticals (IRWD) - Get Report , have just announced good results from a Phase 2b trial that investigated delayed-release versions of Linzess. Well-tolerated with no adverse events, this holds large potential.
CR1 (ileum), in particular, could significantly improve on the strengths of Linzess. More than one third of the CR1 patients have reported pain relief compared to a lesser percentage for Linzess IR and placebo. (The Phase 3 trial will take place in six to nine months).
CR2 (colon) development has been positive, indicating an improvement in pain relief without implications. Meetings by both companies to proceed with the Food and Drug Administration are ongoing.
Besides this favorable data, Allergan shortly will be discussing its 2017 guidance (I believe it could be reset higher), Phase 3 data for Sarecycline and Esmya and coming FDA approval decisions (and perhaps new indications) for SER-120 (nocturia) and Rhofade (rosacea).
I will have more to come regarding my fundamental view of Allergan in the week ahead.
Position: Long AGN small.
CMy Takeaways and Observations
Originally published Dec. 22 at 3:18 p.m. EDT
Is it Friday, yet?
My annual tribute to " El Capitan."
Tech drek?!!!???!
Hope? Nope!
(1) Part 1
(2) Part II
(3) Part III
Palm Beach Chronicles ( Issue #2 Supplement)
You know what I am shorting; here is what I am buying.
Stocks meandered slightly lower most of Thursday. With 60 minutes to go we were down by about 4 to 5 S&P 500 points.
The U.S. dollar strengthened.
The price of crude oil rose by two bits to almost $53 a barrel.
Gold stunk up the joint, again, down by another $3 to $1,130.
Ag commodities: wheat down $0.03, corn flat, sugar unchanged, soybeans down $0.12 and oats down $0.05.
Lumber down $1.
Bonds (on the short and long end rose by 1 basis point).
The 2s/10s spread steepened by 2 basis points to 136 basis points, the widest spread since December a year ago.
Municipals were offered.
Junk was flat, Blackstone/GSO Strategic Credit Fund (BGB) - Get Report up $0.02.
Banks held in brilliantly.
Insurance was lower, though long Hartford Financial (HIG) - Get Report was flat.
Brokerages down modestly.
Autos stalled and the stocks may be breaking out again after a tepid rally recently.
Retails were the disaster du jour as the economic data was unfriendly (income disappointing and spending up). Meanwhile, the threat of export tariffs loom for the sector. I added to Kohl's (KSS) - Get Report , Macy's (M) - Get Report and JC Penney (JCP) - Get Report .
Old tech was indifferent.
Pharma phlat.
Biotech down 1% (but Celgene (CELG) - Get Report up $2). Spec biotech hit again.
Energy stocks were lifted by higher crude.
Consumer staples were mixed. Coca-Cola (KO) - Get Report can't get arrested.
Media mixed.
(T)FANG continues to weaken, something I commented on in my opener.
In individual stocks, Twitter (TWTR) - Get Report ain't so tweet. Radian (RDN) - Get Report holding on well, as is DuPont (DD) - Get Report . Apple (AAPL) - Get Report down on China fears.
Here are some value-added contributions on our site:
Jim "El Capitan" dissects today's market.
"Meet" Bret Jensen says the infrastructure rally is overblown.
Robert "Not Rita" Moreno disses McDonald's .
RevShark on the market's four corners offense.
Tim Melvin goes to the racetrack.
Positions --
Long: HIG, CPB large, JCP large, KSS small, M small, RDN, DD small
Short: KO small, AAPL large, SPY, QQQ, IWM
Position: See above.
We May Have Reached the Market's 'Outer Limits'
Originally published Dec. 20 at 3:00 p.m. EDT
There is nothing wrong with your television set. Do not attempt to adjust the picture. We are controlling transmission. If we wish to make it louder, we will bring up the volume. If we wish to make it softer, we will tune it to a whisper. We will control the horizontal. We will control the vertical. We can roll the image; make it flutter. We can change the focus to a soft blur or sharpen it to crystal clarity. For the next hour, sit quietly and we will control all that you see and hear. We repeat: there is nothing wrong with your television set. You are about to participate in a great adventure. You are about to experience the awe and mystery which reaches from the inner mind to the outer limits.
--Outer Limits opening
With investor sentiment starting to percolate, fear succumbing to greed, the pushy preoccupation of the business media on a meaningless 20,000 DJIA "milestone," a near-$100 billion inflow into equity ETFs since the election, an over-bought market, a near-record low VIX, a 14-year high in the U.S. dollar, tightening financial conditions (and swiftly rising interest rates), valuations (which on certain metrics) are in the 98% percentile (CAPE and GAAP PEs) and an unbridled consensus confidence in an untested president (The Orange Swan) despite likely fiscal policy uncertainties (timing and impact)--it is my growing view that we are reaching the market's Outer Limits.
With fear and doubt having left the building and the consensus shifting to extreme optimism despite the above uncertainties, today I raised my aggregate short exposure accordingly, moving from between small- to medium- sized to slightly more than medium-sized.
My pal and "Fast Money" panelist Dan Nathan--"Diamond (DIA) - Get Report in the Fluff"--summarizes the situation well, here.
And Dan notes that short dated DIA options are near their 2016 lows, with 30-day at-the-money implied volatility of only 10%. In his post he offers an intelligent options trade to take advantage of elevated stock prices and low volume.
Position: Long SDS, QQQ puts; short SPY, IWM small, QQQ small.
Action Alerts PLUS, which Cramer co-manages as a charitable trust, is long AGN and AAPL.
Doug Kass is the president of Seabreeze Partners Management Inc. Under no circumstances does this information represent a recommendation to buy, sell or hold any security.