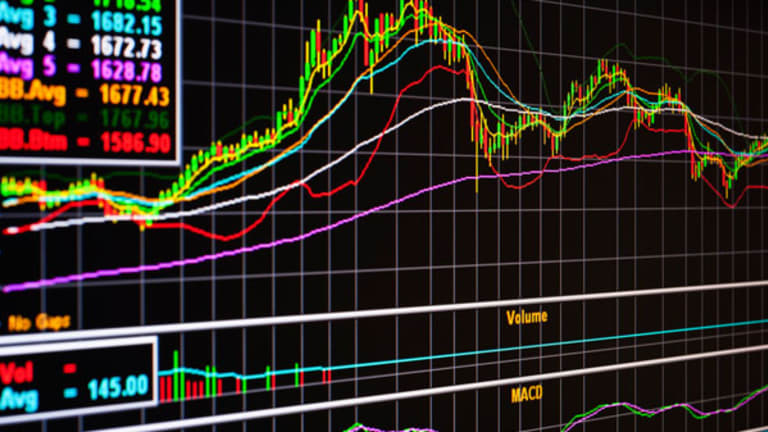 Apparel Stock Short-Squeeze Opportunities
These heavily shorted fashion names stand to benefit from a short squeeze.
BALTIMORE (Stockpickr) -- When times get tough, apparel stocks are often among the first on the chopping block. That's because any contraction in discretionary consumer spending can have a dramatic effect on the bottom lines of firms that market and manufacture clothing.
But it's that relationship to consumer cash that makes apparel stocks an especially interesting play -- particularly when heavily shorted fashion names stand to benefit from a short squeeze.
A short squeeze is the buying frenzy that ensues when a heavily shorted stock starts to look attractive again to investors, causing short-sellers to cover their positions -- and share price to skyrocket. One of the best indicators of just how high a short-squeezed stock could go is the short interest ratio, which divides shares short by average daily trading volume in order to get a ballpark estimate of the number of days it would take for short-sellers to cover their positions. The higher the short ratio, the higher the potential profits when the shorts get squeezed.
Related:
5 Stocks to Capture Bullish Sentiment
This isn't the first time we've looked to apparel stocks for short-squeeze opportunities -- we last explored this industry back in September 2010, targeting three stocks that were being unduly shorted in the face of otherwise impressive business fundamentals. Since then, those three plays have returned an average of 33.82% -- vs. 19.16% from the
S&P 500
.
We'll aim to achieve that once again in 2011 with a look at
a handful of new heavily shorted apparel stocks for this year
.
Gildan Activewear
One of the holdovers from September's list of apparel plays is $4.36 billion clothing manufacturer
Gildan Activewear
(GIL) - Get Gildan Activewear Inc. Report
, a firm that's one of the world's biggest suppliers of T-shirts, stocks, underwear and sweatshirts. While Gildan's product lineup is far from haute couture, the company's consistent presence on store shelves worldwide make it a force to be reckoned with right now. Nevertheless, short-sellers have managed to bet against shares en masse, bringing the firm's short ratio to 9.4. That suggests that it would take two full weeks of short-covering at current volume levels for bears to exit their positions in Gildan.
While the company has a strong retail presence, wholesale is Gildan's bread and butter. The firm is a major supplier for screen print firms, who see cost as the major determining factor in an industry whose wares have largely become commoditized of late. To combat that, Gildan has refocused its efforts on the retail channel in recent years, building brand recognition and courting major retailers such as
Wal-Mart
(WMT) - Get Walmart Inc. Report
.
The decision to put the Gildan brand in front of consumers should ultimately be a wise choice that helps growth in the wholesale channel as well -- after all, as consumers become accustomed to Gildan's products, they'll be more likely to request them from screen print vendors. At the same time, the widened margins of retail offer better profitability that doesn't come with the volume shortfall seen with smaller, more-fragmented retail partners. Expect this stock to continue to see success in 2011.
Gildan, which shows up in the portfolios of
and
, was highlighted last month as one of
40 Value Stocks With Price Momentum
.
Iconix Brand Group
I've long been a fan of small-cap clothing firm
Iconix Brand Group
(ICON) - Get Iconix Brand Group, Inc. Report
because it ventured to do something that far too many clothing firms were scared to do: It stopped selling clothes. More accurately, it switched its business from capital-intensive apparel manufacturing to brand management -- focusing on designing, marketing and licensing an impressive stable of clothing brands instead of worrying about all of the moving parts of a manufacturing operation.
With names such as Candie's, Badgley Mischka, Mudd, Mossimo and Rocawear under its belt, Iconix's portfolio of 17 brands is one of the most recognizable in the country -- and it spans the gamut from discount sportswear to runway fashions. As a result, Iconix benefits from extremely deep margins and predictable, contractual revenue streams.
And because the company owns the names and fashions that fuel exclusive, established names such as Mossimo at
Target
(TGT) - Get Target Corporation Report
, the company arguably has a major advantage in licensing negotiations. The same can be said at other retailers such as Wal-Mart and
Sears
(SHLD)
.
In a time when investors' focus is placed on hard assets and real value, it's no surprise that the massive amount of intangible assets on Iconix's balance sheet has scared off some bulls and sent bears into short mode -- at present, the company has a short ratio of 12.1. But as long as ICON can keep its ever-expanding base of brands generating high-level returns, this stock will continue to be worth a second look.
Iconix shows up on a recent list of
.
Vera Bradley
A relatively recent IPO,
Vera Bradley
(VRA) - Get Vera Bradley, Inc. Report
has made an impressive run for investors who decided to take on a position right after shares hit the market. The $2 billion apparel and accessory company, one of the
10 best-performing IPOs of 2010
, has seen shares rocket 94% since the stock started trading back in late October.
Naturally, that performance has attracted short-sellers to this stock, bringing VRA's short ratio to 7 -- but bets against this stock's performance may be misplaced.
Related:
20 Highest-Yielding Retail Stocks
Vera Bradley has been undergoing some impressive growth in the last several years, building out retail stores and growing the geographic footprint of its affiliate retail base at the same time. VRA has been extremely successful at targeting trendy middle-class women with its line of accessories (much like higher-end
Coach
(COH)
did in the height of the recession) and has used that success to expand its offerings to include a wider array of products.
Ultimately, the key to growth will likely be through its own retail stores -- but the road to a larger VRA won't be easy. As long as management continues to focus on keeping average revenues per square foot higher than peers, instead of simply growing its store count, this stock should continue to enjoy sustainable growth for some time.
True Religion Apparel
True Religion Apparel
(TRLG)
is by far the smallest of the apparel short squeeze plays on this list -- with a market cap of $684 million, this firm is several times smaller than its closest peer -- but this jeans company is significantly larger than its penny stock beginnings would have suggested. The company now boasts nearly a thousand retail locations worldwide and an enviable chunk of a very premium market; investors should be keeping a close eye on this stock's potential.
Not only is True Religion one of the smallest stocks on this list -- it's also one of the youngest. The company was founded in late 2002 as a premium denim brand. And with the average cost of a pair of True Religion jeans ringing in at over $200, this stock's niche is certainly unique.
Related:
Not surprisingly, True Religion got hit hard at the depth of the recession as discretionary spending on $200 jeans got pummeled as a growing aspirational consumer had to cut up the credit cards and trade down.
Now, though, the company is seeing impressive revenue growth as consumer spending comes back into the fold. With a short ratio of 14.4, it would take nearly three weeks for short-sellers to cover their positions at current volume levels. Earnings on April 28 could be a good catalyst for a squeeze if investors are willing to take on the added risk of a pre-earnings purchase.
Under Armour
It's hard to go over a list of short squeeze stocks without at least mentioning
Under Armour
(UA) - Get Under Armour, Inc. Class C Report
. The $3.6 billion athletic apparel company was the best-performing stock of September's group, cashing in 56.88% gains on its own. Even though shorts have largely fled shares, investors shouldn't discount the upside left in this stock.
That's because Under Armour has emerged as one of the most appealing companies in this big-ticket industry, going up against behemoth firms like
Nike
(NKE) for a piece of this very saturated market. The thing is, Under Armour is different enough to actually grow its U.S. sales by a material amount while taking on international sales at the same time the larger firms push abroad in search of top-line growth.
Right now, Under Armour is able to command a premium price for its offerings. As long as the firm continues to be protective of its brand, those prices (and their net margins) should continue to flow to the company's income statement.
To see these plays in action, check out the
Apparel Short Squeeze Stocks Portfolio
at Stockpickr.
And to find short-squeeze plays of your own, be sure to check out the
community for insights and investment ideas.
-- Written by Jonas Elmerraji in Baltimore.
RELATED LINKS:
>>Stocks That Pay Monthly Dividends
>>5 Stocks Worth Trading Into May
>>6 Stocks With Big Insider Buying
Follow Stockpickr on
and become a fan on
Facebook.
At the time of publication, author had no positions in stocks mentioned.
Jonas Elmerraji is the editor and portfolio manager of the Rhino Stock Report, a free investment advisory that returned 15% in 2008. He is a contributor to numerous financial outlets, including Forbes and Investopedia, and has been featured in Investor's Business Daily, in Consumer's Digest and on MSNBC.com.