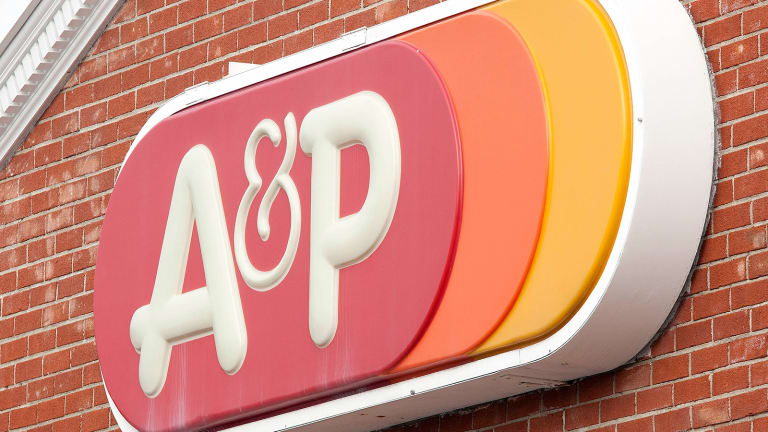 A&P Files for Bankruptcy: Who Else Might Snap Up Its Stores
Supermarket chain A&P files for bankruptcy yet again, and the possible buyers for some of its stores range from giant rival Kroger to Walmart.
Updated to include additional details on store acquirers.
NEW YORK ( TheStreet) -- It's a game of survival of the fittest in the supermarket business nowadays, where profit margins are thinning thanks to supercenter behemoths Wal-Mart (WMT) - Get Walmart Inc. Report and Target (TGT) - Get Target Corporation Report selling more fresh produce and meat, as well the advance of grocery delivery services such as  Blue Apron and Amazon's (AMZN) - Get Amazon.com, Inc. Report Amazon Fresh.
And one storied East Coast supermarket chain may have just fallen victim to the new rules of the jungle, leaving some prominent chains poised to potentially feast on its remains.
The Great Atlantic & Pacific Tea Company, which has been in business for around 156 years and operates the A&P, Pathmark, Waldbaums, Best Cellars, and Food Emporium supermarket chains, filed for Chapter 11 bankruptcy on Monday. The company said it has lined up tentative deals with three buyers -- Stop & Shop, Key Foods, and Acme Markets -- that would purchase 120 stores employing 12,500 employees for about $600 million.
If the plan falls through, however, the company did not rule out a liquidation, which would lead to sweeping store closures and layoffs.
A&P also said it was in discussions with additional suitors for the possible sales of more stores, and the company plans to close 25 stores soon due to a lack of interest and "significant ongoing store operating losses," it said in a statement.
A&P listed about $2.3 billion in debts and $1.6 billion in assets in its bankruptcy filing. It has 296 supermarkets mostly in New York, Connecticut and New Jersey, and its stores are 93% unionized.  A call seeking comment was not immediately returned by A&P.
The latest filing represents the second Chapter 11 bankruptcy for the A&P chain in the past five years, the other one dating back to 2010 that resulted in the company being taken private. The struggling chain appears to have buckled not only under the weight of increasing competition from supercenters and online foes, but also a series of ill-fated strategic decisions.
First, in March 2007, A&P plunked down about $679 million in a cash and stock deal to acquire Pathmark Stores, consolidating its presence in the Northeast in key states such as New York, New Jersey, and Pennsylvania.  At the time of the deal, Pathmark, which operates in economically sensitive neighborhoods, was hemorrhaging money, coming off three straight years of net losses. Its debt stood at $618 million, a whopping five times its equity.
The deal created a 550-store supermarket giant, but A&P wasn't ultimately able to turn things around, closing many of the stores it acquired.
Then, mere months after making a play for Pathmark, A&P purchased New York wine seller Best Cellars.  A&P did not disclose the purchase price, but it was likely a hefty sum at the height of a surging stock market and consumer spending boom. 
Best Cellars had only five stores dispersed across three states, and mostly sold its merchandise for less than $15. Since then, the likes of Wal-Mart have increasingly gotten into the business of selling booze, and wine is on offer at Amazon.
Now in a severely wounded state, several competitors may be ready to pounce on A&P's locations along the East Coast that aren't a part of its 120-store deal. The most logical would be traditional grocery giant Kroger (KR) - Get Kroger Co. Report.
Purchasing locations on the cheap from A&P would give Kroger instant access to the lucrative New York market, where it doesn't have any banners. The entrance of Kroger may also be well-received by A&P's union members.
As of Jan. 31, 2015, Kroger employed approximately 400,000 full and part-time employees, a majority of whom are covered by collective bargaining agreements. There are approximately 300 such agreements, usually with terms of three to five years.
Kroger did not immediately respond to a request for comment on its interest in A&P's locations.
A more controversial buyer would be Wal-Mart, which could use some of the sites to expand its Neighborhood Market store format, which resembles a typical grocery store. Wal-Mart's Neighborhood Market stores come in two sizes: one with an average of 42,000 square feet and another ranging from 12,000 to 16,000 square feet. A&P's stores typically range from 20,000 to 30,000 square feet in size.
The world's largest retailer has had success with its Neighborhood Market format, notching an impressive 7.9% same-store sales increase in the second quarter. However, Wal-Mart could face stiff resistance from A&P's unionized employees in the bidding process, as it is notoriously anti-union.
Wal-Mart declined to comment on its interest, if any, in A&P's stores.
A dark-horse bidder for A&P's Food Emporium locations, which are mostly concentrated in New York City, where it has 11 stores, could be organic grocer Whole Foods (WFM) . Whole Foods may see an opportunity to rebrand those Food Emporium sites with its new store concept aimed at younger shoppers, called 365 by Whole Foods Market. The name is a reference to 365 Everyday Value, Whole Foods' main exclusive store brand. 
Whole Foods says the new stores will "offer convenience and everyday low prices on natural and organic products that meet the company's industry-leading quality standards."
Dollar stores are unlikely bidders for A&P's store assets as their stores are usually under 10,000 square feet. A Dollar Tree (DLTR) - Get Dollar Tree, Inc. Report spokesman declined to comment on any interest in A&P's locations, while a request for comment from Dollar General (DG) - Get Dollar General Corporation Report went unanswered.
This article is commentary by an independent contributor. At the time of publication, the author held no positions in the stocks mentioned.