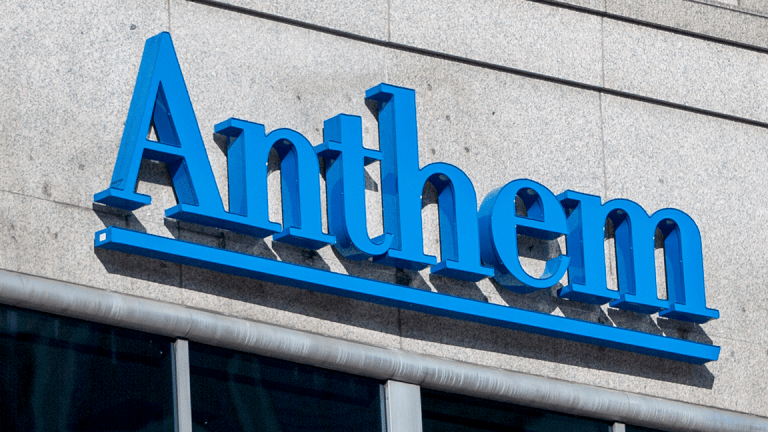 Anthem Jumps After Posting an Earnings Beat, Raising Forecast
Stock surges on better-than-expected quarterly results and upbeat 2019 guidance.
Stock surges on better-than-expected quarterly results and upbeat 2019 guidance.
Shares of healthcare provider Anthem Inc. (ANTM) - Get Report surged 9.1% on Wednesday after the company reported quarterly earnings that exceeded analysts' forecasts.
Anthem shares jumped $24.85 to $297.56 on the New York Stock Exchange. Earlier the stock touched a 52-week high of just over $305 a share.
The stock boost came after the Indianapolis-based company reported adjusted net income of $644 million, or $2.44 a share, vs. $339 million, or $1.29 a share, in the comparable year-earlier period.
Analysts surveyed by Zacks had anticipated earnings of $2.20 a share.
The Blue Cross-Blue Shield insurer also raised its 2019 forecast, noting that strong momentum in its prescription drug coverage business should help bolster revenue and earnings.
Specifically, the company pointed to the accelerated launch of its IngenioRx pharmacy benefit management business, which it is running with assistance from CVS Health Corp. (CVS) - Get Report .
"Since announcing our intent to create IngenioRx, we have been carefully planning the transition, including the possibility of an early launch, and are confident in our ability to execute the transition under the accelerated schedule," CEO Gail Boudreaux said in a statement.
"This will allow us to go to market with better economics earlier, and also accelerate our whole person health strategy, which is proven to reduce total cost of care."
Anthem said it now expects adjusted earnings in the new year to be "greater than $19 per share," more than the average analyst forecast of $17.61.