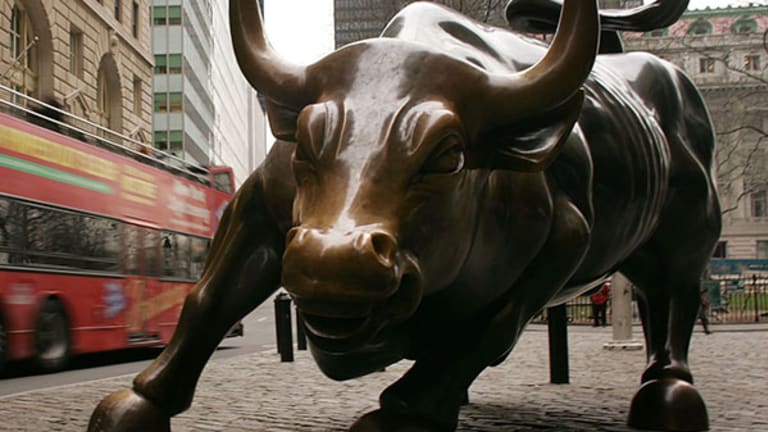 Analysts Wrong on iPhone; Retail Not Going Away: Best of Cramer
Cramer explains why the analysts on Wall Street have it wrong about Apple's iPhone, and also points out that retail isn't going away, just somewhere new.
Here are Jim Cramer's top thoughts on some of the biggest stories of the week. 
Jim Cramer: Wall Street Analysts Are Wrong on Apple's iPhone
Behavioral change comes about with tremendous swiftness these days, depending upon your age. I think one of the reasons why there was so little "wow, got to have it," among the analyst community about the new iPhones is that the analysts themselves are, perhaps, too old to change their ways and recognize that younger people adapt far more quickly than older people to a new phone.
More From Jim Cramer
Younger people are far more likely to figure out how to use it, adapt to it, download important new apps older folks may not care about and genuinely care about features that mean little to those who may have started on a Blackberry or were sated by a much earlier iPhone.
Why is that? I think a lot of it has to do with not just the experiential economy, but the way it is documented. Broad generalizations are rife with anecdotal information and short of empirical data, but one thing is certain: the way to figure out what is happening and going to happen is to watch the behavior of your own kids.
Last year, in one week I learned a tremendous amount about these devices. I had my eldest daughter out to our beach house and she demanded that I play Pokemon Go. I had no idea what she was talking about and the only reason I had even heard of it was that Richard Sherman had told me about it in an interview on the Mad Money San Francisco set. That's right; he told me it would be the next big thing.
I went on the tour looking for the various landmarks and played the game and noticed three things: first, it was a total blast. Second, it really taxed the iPhone. Third, it was primitive, almost like Pong or Donkey Kong from when I was growing up. I suddenly could imagine a game that could talk to you in high resolution and allowed you to communicate with others in real time. That's not yet available, but these phones are coming closer and closer and I want very much to see what the X can do along these lines. I know my kids will tell me long before I do.
In the meantime, we had to constantly come back to the house because we had to recharge the phone. Two extra hours would give a lot more playing time and create new, more sophisticated games that can produce a lot more service revenue to Action Alerts PLUS charity portfolio holding Apple (AAPL) - Get Free Report if developers get it right.
My other daughter went on a cruise. An actual cruise. As much as I study the cruise ship industry and have loved it ever since Arnold Donald turned around Carnival Cruise (CCL) - Get Free Report and Richard appeared on Mad Money from a brand-new cruise ship, I had no idea that someone in her 20s could want to go on a cruise, least of all my daughter.
But it wasn't just any cruise. It was an electronic dance music cruise, or EDM. Cruises are fun, I get that. More important, though, an EDM cruise is a chance to brand yourself via Instagram. You can show what kind of experience you are having with your iPhone camera when you do it.
You get a phone with better resolution, you get fabulous make-up, and next thing you know you are showing people how much fun you are having and the pictures are great to look at. Video, sound, the water shimmering, next thing you know you are someone else. But you can't be someone else unless it's shown. No camera, no experience.
A new Apple device can allow that experience to be documented better, and allow you to brand yourself and create it in Hollywood style, which is good because you have to post in "wow" mode because you are creating something worth watching.
You think any of these post 50-year-old analysts get that? They don't see anything new, because they don't understand re-branding of 20-somethings. They don't understand silly games. They see everything as incremental. Younger people see everything as the ability to explore the seemingly unexplorable or re-create themselves to friends in a setting that's as compelling as a big screen movie.
These are the kinds of reasons why these new phones with better resolution, more battery life and who knows what else -- it's all surprising -- make it worth the cost. You will scrape anything together to be someone else to stretch the bounds of entertainment. One device can do hundreds of things that Wall Steet analysts would never want to do. That's why it's blah blah blah instead of "wow." That's why these analysts think the stock should be traded.
And that's why they are wrong.
Cramer: Make Gary Cohn the Next Fed Chair
Apple iPhone X Isn't Too Expensive to Succeed: Jim Cramer
Nvidia 'Still Has Room to Run': Jim Cramer
Action Alerts PLUS, which Cramer co-manages as a charitable trust, is long AAPL.
Originally published Sept. 14 at 6:44 a.m. EDT

Jim Cramer: Retail Is Not Going Away; It's Just Going Different Places
Now that the Nordstrom (JWN) - Get Free Report family is closing in on a buyout aided by the private equity firm of Leonard Green, will there be a revaluation of retailers in the stock market?
Action Alerts PLUS, which Cramer co-manages as a charitable trust, is long TJX.
I know there are not supposed to be such things as stupid questions, but this is one, because the revaluation has been going on for weeks now. I am not just talking about the comeback by the likes of Costco (COST) - Get Free Report post Amazon  (AMZN) - Get Free Report buying Whole Foods  (WFC) - Get Free Report or Home Depot (HD) - Get Free Report after the announcement of the crucial Sears-Kenmore-Amazon offering.
While everyone revisited the negative thesis after Kroger (KR) - Get Free Report told you last week that it's way behind where it needs to be to compete and that guidance is the least of its concerns, there have not only been green shoots, but actual fruits and vegetables, akin to those in my garden being feasted on right now by the brave.
Consider the stock of Dollar Tree (DLTR) - Get Free Report . Two months ago, it was at $66. Now it's at $83. It made me pause and wonder: What exactly was the existential threat facing this chain, given that it put up some pretty terrific numbers when it last reported? That 2.4% comp number when people were looking for 1.6%, that terrific earnings beat and the fact that there's still a lot of low-hanging Family Dollar fruit to pick told a great story.
Or how about Action Alerts PLUS charity portfolio holding TJX Cos. (TJX) - Get Free Report ? Can someone tell me how come this stock is still in the low $70s after that terrific quarter with a super guide? I can tell you the answer: because somehow, it got to the high $60s even as there are more close-out materials available than ever.
I think the stock's really only been going up because of the new Homesense home furnishing concept that's being rolled out right now across America, with the first two stores, one in Massachusetts and the other in New Jersey, opening to big crowds and rave reviews. Given that it is opening another 100 Home Goods stores, the company clearly expects no cannibalization. It's not just a me-too Bed Bath & Beyond (BBBY) - Get Free Report , either. It's better, with a quirky general store throwback feel.
Or how about the Gap (GPS) - Get Free Report . I know a lot of people scoffed when JP Morgan's Matthew Boss came on Mad Money and recommended Gap at $20 not that long ago. If I hadn't just spent $200 at what many regard as the flagship San Francisco store the previous month, I would have, too. But with the stock at $27, and I think going higher, no one's laughing now.
I've been pounding the table on the new Kohl's (KSS) - Get Free Report as a strip mall alternative that's got real loyalty and reliability. I didn't expect an Amazon tie-up like the "smart home experience" that it is rolling out in 10 of its stores, and I don't know how much more there will be to it beyond the 1000 square feet being allocated.
That said, how could you not like a company with a monster buyback, huge customer retention, inexpensive prices, a newfound love of brands like Nike (NKE) - Get Free Report and UnderArmour (UA) - Get Free Report , as well as what was then a 6% yield?
The tape is riddled with the stocks of retailers that should never have been down that are bouncing back hard: The Childrens Place (PLCE) - Get Free Report now that Gymboree is waning, Ross Stores  (ROST) - Get Free Report and Burlington  (BURL) - Get Free Report , as nothing was ever wrong with off-price to begin with. And we've got some trading bargains, with names like Macy's  (M) - Get Free Report and Lowe's  (LOW) - Get Free Report that shouldn't be sniffed at.
But the most important takeaway is to recognize what Leonard Green recognized: retail's not going away, it's just going to different places. Those that can handle one less trip to the mall each month will make it. Not as far as you would like, but, in many cases, certainly further than they've gone already.
More of What's Trending on TheStreet:
Originally published Sept. 13 at 7:37 a.m. EDT
Click here for information on RealMoney, where you can see all the blogs, including Jim Cramer's--and reader comments--in real time.
Jim Cramer fills his blog on RealMoney every day with his up-to-the-minute reactions to what's happening in the market and his legendary ahead-of-the-crowd ideas. This week he blogged on:
How the first leg down of United Tech should be bought
How something -- anything! -- should be done on tax reform
Action Alerts PLUS, which Jim Cramer manages as a charitable trust, is long AAPL and TJX.