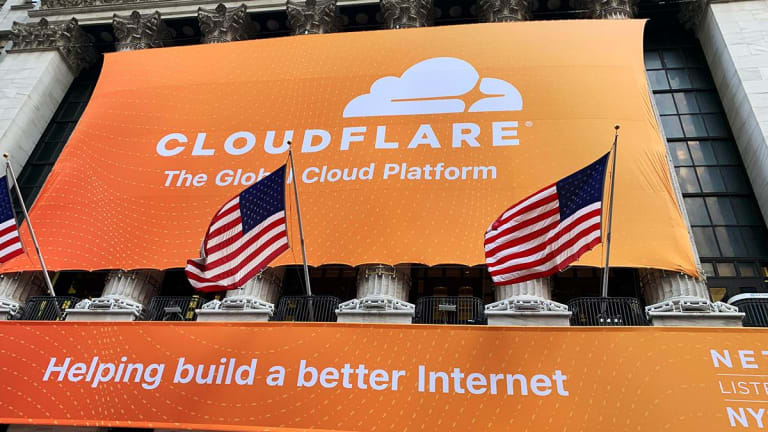 Cloudflare Shares in Analysts' Rating Focus as IPO Hush Period Ends
A number of analysts are positive, and some are skeptical, about Cloudflare's prospects after the 25-day regulatory quiet period ends for the banks underwriting the initial public offering of the cloud-based cybersecurity company.
Several analysts gave positive ratings to cloud-based-cybersecurity company Cloudflare (NET) - Get Free Report Tuesday, as the 25-day regulatory hush period for the banks underwriting Cloudflare's initial public offering ended.
Shares of the San Francisco company were up 0.9% to $17.19.
Morgan Stanley analyst Keith Weiss initiated coverage of Cloudflare with an equal-weight rating and an $18 price target.
Weiss said in a note to investors that Cloudflare has built a base of 2 million free users and 75,000 paying customers and handled an expansive total addressable market as more workloads move to the cloud.
Weiss said, however, that the stock is currently "priced for perfection."
Wells Fargo analyst Philip Winslow initiated coverage of Cloudflare with an outperform rating and a $22.50 price target.
Cloudflare is well positioned to replace "box" sellers at the network layer, Winslow said in a note, due to its differentiated serverless architecture with a unified control plane across a distributed constellation of servers.
Winslow said he expected Cloudflare to continue capturing market share from incumbent delivery network providers.
Other banks initiating Cloudflare include:
-- Oppenheimer and Evercore, which opened with outperforme ratings and price targets of $23 a share;
-- J.P. Morgan, with an overweight rating and price target of $23;
-- SunTrust, with a buy rating and $23 target; and,
-- Jefferies, with a hold rating and $18 target.
Cloudflare made its trading debut last month, gaining nearly 23% to $18.44 from its IPO price of $15 despite concern about the company's disclosure of potential U.S. economic- and trade-sanctions violations.
The company had filed an amended prospectus with the Securities and Exchange Commission, in which it voluntarily disclosed that its products were used by, or for the benefit of, certain individuals and entities that have been blacklisted by the U.S.