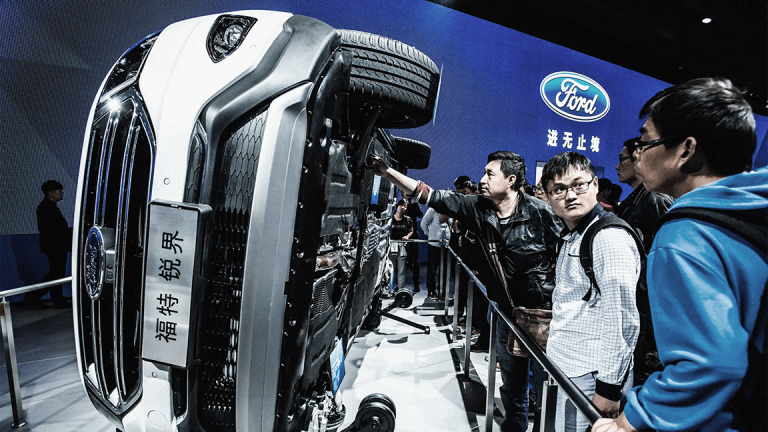 Nomura Cuts Ford Profit Targets Because of Aging Models, China Tariffs
Nomura analysts cut its price target from $10 to $9 a share.
Ford has yet to convince Wall Street that it's driving in the fast lane. 
Nomura analysts Anindya Das and Masataka Kunugimoto cut their 2018 earnings before interest and tax, or EBIT, estimate for the automaker's Asia Pacific operations by $1.1 billion, primarily due to expectations of lower income for its China joint venture and lower volumes for the Asia Pacific and China unit.
"The China JV income cuts are based on lower volume assumptions in [the second half of 2018] following weaker-than-expected performance in [the first half of the year], and lower pricing (which, we estimate to be down 2% in [the second half] vs. [the first half of the year])," Das and Kunugimoto wrote in an Aug. 13 research note. "[The Asia Pacific and China] volumes in [the second half of the year] are impacted by an aging model line-up, and by China's punitive tariffs on auto imports from the U.S."
In addition to the "darker outlook" in the Asia Pacific and China, the Nomura analysts see weaker-than-expected volumes for Ford's Europe business, although the product cycle in North America will partially offset that weakness.
"Ford's North American business has performed better than our expectations in [the first half of the year], despite the Meridian fire," Das and Kunugimoto said. "Looking forward, we think that Ford is on a good footing in [North America] as their 1) product cycle bottoms out in 2018, 2) exit from passenger cars in North America improves product mix, and 3) large U.S. footprint and lack of pickup truck [operations] in Mexico relatively insulates them from tariff risks."
The research firm maintained its Neutral rating on the stock but cut its price target from $10 to $9 per share. It also lowered its full-year earnings forecast by 17% to $1.20 per share, which is well below the consensus estimate of $1.38 a share, according to FactSet. 
In spite of Nomura's views, Ford (F) - Get Report shares rose 1.3% to $9.59 at 10:30 a.m. New York time.
The concerns about the Asia Pacific business come as Wall Street analysts suggest the Dearborn, Mich.-based automaker needs to cut its dividend. Berneberg analyst Alexander Haissl last week said that Ford's 15-cent quarterly dividend is looking "increasingly fragile" given the company's deteriorating cash flow.
Ford's Chief Financial Officer Bob Shanks told Bloomberg that the "dividend is not at risk," saying the automaker has enough cash and income to cover the dividend, even in a downturn.