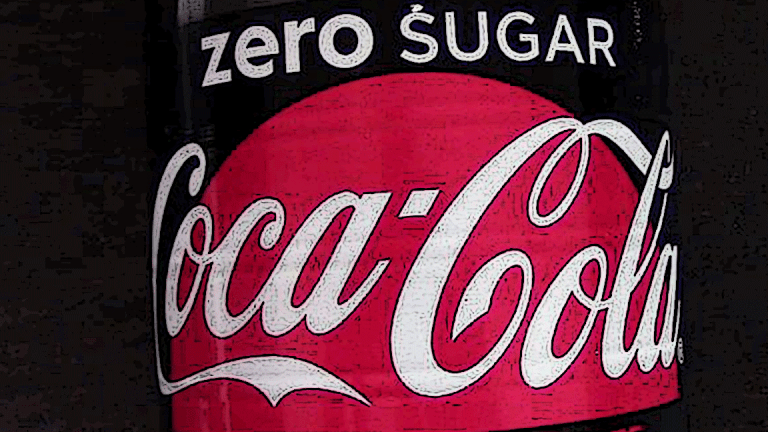 Coke Is Poised for Multi-Year Outperformance, Analyst Says
The once-struggling soft drink giant is back in top form. It reports earnings premarket, July 25.
As the ad slogan goes, things go better with Coke ... especially, if earnings are strong.
Robust earnings are the prediction of at least one analyst, Evercore ISI's Robert Ottenstein, who believes that Coca-Cola Co. (KO) is "poised for multi-year outperformance," when it posts second-quarter 2018 earnings before the bell Wed., July 25.
"We believe KO looks like a stronger company today than a year ago, driving Diet Coke back to growth in the U.S., initiating what looks like a successful price increase in the U.S., with overall organic top-line poised to accelerate from 3% growth in 2017 to 4% in 2018," wrote Ottenstein in a note published on July 18.
Evercore gave Coke a price target of $55. Shares of KO closed Tuesday at $45.26, up slightly. Shares have traded between $41.45 and $48.62 for the year.
3 Food Stocks With Fat Dividends to Chow Down On
It was little more than a year ago that James Quincey took the helm as CEO, taking over for Muhtar Kent. Prior to his current role, Quincey led the company's operating units worldwide as president and COO from August 2015, and earlier was president of the company's Europe group, which included 38 countries. 
The company under Quincey has debuted innovations, including lower-calorie fruit juices under Simply Light, and a successful relaunch of Diet Coke.
According to Wells Fargo analyst Bonnie Herzog, her contacts are enthusiastic about Diet Coke, calling it the "biggest contributor to their growth," she wrote in a note on July 17. She added that the bank remains bullish on Coke because, among other things, retailers reported that KO's sales in convenience stores were up more than 4% in the second quarter, a strong improvement over 2.3% in the first quarter. The bank gave the company an outperform rating also, with a price target of $46.29.
Morningstar analyst Sonia Vora sees KO's strength in the international arena. In a May 17 note, she wrote: "We also see significant opportunity in international markets, where Coca-Cola's carbonated soft drinks tend to enjoy greater share than Pepsi, and in the noncarbonated category, which now contributes around 30% of volume, compared with around a fourth of volume in 2010."