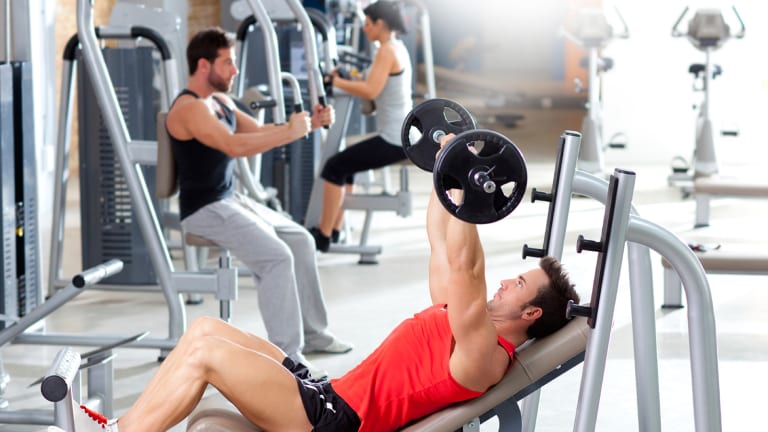 An 'Overweight' Client and Our Strategy to Slim Down
Adviser Mark Bordelove shares a story of a client who was severely overweight his employer's stock, and how he slimmed down for a more balanced retirement plan.
As a precursor, my client, who I will call Jerry, is not overweight in the traditional sense that he needs to drop 20 pounds; far from it, in fact. He's 61 and fit. No, Jerry is overweight on his company stock.
Jerry is a CPA by training. He has worked in tax processing as well as for payroll companies. He has also done sales as a manufacturer's representative and computer sales. Needless to say, Jerry has developed a very diverse resume in technology, sales, and business that, eventually, led him to his current job which he started some 20 years ago.
Years ago, Jerry took a job in technical sales for a publicly traded, large-cap technology company. Throughout the early years, the company stock languished in the mid $30s, allowing Jerry to accumulate a lot of it through his employee stock purchase plan, additional stock awards, and open market purchases. Then the company appointed a dynamic, visionary CEO who set his course on embracing and dominating a new technology. Jerry embraced the CEO's vision and understood that the transformation the company was undergoing would not be immediate. So, Jerry continued to sell his company's products and services and shared said vision with his clients.
The company grew and Wall Street took notice. The company initiated a dividend and, while not a dividend aristocrat, it increased by approximately 10% a year for the next 13 years or so. This compounding further magnified the share purchases.
All the while, life goes on for Jerry and his family. Things are very good. He and his wife were able to travel and enjoy themselves and their daughter was experiencing high school. And then Jerry got sick. He developed a disabling illness and was out of work for several months. Eventually, Jerry underwent surgery and has since made a full recovery. Now for some, a major health scare like that can provoke an analysis and re-evaluation of one's priorities. For Jerry it did and, as a family, they decided the time was nearing for Jerry to retire.
Time to Slim Down - on Company Stock
Due to appreciation of his company's stock over the past five years, Jerry now has nearly 40% of his net worth in his company stock. In the case of employees like Jerry, who own company stock, they have direct exposure to a business's financial condition. Having a large amount of company stock as the make-up of one's net worth creates a concentrated risk. It was a hard lesson to learn for the employees of Enron, WorldCom, Global Crossing and others.
The question for us in Jerry's situation was: How do we diversify and serve our client's needs and be tax efficient at the same time? There's a lot for us to consider here.
First, let's examine Jerry's overall income needs versus his potential income to be generated upon retirement.
Jerry estimates that his needs are about $10,000 per month total. His plan is to do some tax consulting work with family friends and a few local small businesses he has relationships with. Thus, Jerry expects to generate roughly $2,500 a month for this work. His company stock has the potential to generate roughly $4,000 a month and Jerry's wife has an annuity that generates around $1,500 each month. So, at this point, we have about $8,000 total in monthly income.
As far as drawing Social Security, it is Jerry's wish to wait until he turns 65 years old because the extra three years will help maximize the benefit. Once Jerry turns on his Social Security income, if having waited until 65 years old as planned, it will cover the shortfall and then some. Until then, it is Jerry's thought to slowly peel off from his company stock. If he sells around 500 shares a year, it should give him $60,000 per year in proceeds. Then Jerry will need to pay taxes at around 25% on those proceeds, leaving him $45,000 a year. This method should cover the shortfall for those three years until Jerry feels he is ready to take Social Security. In the end, Jerry will be left with 12,500 shares of his company stock.
So, with the plan set for Jerry's initial income needs being created, the next question is: How do we strategize the liquidation of his remaining shares of company stock? Our initial thought is to continue on the gradual liquidation plan of selling 500 to 700 shares per year. If the stock price remains where it is, he will get $60,000 to $80,000 per year, pre- tax, and an estimated $45,000 to $60,000 after tax. With some of these funds, Jerry is planning to travel with his family. This having been moved up the priority list for them due to Jerry's health scare.
So, if we plan to invest $30,000 to $45,000 we could potentially factor in more income generated. Ideally, we would look conservative investments that seek yields in the 2.5% to 3% range. This plan would work well for Jerry because it keeps his income generated roughly the same. At the same time, it would diversify Jerry's portfolio decreasing the overweight risk that has become such an issue. Jerry could then spread the tax burden as long, or as short, as he wants. It could really be an ideal plan for Jerry.
Jerry still wants to maintain a healthy allocation of the stock. If he maintains a slow, steady liquidation of 500 to 700 shares each year, he will have exposure risk for up to 15 more years post-retirement. A career oriented, company person, Jerry feels a loyalty and allegiance to his company. It has provided for a great living for him and his family. Jerry has been part of a transformative culture that has accomplished a great deal of wealth creation and the company stock will be part of Jerry's legacy that he'd like to pass on to his daughter.
In summary, Jerry's prior jobs in tax and sales led him to this perfect arc of a career and, when presented the opportunity, he maximized it. Jerry was smart enough to see the transformation occurring and along with his unyielding belief and patience - and against my mild protests - in the long run proved to be the best decision Jerry could have made.
I have watched in wonder at this tremendous move for Jerry and, although I've always had respect for him and his family, it's so much greater now. I appreciate the opportunity to have been a part of the process and I am looking forward to Jerry's next moves.
This is a hypothetical situation based on real life examples. Names and circumstances have been changed. To determine which investments or strategies may be appropriate for you, consult your financial adviser prior to investing.
About the author: Mark Bordelove is president, CEO and co-founder of Bordelove Foster Wealth Management. The opinions voiced in this material are for general information only and are not intended to provide specific advice or recommendations for any individual. Mark Bordelove's securities and advisory services are offered through LPL Financial, a Registered Investment Advisor, Member FINRA/SIPC. Mark Bordelove and LPL Financial are not affiliated with Jim Cramer or TheStreet. This material was prepared by Mark Bordelove.
Introducing TheStreet Courses: Financial titans Jim Cramer and Robert Powell are bringing their market savvy and investing strategies to you. Learn how to create tax-efficient income, avoid top mistakes, reduce risk and more. With our courses, you will have the tools and knowledge needed to achieve your financial goals. Learn more about TheStreet Courses on investing and personal finance here.