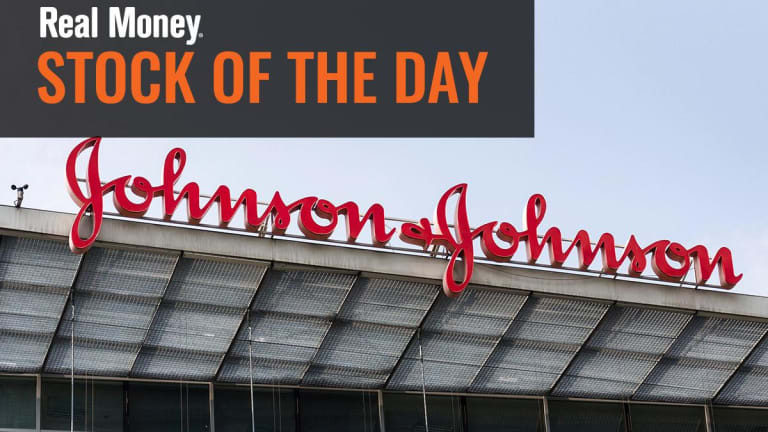 A Johnson & Johnson Equity Stake Is Out of the Question Right Now
A trader can not risk buying the name here outright unless one is certain on a lot of items that are currently unknown.
I am no reporter. I think of myself as a trader who writes about his own trades and his own trade ideas. I am not going to rehash the news that broke late last week, regarding Johnson & Johnson (JNJ) - Get Report . We'll leave that to professional journalists. If you bother reading me, then surely, you have already read up on this story. One thing though seems to have flown under the radar. The firm, on Friday afternoon, to no avail (the stock fell in price by 10%) in the marketplace... defended itself. JNJ referred to the Reuters story that unleashed the storm of sell orders on this name as "One-sided, false, and inflammatory." Now, I am not saying that I believe JNJ in their assertion, nor am I saying that I don't believe their defense. What I am saying is that I don't know, but what if those headline seeking algorithms mentioned above have oversold this name? With the stock down another 1% in the dark of early morning, what if they still are?
My thought is this. A trader can not risk buying the name here outright unless one is certain on a lot of items that are unknowable right now. In addition, many follow the three day rule regarding broken stocks. Should the name, I won't say return to trend - but at least have less than a catastrophic outcome priced back in, then this morning may have been when in hindsight... opportunity knocked. Johnson & Johnson will report their quarterly results on January 15th, so a limited risk upside trade has about a month to pan out, but I think one can only attack through the options markets right now. For me, an equity stake is out of the question, due to the lack of overt favor in a risk/reward scenario. 
Simple Risk Averse JNJ Trade Ideas (minimal lots)
Keep in mind that the name is going to be volatile again today. These examples are based on a closing price of $133. To put in play, one of these ideas in real time, the trader will likely have to adjust for either strike price, or option premium. I would not however screw around too much with expiration date. 
-Purchase one JNJ Jan 18th $140 call (last: 1.65)
net debit: $165
potential: unlimited
or....
-Purchase one JNJ Jan 18th $135 call (last: 3.63)
-Sell (write) one JNJ Jan $145 call (last: 0.74)
net debit: $289
potential: $811 net profit. 
Note: Neither one of these trades carries any risk beyond the initial debit outlay.
(Johnson & Johnson is a holding in Jim Cramer's Action Alerts PLUS member club. Want to be alerted before Jim Cramer buys or sells JNJ? Learn more now.)
(An earlier version of this column appeared at 7:34 a.m. ET on Real Money, our premium site for active traders. Click here to get great columns like this from Stephen "Sarge" Guilfoyle, Jim Cramer and other experts throughout the market day.)
At the time of publication, Stephen Guilfoyle had no position in the securities mentioned.