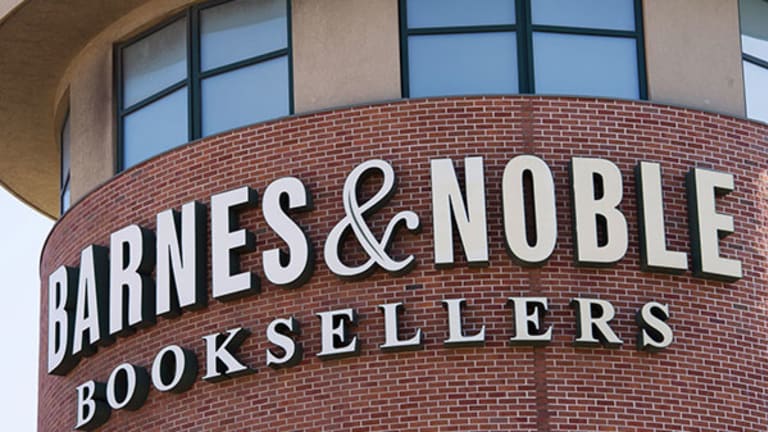 Barnes & Noble Shares Soaring 10%, and It's All Due to a Possibly Ugly Activist Investor Battle
Barnes & Noble feeling the heat.
Barnes & Noble Inc. (BKS) - Get Barnes & Noble, Inc. Report  likely has until mid-August to respond to an activist campaign launched Tuesday by insurgent investor Tom Sandell, who is seeking to have the nation's sole national "brick and mortar" book retailer hire an investment bank to sell itself.
Sandell's fund, Sandell Asset Management, has accumulated a less than 5% stake in the bookseller chain and believes the company could attract a bid of greater than $12 a share by a retailer or private equity bidder, a more than 60% premium to its closing price Monday of $7.10 a share.
Shares of the book chain, which has a $494 million market capitalization, jumped up 12% in premarket trading on the news.
The activist fund said in a statement that it is seeking a "constructive dialogue" with the company. However, the retailer, which has 633 locations, probably doesn't have long to respond. Sandell frequently employs director-election proxy contests to drive his efforts and he could do so again at Barnes & Noble. According to FactSet, Sandell has launched 38 activist campaigns including 10 director-election proxy fights and seven threats of proxy fights since forming his fund in 2004.
At Barnes & Noble, shareholders seeking to nominate director candidates must do so by 30 days before the company's annual meeting, which is likely to take place in September or October. As a result, Sandell may be required to nominate directors by mid-August if he wants to press the company into selling itself. That could be a serious possibility. 
The World Is Ending for Small Retailers Thanks to Wars Between Amazon, Walmart and Best Buy
And Sandell has indicated that he is a patient investor that is willing to take the time to push through his activist efforts. He noted in the letter that he has engaged in 'persistent efforts" in the past, including at Bob Evans Farms Inc. and Viavi Solutions. At Bob Evans, Sandell engaged in a three year effort that included director-election battles that ultimately succeeded at pushing Bob Evans recently to sell its restaurant chain in a move that separated it from a packaged foods unit.
However, the activist fund has had some troubles as well, failing in 2015 in its effort to drive a significant REIT spin off at Brookdale Senior Living Inc., (BKD) an assisted living operator. Ethan Allen, an interior design and furniture company, also defeated Sandell in a director election battle in November 2015.
If Barnes & Noble decided to put itself on the auction block it would be following up on some failed efforts in recent years. In 2011 John Malone's Liberty Media Corp. sought to buy the company for $1 billion. However, by 2014, Liberty had sold the majority of its nearly 17% stake in the bookseller. 
In 2013, the retailer's chairman, Leonard Riggio, had considered forming an investment group to buy the business, an effort that Sandell noted in his letter. "In fact, Leonard Riggio himself... could seek to take the company private in a leveraged acquisition at a fair price for public shareholders, as he had publicly sought to do back in 2013," Sandell said.
Sandell pointed to the Riggio's sale of his college book business to Barnes & Noble for more than $500 million, to suggest that Riggio has the resources for such a leveraged buyout.
"Indeed, considering the hundreds of millions of dollars that Mr. Riggio has personally realized from the aforementioned sale of his college books business as well as other businesses, he clearly has the financial resources to take the company private," Sandell said.
Barnes & Noble subsequently spun off its college-bookstore operation, which has a market value of more than $330 million. According FactSet, Riggio is Barnes & Noble's largest shareholder, owning a 17% stake.
So far there aren't any other major activist funds that own shares in Barnes & Noble. Sandell would need to convince a variety of long-term large institutional investors to back his efforts. Blackrock, Vanguard and Dimensional Fund Advisors each own about 9% of the company.
'I Still Believe in the Amazon World Domination Theory,' Jim Cramer Says
Sandell sought to highlight recent M&A to suggest that interest remains in acquiring retail operations. He pointed to Amazon's industry-transforming acquisition of Whole Foods Market Inc. (WFM) and buyout shop Sycamore Partners LLC's proposed acquisition of Staples as examples that deals to acquire retail operators are alive and well.
"In each of these cases, sophisticated investors and operators are coming to the realization that the public market is not affording retail stocks fair value and are 'putting their money where their mouth is,' signifying that, for all the doom and gloom surrounding retail, there is still capital available to purchase quality assets," Sandell said.
"Neither [Tom] Sandell nor anyone from his hedge fund has reached out to us yet, but we welcome constructive dialogue with all of our shareholders," a spokeswoman for Barnes & Noble said.
More of What's Trending on TheStreet
Department Stores Are Dying -- Michael Kors Declares War on Coach With Big Jimmy Choo Deal
Walmart Looks Like It's Beating Back This Ruthless German Grocery With Some Success