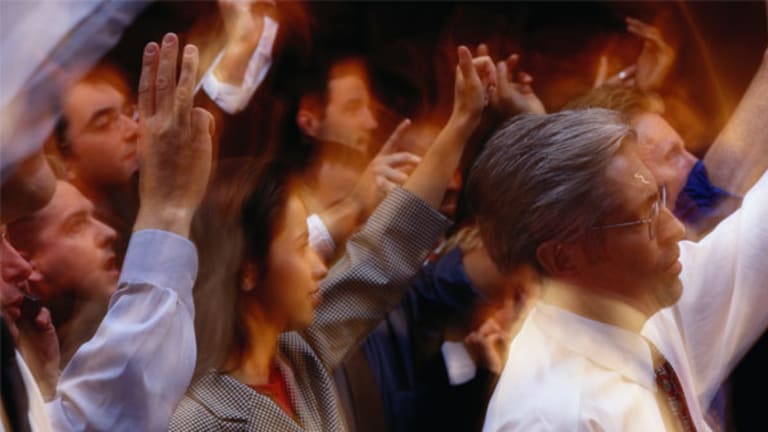 AMZN, HD, DPZ: Jim Cramer's Views
Cramer shares his views on fundamentals providing some reality, and wonders if taking profits now is a good idea.
Jim Cramer shares his views every day on RealMoney. Click here for a real-time look at his insights and musings.
Cramer: Fundamentals Provide a Dose of Reality
Posted at 2:39 p.m. EDT on Wednesday, Dec. 21, 2016

We always have to keep one eye on the fundamentals during this period of what many describe as total excess. We have to use the data we can grab to be able to make a case that we aren't going too far too fast beyond the promises that we've gotten from President-elect Trump, promises that have to come true or else we are in for a serious correction in the first quarter of 2017.
Fortunately, we have both macro or top-down data and micro or individual company reports, to do a reality check.
For example, we got existing-home sales, which were quite strong--5.61 million in November, the best since February 2007. I can't stress how important that figure is. Robust existing-home sales are crucial to all sorts of businesses, from banks to retailers to service companies that help install and renovate.
At the same time, we got Association of Home Appliance Manufacturers data, which showed an astounding 13% increase in November to 5.62 million, nicely verifying the existing-home data.
Now, while Home Depot (HD) - Get Report didn't take off on these figures, Whirlpool (WHR) - Get Report jumped more than four points. My take? Home Depot becomes a stock to put on your radar screen as we bounce around Dow 20,000. I am partial to Masco (MAS) - Get Report , the kitchen and bath company, too, off these numbers.
How about individual stories? Tuesday I was pleasantly surprised by the commentary on both the Darden (DRI) - Get Report and Carnival (CCL) - Get Report calls. Weekend dining and lunch were very strong for Darden, parent of Olive Garden, even though CEO Gene Lee acknowledged that it's competing against "new necessities today, whether smartphones, whether it's your cable bill, your Netflix bill. I mean, they have increased significantly over the years." Hmm, is there any wonder why takeout pizza is so strong? Makes me want to buy both Darden and Domino's (DPZ) - Get Report .
Then there's Carnival. I had my doubts about Carnival because of worries about the Zika virus, but I clearly misunderstood the desire worldwide to cruise, particularly on Carnival. The numbers here were outstanding, far better than I thought, and I think 2017 will be another bang-up year. The most telling moment on the call? The incredible demand for cruise ships in China. The company just doesn't have enough ocean liners to go around. A truly high-quality problem.
It might look like we hit a speed bump with both Accenture (ACN) - Get Report , the gigantic information technology consulting firm, and with Federal Express (FDX) - Get Report , the freight transportation company. Both stocks were down badly. But the decline in Accenture's stock was caused by the typical cautious commentary, not by the current fundamentals. Demand is outstanding and the company blew away earnings coming in at $1.58 per share when the Street was looking at $1.50. I would buy this stock tomorrow without a problem, a good example of where there is still value in this market.
FedEx is tougher. I don't know if I instantly want to buy the stock of a company that is up almost 30% this year alone, but boy oh boy, did they have to spend a lot of money to keep up with e-commerce, a terrific sign for omnichannel retail in general and Amazon (AMZN) - Get Report in particular. (Amazon is part of TheStreet's Growth Seeker portfolio.)
The lone dark spot? Athletic wear. We got very mixed numbers out of Nike (NKE) - Get Report domestically even as the company went out of its way to say basketball sneakers are strong. Then Finish Line (FINL) completely disappointed with a horrendous miss and a similarly awful guide-down.
I know Nike beat the numbers, but I didn't like what I heard from either company about domestic business. To make matters worse, this is not a Trump stock as it already pays low corporate taxes and is badly exposed to China, where the Communist Party could easily retaliate against Trump by just saying no to the Jordans.
Let's admit, though, if the lone dark spot is $100 plus sneakers in a day where the macro and the micro were strong? What can I say? I will take it. Business is still good in the real world and it can't trip up the market so far as it awaits the Trump turbo-growth tripod of deregulation, repatriation of overseas profits and a slashing of corporate taxes.
Action Alerts PLUS, which Cramer co-manages as a charitable trust, has no positions in the stocks mentioned.
Cramer: Take Profits Now? Are You Nuts?
Posted at 11:22 a.m. EDT on Wednesday, Dec. 21, 2016

Lack of overhead resistance. I attribute a lot of these gains we have to a lack of sellers as we go higher because many of these stocks haven't been this high and don't have a lot of flippers in them.
When you look at the stocks that have led us higher--Goldman Sachs (GS) - Get Report , JPMorgan (JPM) - Get Report , Travelers (TRV) - Get Report , United Health (UNH) - Get Report , Walt Disney (DIS) - Get Report , American Express  (AXP) - Get Report , Verizon (VZ) - Get Report , Boeing (BA) - Get Report , Caterpillar (CAT) - Get Report and Chevron (CVX) - Get Report , all up more than 10%--you come up with stocks where there just aren't a lot of profit-takers.
Put it this way: If you own American Express, you are in it for the long haul and this rally doesn't really get you thinking, "Now is the time to get out." It's not expensive.
Travelers? This company is such a beneficiary of higher rates and it has so few momentum owners, you can only imagine how high it can go before people who bought it at, say, $115 want to flip.
United Health is simply a horse and it has become the de facto health care company in a world where there are a gazillion health care companies but many regarded as not-Trump stocks. It's a rarity, a health care cost controller that's not trying to merge and isn't part of the Affordable Care Act. It also has a big data division that hasn't been factored into its valuation.
Boeing literally has been marking time for the last three years as the whole thesis of the Dreamliner had to play out and it turns out to not be the big story. It's the change from large-body to small-body planes and the margin compression from the switch that has hurt the company's stock. But that's in the past and we are starting to see the gigantic cash conversion that comes from selling these planes for a hefty profit. It's incredible how much stock the company can buy back: $14 billion in capital to retire the stock of a $97 billion company plus a 30% dividend boost. That's the kind of thing that makes you want to hang on, not sell.
Then you have Walt Disney, which has been hammered endlessly by ESPN weakness. The spur here is that we all know it. But how about all the movie good news and the theme-park good news and the lower taxes and the repatriation? All could trump ESPN's weakness. (Disney is part of TheStreet's Trifecta Stocks portfolio.)
You want to sell Verizon when it yields 4% and has a growth story associated with it? I sure don't.
I could make the same case for Chevron, a 3.6% yielder that is a huge winner as oil creeps higher, which is exactly what it is doing.
Caterpillar? You believe in the $500 billion infrastructure plan? Tell me that isn't music to the ears of CAT, especially if Trump insists that in order to Make America Great Again, the road builders have to buy American.
Which leads me to Goldman Sachs and JPMorgan, the real leaders of this rally. These stocks are so far behind the market that even though they have advanced endlessly, they just aren't that expensive if we get deregulation. How did Goldman Sachs' stock sink to around book value, where the company could close its doors and still make money? Simple: Regulation took away the company's edge to be creative with its own money. That could come back if Dodd-Frank gets shelved. Or at least the portions relevant to Goldman Sachs.
And JPMorgan? Here's the world's finest lender and it sells at 14x earnings before we get the Trump goodies. It can raise its dividend gigantically and that will bring in lots of buyers. It can put its capital to work lending in a way that we haven't ever seen because it became a national bank during the Great Recession, but we have really just started seeing the benefits.
That's right, what's going on here with JPM is open-field running.
Which is why it can go still higher than it has already and simply is a buy, not a sell, especially if we get three rate hikes. We get that you are talking about as much as $3 billion in additional earnings power.
You want to sell knowing that's ahead? Be my guest. There will be institutions that will take down every share.
Action Alerts PLUS, which Cramer co-manages as a charitable trust, has no positions in the stocks mentioned.
Action Alerts PLUS, which Cramer co-manages as a charitable trust, has no positions in the stocks mentioned.