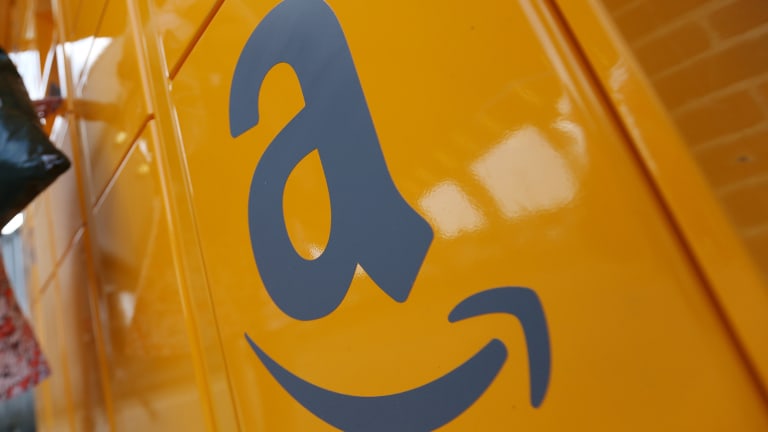 AMZN, GOOGL, FB, TSLA: Rev Shark's Views
James 'Rev Shark' DePorre shares his views on why 2015 was frustrating and year-end action. Amazon.com, Alphabet, Facebook and Tesla are among the stocks discussed here.
NEW YORK (Real Money) -- Jim Cramer shares his views every day on RealMoney.Click here for a real-time look at his insights and musings.
Evidence of Why 2015 Was Frustrating
Posted at 1:13 p.m. EDT on Tuesday, Dec. 29, 2015
Today's market action is pretty typical of what we have seen all year. A few big-cap names drive the indices while the great bulk of stocks don't do much. We still have solid breadth but it is fading and is now 17-10 on the Nasdaq.  Much of the positive action is not keeping pace with the indices. Amazon (AMZN)  is the big gun today with a gain of 2.4% at the moment. (Amazon is part of TheStreet's Growth Seeker portfolio.)
This action is a good demonstration of why 2015 has been a very frustrating year for many traders. If you aren't in a narrow group of key stocks, it has been extremely hard to outperform. The indices simply don't reflect the action in the average stock.
That has been the theme all year and it isn't surprising to see it at this point as finally window-dressing moves are made. Fund managers are marking up the big winners like Google (GOOGL)  and AMZN and dumping the laggard small-caps. (Google is part of TheStreet's Action Alerts PLUS portfolio.)
As the year comes to an end, we are seeing many predictions about how 2016 will play out. What I find most striking is that there is quite a lot of pessimism. Many are expecting the first quarter of 2016 to be particularly poor. With the Fed no longer providing a tailwind and the bull market growing very long in the tooth, it isn't a big surprise that there is greater negativity.
I have very little confidence in the predictive ability of market pundits and see little benefit in forming an opinion as to what may happen. I know without a doubt that we will have many ups and down in 2016 and I'll be mentally prepared to deal with both rallies and downtrends.
Predictions can be entertaining to read and are helpful in that they push you to contemplate a wide spectrum of possibilities, but they don't make for effective trading or investing. If you are a real gambler, you can bet on some sort of major market reaction, but that carries risk that isn't acceptable to most traders.
The big danger of relying too heavily on predictions is that they push you to form a bias. If you are expecting to see a major bear market, then you are prone to data mining. You will tend to look for the evidence that proves your thesis rather than stay open-minded and objective.
I believe the best posture for traders is to simply embrace the idea that we don't know what will happen. We should hope for the best, be prepared for the worst and be ready to adapt as conditions change. That is the best way to navigate the market if you aren't a fortuneteller.
At the time of publication, Rev Shark was long FB.
Stocks Like Facebook, Amazon, Netflix Are Being Chased
Posted at 11:07 a.m. EDT on Tuesday, Dec. 29, 2015
Some standard year-end action is kicking in today and it is taking the form of chasing the high-beta big-cap names like Amazon.com, Google, Facebook, etc. All the FATMAN -- Action Alerts PLUS portfolio name Facebook (FB) , Growth Seeker'sAmazon.com  (AMZN) , Tesla (TSLA) , Microsoft (MSFT) , Alphabet (GOOGL)  and Netflix (NFLX)  -- names are trading in the green and are exhibiting good relative strength.
Breadth is running about 4150 gainers to 1300 decliners, but I'm not seeing a high level of speculative action in small cap names. Usually during the holidays there were be some pockets of very strong action, but it is pretty limited, with just a few things like FXCM Inc.(FXCM) and ReWalk Robotics (RWLK) attracting interest.
My Stock of the Week, Smith & Wessonundefined, is doing well. This stock was one of the biggest winners of the year, and there will be little interest in selling it until we enter a new tax year.
My main FATMAN position is Facebook. I'd like to put more money to work, but I'm disappointed in some of the small cap action that I'm seeing. Things like China Finance Online (JRJC)  and Second Sight Medical Products (EYES) , for example, have no support.
This time of the year, stocks move for lots of reasons other than technicals and fundamentals, so it can be quite challenging. The key is to make sure you stay disciplined, if you are on the wrong end of the action.
At the time of publication, Rev Shark was long FB, SWHC, EYES and JRJC.
James "Rev Shark" DePorre is the author of
Invest Like a Shark: How a Deaf Guy with No Job and Limited Capital made a Fortune Investing in the Stock Market
. He is founder and CEO of Shark Asset Management, an investment management firm, and he also operates
sharkinvesting.com, an interactive online community that serves and educates active investors. DePorre holds business and law degrees from the University of Michigan, is a member of the Michigan Bar Association and a former tax attorney and CPA. He lives in Anna Maria Island, Fla., with his wife and two children. Under no circumstances does the information in this column represent a recommendation to buy or sell stocks. Rev Shark appreciates your feedback;
.