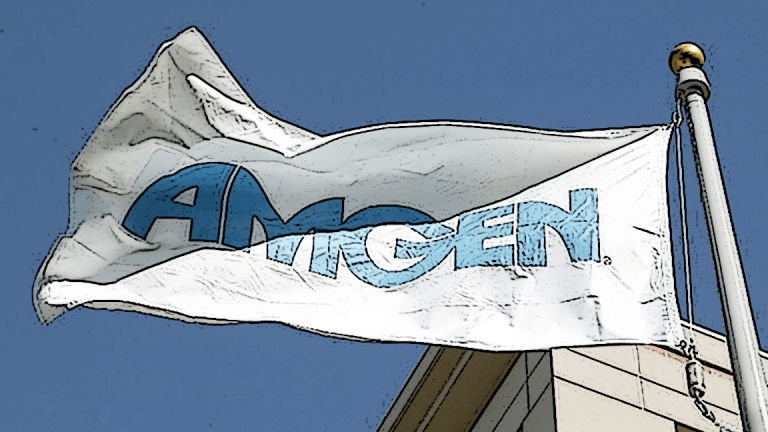 Amgen's First-Quarter Earnings Slump as Expenses Jump
Adjusted earnings of $3.56 a share in the quarter topped analysts' expectations.
Amgen  (AMGN)  posted first-quarter earnings that fell from a year earlier but the results beat analysts' expectations. 
The biotech company reported earnings per share of $3.18 for the first three months of the year vs. $3.25 for the same period in 2018. Adjusted earnings in the quarter were $3.56 a share, above forecasts of $3.48.
Revenue remained the same at $5.6 billion but expenses grew 9% to $3.1 billion from $2.8 billion. Amgen said sales of Neulasta declined 12% in the quarter to $1.021 billion, while Enbrel sales rose 4% to $1.15 billion.
Part of the increase in expenses came from increased spending on research.
"Research & Development (R&D) expenses increased 16% driven primarily by increased spending in research and early pipeline in support of our oncology programs," Amgen said in a statement.
Amgen shares fell 2.2% to $175.44 on Wednesday.
"Overall, we appreciate the beat and raise against the low bar that management set when they initiated full-year 2019 guidance last quarter, however, we prefer to see the beats come from its newer drugs (Aimovig and Repatha) over the ones with future risks (Enbrel and Neulasta)," said Jim Cramer and the Action Alerts PLUS team, which holds Amgen in its portfolio. "Combined with the uncertainty over the upcoming Enbrel patent ruling, which could either result in a relief rally should it go Amgen's way or cause an additional pullback despite the likelihood of an immediate appeal, we see little reason to upgrade our rating at the moment -especially with the healthcare sector so out of favor. Therefore, we will maintain or TWO rating but reduce our price target to $210 (roughly 15x the current 2019 consensus earnings per share estimates) to reflect a lower multiple that we base on competitive pressures in the industry."
Constable owns none of the securities listed in this story.