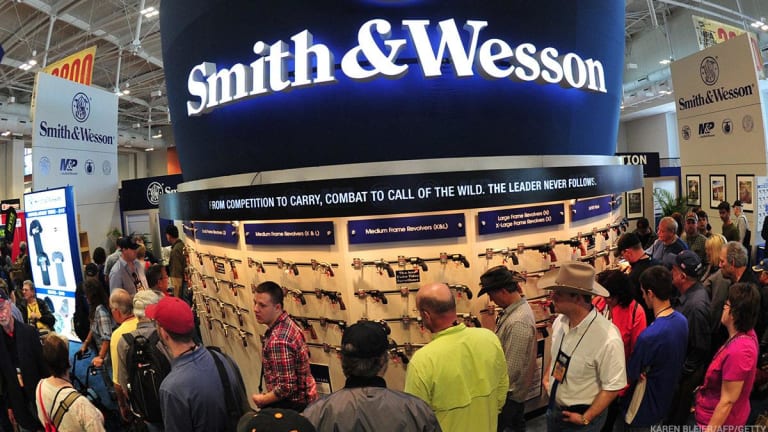 American Outdoor Brands Sinks on Tepid Fourth-Quarter Guidance
American Outdoor Brands issues a tepid outlook for the fourth quarter.
American Outdoor Brands Corp.  (AOBC) - Get Free Report  was down 11.1% to $10.11 Friday after the company reported a fiscal third-quarter earnings miss and revenue beat and issued tepid guidance for the fourth quarter.
The firearms manufacturer and owner of Smith & Wesson reported third-quarter adjusted earnings of $8.9 million, or 16 cents per share, beating Zacks consensus estimate of 12 cents, and coming in 9 cents higher than the year-ago quarter.
The company had third-quarter total sales of $162 million, slightly missing Zacks' estimate of $162.6 million. Revenue was up 2.9% to $157.4 million from the prior year's comparable quarter.
"Our third-quarter results reflect year-over-year increases in revenue and operating profit, as well as important progress on our new Logistics & Customer Services facility in Missouri," James Debney, American Outdoor Brands president and CEO, said in a statement.
Analysts polled by FactSet noted soft retail demand and lack of fear-based buying of firearms.
American Outdoor Brands maintained its fiscal 2019 outlook and provided guidance for the upcoming quarter. The company expects fiscal fourth-quarter adjusted earnings from 11 cents to 15 cents per share on revenue of $162 million to $172 million. Fourth-quarter earnings and revenue guidance was below FactSet's midpoint guidance and the company expects weaker firearm sales.
Full-year adjusted earnings are expected from 69 cents to 73 cents per share on revenue of $625 million to $635 million. Analysts surveyed by Zacks expect earnings of 72 cents on $631.6 million in revenue.