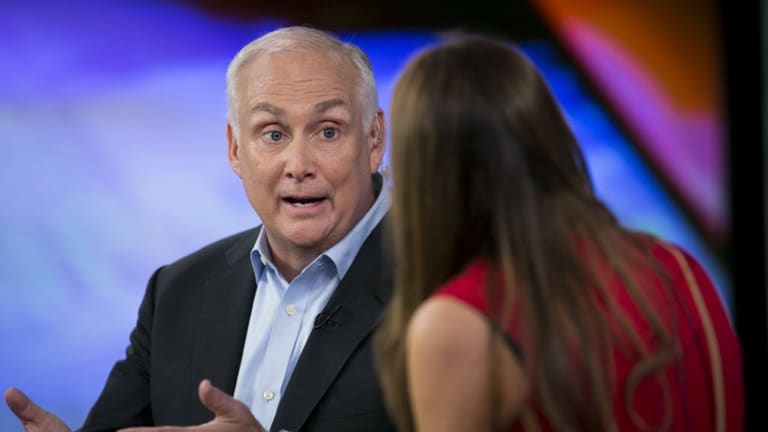 American Express President Ed Gilligan Dies Suddenly on Flight to New York
Gilligan, who was considered by many to be the heir apparent to CEO Ken Chenault, 63, become ill on a flight from Japan,
NEW YORK (TheStreet) -- American Express (AXP) President Ed Gilligan, widely considered the heir apparent to CEO Kenneth Chenault, died Friday morning on a flight to New York from Tokyo.
Gilligan, 55. had spent his entire career at the New York-based company, Chenault said in a statement. He is survived by his wife and children, and the cause of his illness was not immediately clear.
"This is deeply painful and frankly unimaginable for all of us who had the great fortune to work with Ed, and benefit from his insights, leadership and enthusiasm," Chenault said the statement. "His contributions have left an indelible imprint on practically every area of our business."
Gilligan was named president two years ago after serving as vice chairman, a role in which he led a group responsible for the company's relationships with merchants and corporations through the financial crisis and its aftermath. The promotion recognized Gilligan's role in guiding "our largest business group out of the recession and gaining ground on the competition during a period of profound change in the payments industry," Chenault said at the time. 
The 63-year-old CEO has asked Gilligan's colleagues and associates to report directly to him in the interim period, according to the statement. 
A graduate of New York University, Gilligan joined American Express as an intern in 1980 and grew along with the company. The charge-card giant's earnings more than quadrupled during his career, rising from $1.1 billion in 1986 to $5.6 billion in 2014. 
His tenure included several significant moments: the decision in the mid-1980s to refocus on core businesses and gradually sell off others -- including what became Lehman Brothers investment bank; an early 1990s protest by Boston merchants against the company's rates; and the 9/11 terrorist attacks. The company's headquarters, just across West Street from the World Trade Center and home to 4,000 employees, was badly damaged when the twin towers were destroyed, and 11 of its workers were killed.
"Ed has been there for 35 years and he is going to be missed," said Robert Napoli, an analyst with William Blair. Despite the blow to the company, American Express should be able to manage through the interim period, Napoli said. "They have a very deep bench."
American Express, which fell 37 cents to $79.72 on Friday, has dropped 13% in the past six months.