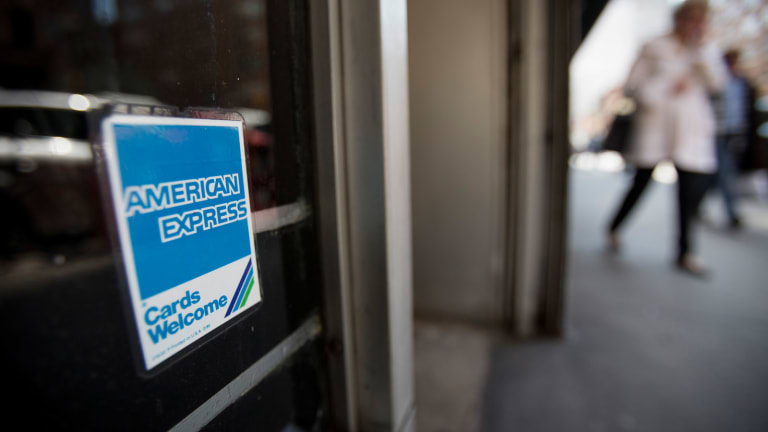 Don't Put American Express Stock on Your Credit Card
The chart of American Express looks like everything went wrong for it. Is the worst over for the credit card giant?
First quarterly loss since 1992. 1992? The year hair metal was replaced by grunge? The year the World Series left the U.S.? Yup, but there is a caveat. The firm took a $2.6 billion fourth-quarter charge related to the tax bill. Exclude that charge, and the firm reports $1.58, which beats by four cents. Include the charge, and American Express (AXP) - Get Report sports a loss of $1.22 billion, or $-1.41 a share. Ouch!
Revenue was actually fine, growing 10.2% year over year. U.S. consumer services grew 44%. International consumer and network services more than doubled. The firm suffered an effective tax rate of 31%, which it expects to drop down to 22% in 2018. So, a lot of firms are taking tax-related charges without seeing significant damage to their stock prices. What's different here?
Though the firm has seemingly recovered well from the loss of the deal that it had with Costco (COST) - Get Report , this tax charge is impactful enough that American Express last night announced that it will suspend its corporate repurchase program for the first half of 2018. The firm made sure that you know that the quarterly dividend will not be touched, but it has to repair itself after this hit. One big buyer removed from price discovery in the secondary market. Get it?
Am I afraid of American Express? No. That said, I want to see where the big kids leave the name before I jump on board. If I jump on board. The dividend pays 1.4% based on last night's close. I'm glad that the firm is leaving this alone, but that is just not enough by itself to pull me in.
You can see that everything went the wrong way for this stock, technically, in recent trade. Relative Strength, Money Flow, the moving average convergence divergence (MACD). Not one of these indicators invites my hard-earned money right here. I want you to look at the Pitchfork. See that break of the central trend line yesterday? That's potentially significant.
Where can we buy this? If the lower trendline makes a stand, you're looking at something between $96 and $97. Beware, however, of a run for the 31.8% retracement level. It would be a shame to give up five or six bucks upon entry because one became too aggressive on a tough day. Do what you think. I will likely let this one simmer.
(This is an excerpt from Stephen "Sarge" Guilfoyle's Morning Recon, which now appears exclusively on Real Money, our premium site for active traders. Click here for a free 14-day trial and receive Morning Recon every day, along with exclusive columns from Jim Cramer, James "RevShark" DePorre, technical analyst Bruce Kamich and more.)
More of What's Trending on TheStreet:
At the time of publication, Stephen Guilfoyle was long ORCL, MSFT, SLB, although positions may change at any time.