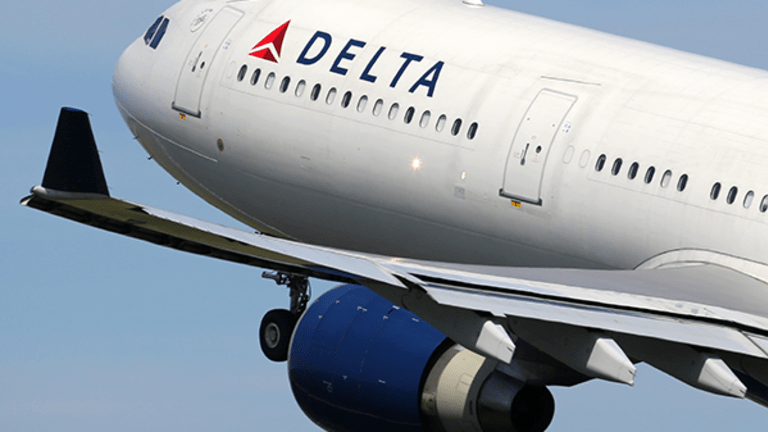 American, Delta, and United Are All Being Boosted by Something Surprising
Big Three U.S. carriers are all looking for fresh revenues.
Big Three U.S. carriers are all looking for fresh revenues.
The major airlines increasingly fly into one another's hubs, reflecting both intense competition and an ongoing industry-wide effort to replace smaller aircraft with bigger ones.
"If you are going to go fishing, you fish where the big ones are," said aviation consultant Bob Mann, explaining why carriers would fly to competitors' hubs --- which, he said, generally "represent the biggest pools of revenue you can fly to or from."
This chart from airline-industry trade association Airlines For America shows capacity growth by the four largest U.S. carriers -- American Airlines Group Inc. (AAL) - Get Report , Delta Air Lines Inc.  (DAL) - Get Report  , Southwest Airlines Co. (LUV) - Get Report and United Continental Holdings Inc.  (UAL) - Get Report  -- into competitor's hubs:
As the above chart shows, American grew daily available seat miles by 86% in Salt Lake City between 2010 and 2017, as well as by 35% in Atlanta and 33% in Minneapolis. Delta expanded ASMs by 118% in Seattle, 41% in Dallas and 35% in Charlotte. Southwest grew them 216% in New York, 201% in Charlotte and 143% in Dallas. And United boosted available seat miles by 82% in Atlanta, 51% in Miami and 49% in Salt Lake City. All of those cities have traditionally been rival carriers' hubs.
With a few exceptions, these buildups also reflect another industry trend -- the move by airlines to increasingly replace smaller aircraft with bigger aircraft. Known as "upgauging," this builds capacity. According to Airlines for America, 55% of domestic departures so far in 2017 have involved aircraft with 100 seats or more, up from just 48% in 2010.
Of course, some ASMs grew for reasons other than upgauging. For example, Delta built a new trans-Pacific hub in Seattle, while Southwest gained access to New York's LaGuardia Airport in 2009 and New Jersey's Newark Liberty International Airport in 2011 through settlements following mergers.
Gary Cohn's Exit From Team Trump Would Be a Major Blow to Wall Street
Southwest also began flying to Charlotte, N.C., in 2013 following its merger with AirTran. And United under company President Scott Kirby has sought to restore domestic service that it previously cut back in a frenzy to satisfy Wall Street's capacity concerns.
Airlines for America economist John Heimlich said in an e-mail that "the intrinsic nature of the airline business is to battle fiercely for customers and hence revenue. That revenue tends to be located in areas with the densest populations and largest businesses. It is no secret that airlines tend to choose those markets as their hub locations. So, that's where the fiercest battles transpire."
Heimlich also cited United President Kirby's buildup of his airline's domestic route system as an important factor in this trend. Kirby has said in particular that United needed to bolster its Newark-to-Atlanta mainline service (which it has since done) rather than just hand a valuable market over to Delta.
"As some airline executives have recently noted, much of the desirable traffic occurs between their own hubs and the hubs of their competitors," Heimlich said. "Consequently, there is a natural desire to deploy capacity on those routes. A lot of the upgauging we are seeing is occurring on such routes, often in the form of mainline aircraft replacing regional aircraft."
American spokesman Josh Freed said that the combined American/US Airways capacity has grown more than 20% since 2017, so growth in competitors' hubs shouldn't be surprising.
Delta spokesman Morgan Durant said his airline's growth has been driven by the creation of a LaGuardia hub and an upgauging strategy via Boeing 717 acquisitions and the wind-down of 50-seat Bombardier Canadiar Regional Jets in recent years. For example, Durant said that in Charlotte, the only new Delta service has been the addition of a Charlotte-LaGuardia route in 2011. All the rest of the growth "is larger aircraft," he said.
Bob Mann, the aviation consultant, said that while the "Big Three" airlines often retaliate against low-fare carriers who enter their hubs (they can easily do so by reducing fares and altering schedules), they don't retaliate when another major carrier does the same.
"They realize that it is not a shot at their hub, but rather the reality of the network business," he said. "When United decided to go back to more frequencies in Atlanta, you didn't see Delta react as if it were [low-fare carrier] Spirit. They saw United doing it as a rational practice. Reverting to rational practice doesn't worry anybody."
More of What's Trending on TheStreet:
This article is commentary by an independent contributor. At the time of publication, the author held no positions in the stocks mentioned.