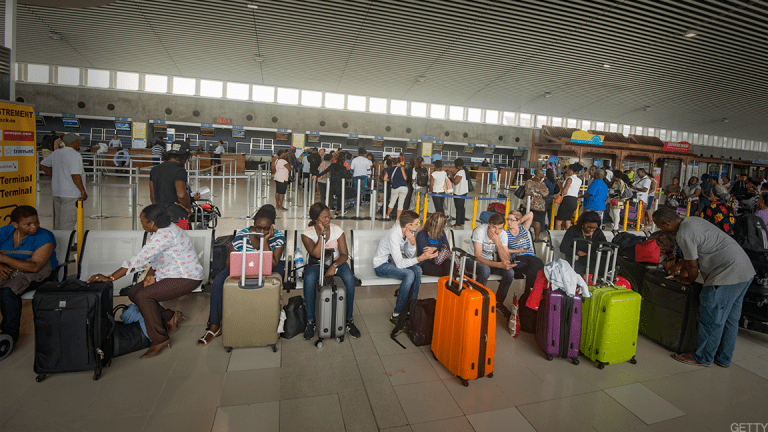 American Airlines Rolled Out New Technology for Rebooking During Hurricane Irma
American Airlines was testing 'dynamic rebooking' when Irma struck Miami and the Caribbean so the carrier moved up the rollout date.
For the airline industry, Hurricane Irma brought a handful of cases in which last-minute ticket purchases came at a high price and a far larger number of cases where airlines capped fares and flew rescue flights into stricken areas.
The incidents were all widely reported. But another intriguing development, one not publicized in any way, represented a unique airline response beyond the rescue flights and fare caps.
Before Irma showed up, American Airlines Group Inc. (AAL) - Get American Airlines Group, Inc. Report had been testing a technology refinement, referred to as "dynamic rebooking," that rebooks alternate flights for passengers whose flights have been cancelled.
"It was still in test, but [because of Irma] we implemented," said Julie Rath, American's managing director of customer experience/customer service recovery. "We said, 'Let's get it out within four hours.'''
American President Robert Isom said, "Dynamic recovery is a tool we have been interested in for years. It will be fantastic for our customers as well as a benefit for our frontline team [because] it frees them up" to work on more complex problems than helping a displaced passenger to book the next available flight.
"It's one of the biggest things we can do for our frontline teams," Isom said in an interview. "I don't ever want to wish for a winter storm, but [with dynamic rebooking], let it snow."
Isom and Rath were interviewed Thursday, Sept. 28, during American's media and investor day in Dallas.
On Sept. 6, Irma made landfall in Barbuda, an island in the Eastern Caribbean. On Sept. 10, Irma struck Miami. On Sept. 12, American introduced dynamic rebooking at 43 destinations impacted by Irma.
American has a hub in Miami and is the largest carrier in the Caribbean.
Dynamic rebooking is available on the American app, airport kiosks and aa.com. A passenger can accept or reject the rebooking.
On July 19, American began testing dynamic rebooking at six smaller airports. On Aug. 8, the Charlotte hub was added. The full rollout had been scheduled for mid-September and took place on Sept. 19.
American spokesman Ross Feinstein said that nearly 130,000 passengers have used the technology. That includes "a large number" who used it in response to cancellations caused by Irma, he said.
Meanwhile, during a brief interview, American CEO Doug Parker commented on President Trump's tweet on Sept. 22 praising American's hurricane response.
Trump tweeted: "Thank you to Doug Parker and American Airlines for all of the help you have given to the U.S. with Hurricane flights. Fantastic job!"
Said Parker, "I love that our team was complimented. They're doing a phenomenal job. Nice of him to note."
More of What's Trending on TheStreet:
This article is commentary by an independent contributor. At the time of publication, the author held no positions in the stocks mentioned.