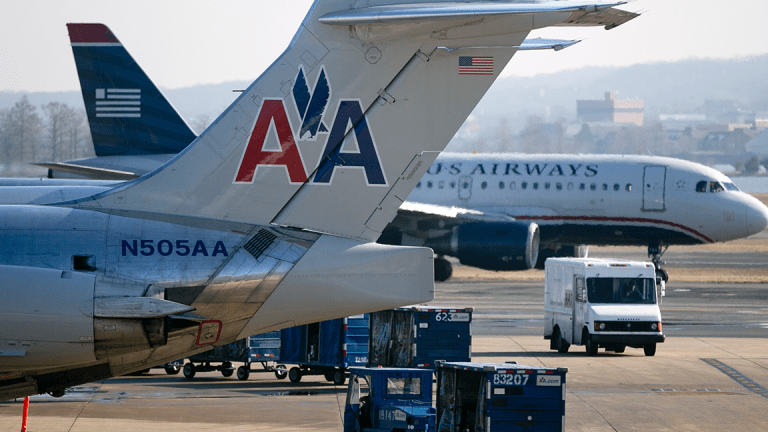 American Airlines Reduces First-Quarter Guidance for Unit Revenue
American Airlines cut its first-quarter revenue per available seat mile forecast due to the Boeing MAX grounding and other issues.
American Airlines (AAL) - Get Report   slipped 2.2% to $33.13 Tuesday after the airline said it was reducing its first-quarter revenue per available seat mile, or TRASM, guidance due to the government shutdown, the grounding of the troubled Boeing (BA) - Get Report MAX aircraft, and flight cancellations related to another Boeing aircraft.
The airline said in a filing with the Securities and Exchange Commission that it now expects TRASM to be flat to up 1% year over year, down from its previous guidance of flat to up 2%.
American last month announced the removal of 14 Boeing 737-800 aircraft from service for remediation work following the installation of new aircraft interiors, resulting in the cancellation of about 940 flights in the first quarter. Work on three of the aircraft was completed in March and the other aircraft will be returned to service throughout April with all aircraft expected to be back in service by the end of the month, the filing said.
On March 13, the Federal Aviation Administration grounded all U.S.-registered Boeing 737 MAX aircraft. The American Airlines fleet currently includes 24 Boeing MAX 8 aircraft with an additional 76 aircraft on order from Boeing.
Boeing's flagship MAX aircraft has been involved in two fatal air crashes and has been grounded by regulators around the world since the March 10 Ethiopian Airlines disaster. On Monday, Bank of America Merrill Lynch cut its rating on the aerospace giant to neutral from buy.
"The company is complying with the FAA directive and as a result cancelled approximately 1,200 flights in the first quarter," the filing from American said.
American announced additional flight cancellations through June 5, assuming that its 737 MAX 8 aircraft will not be available through that date. The costs of this disruption cannot be forecast at this time, the filing said, and will be dependent upon a number of factors, including the period of time the aircraft are unavailable and the circumstances of any reintroduction of the aircraft to service.
Delta Air Lines (DAL) - Get Report  , meanwhile, will report Wednesday its first-quarter earnings, the first earnings report this period from a major U.S. carrier.