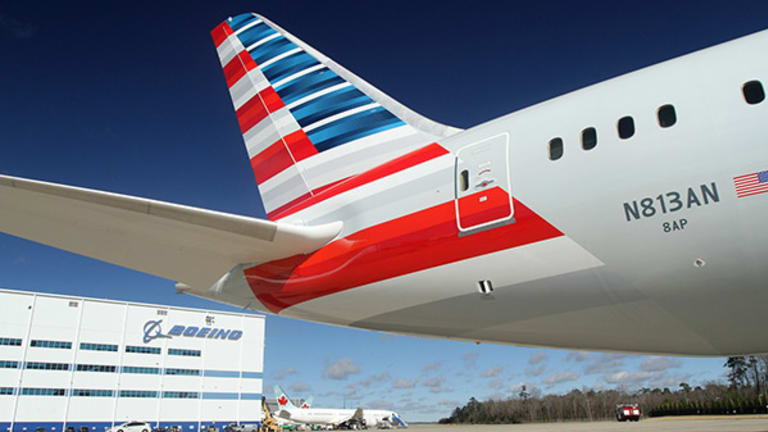 The Outlook for American Airlines Is Fuzzy and Analysts Don't Know What to Think
American shares are up 1% this year. Here's why that's pretty good for an airline.
This story has been updated with 10 a.m. share price.
Bad news first: American Airlines Group Inc. (AAL) shares are up just 1% this year, while the S&P 500 has gained 12%.
Still, American is the second-best performing airline stock. Shares closed Friday at $47.06. Only Southwest Airlines Co. (LUV)  , up 10%, is doing better. Shares in the other six major airlines are all down. 
On Monday morning, American shares traded at $47.61, up 1.20%.
Analysts aren't quite sure what to make of it. They are split on the outlook for American, which has scheduled an investor conference and media day for Thursday, Sept. 28.
Last Friday, Barclays analyst Brandon Oglenski made the carrier his top pick among airlines, upgrading shares to overweight from equal weight and raising his price target to $65 from $55.
That was the day after Stifel analyst Joseph DeNardi lowered third- and fourth-quarter unit revenue estimates.
Airline shares were rolling along in July, and American was no exception. The shares hit a 52-week-high of $54.48 in mid-July.
Then came the infamous Spirit Airlines Inc. (SAVE) earnings call on July 27, when the carrier said it had felt an impact from falling ticket prices, particularly in markets of United Continental Holdings Inc. (UAL) , but also generally.
Airline shares hit the skids. Since July 7, when it reached its all-time high, the Standard & Poor's airline index has declined 16%.
It's hard to define exactly how much American has been dragged into the fare-matching misadventure enabled by the Spirit-United battle.
Last week, American CEO Doug Parker, speaking at a conference, told reporters that American will continue to match discount fares from the ultra-low-cost carriers.
"We price our product to match the competition," Parker told reporters at a conference in Fort Worth, Texas, according to Bloomberg. "We always have, we always will."
Oglenski's view is that American "appears to have all the attributes of a value compounding opportunity for equity investors.
He listed the positives as "a focused and properly incentivized management team, a large relative margin opportunity and a clear strategy to achieve improvement.
"Employee engagement, product segmentation and lower capital spending outlook mark a bright future," he said, and American trades at less than nine times earnings.
However, he said, "The challenge with investing in American (or any airline stock) is the lack of market conviction that the industry has truly become 'investable,' distinct from prior decades of restructuring and irrational competitive behavior."
Oglenski's upgrade followed a similar move by Raymond James analyst Savanthi Syth, who upgraded American to outperform on Wednesday, Sept. 20, with a price target of $58.
"American's revenue opportunities are underappreciated and will continue to drive unit revenue (RASM) outperformance relative to its large airline peers and United in particular," Syth wrote.
She said international premium economy has been added to just 10 aircraft, but will be on 77 aircraft by the first quarter of 2018, while basic economy will be fully rolled out in domestic markets by year-end 2017.
However, Syth wrote, "We stop short of becoming even more constructive on AAL due to greater earnings volatility as a result of its more levered balance sheet." American likes to borrow money to buy aircraft, citing the availability of low interest rates, while other carriers are more likely to sell off aircraft debt.
Other analysts see it differently.
DeNardi wrote that "while American lowered its 3Q RASM guidance [on date] from 0.4%-2.5% to 0%-1%, due entirely to the effects of [Hurricane] Irma, we suspect that more aggressive discounting domestically had pushed American's guidance to the low end of its initial range.
He lowered RASM expectations 0.5% in the third quarter and 1.4% in the fourth quarter. He lowered his target price to $90. DeNardi's high valuation of American's loyalty problem accounts for $75 a share of valuation.
Meanwhile, Morgan Stanley analyst Rajeev Lawani questioned the assumption that American's investor day will benefit share performance. He rates American equal weight and has a $47 price target.
"We expect a more neutral reaction as management focuses more on long-term concerns," Lawani wrote. "With uncertainty surrounding the U.S. airlines given ongoing pricing concerns, an event that focuses on the longer-term opportunity is likely to be met with a neutral (and less market-moving) response."
More of What's Trending on TheStreet:
This article is commentary by an independent contributor. At the time of publication, the author held no positions in the stocks mentioned.