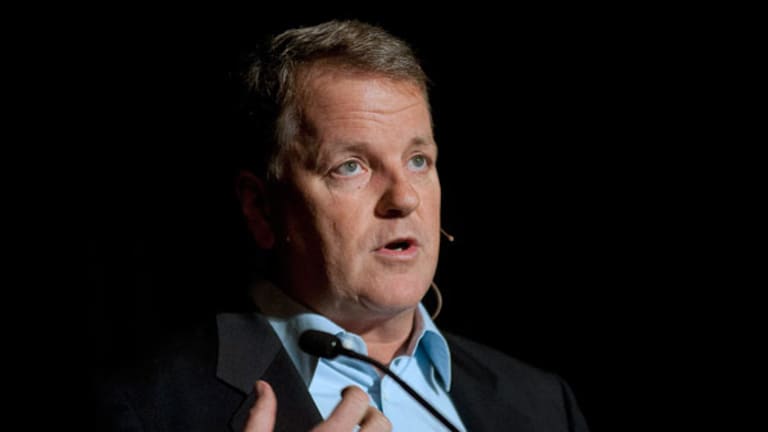 American Airlines CEO: Shares Will Reach $60 and We Will Never Again Lose Money
American Airlines CEO Doug Parker has bet a bottle of wine that shares will reach $60 by November 2018. He also said the airline will never again have a losing year.
Story was updated with Monday morning share price.
The CEO of American Airlines Group Inc. (AAL) - Get American Airlines Group, Inc. Report insisted that shares of his company will reach $60 by November 2018. He is so certain that he has bet a bottle of wine on it.
A confident Doug Parker provided details of the bet last week in Dallas at American's investor and media day, where he also declared that the carrier will never again have a losing year.
The bet, he said, is with Sam Buttrick, airline analyst for UBS O'Connor, a hedge fund within UBS Asset Management. Parker and Buttrick are long-time acquaintances --Parker was assistant treasurer for Northwest Airlines in 1994 when he met Buttrick, then with investment firm Kidder Peabody.
The bet, made last October with American shares trading in the %40s, concerns whether shares will reach %60 by Buttrick's 60th birthday on Nov. 25, 2018.
American shares closed Friday at $47.49, and are up about 2% year to date, the second-best performance among the eight major airlines. Southwest Airlines Co. (LUV) - Get Southwest Airlines Co. Report is the only other carrier in positive territory, up 12% year to date.
In morning trading on Monday, shares were up .02%.
During Parker's morning presentation on Thursday, Sept. 28, shares gained nearly 4%. Then they fell back, closing the day up 1.5%. One analyst suggested that short-sellers were covering their positions during the meeting.
Parker made a case that he has made repeatedly: The stock market does not yet realize that the airline industry has changed, moving far past its historic boom and bust cycles. Consolidation and the advent of ancillary fees are key alterations, abetted in recent years by lower fuel prices.
In the 35 years from 1978 through 2013, American and US Airways combined produced profits of $1 billion, Parker said. From 2014, the first year of the merger, the combined carriers produced profits of $19 billion.
Displaying charts of the 35 years and the following three, Parker said they reflect vastly different realities. The first one "might as well be the 1940s as far as we're concerned -- they're that irrelevant," he said. It reflects a time when "we burnt the future and didn't invest."
As part of that discussion, Parker made a widely reported comment, perhaps the most striking one of the event: "I don't think we're ever losing money again -- those days are gone."
"I know I sound like some evangelist talking about this stuff," Parker acknowledged.
He said American's success will be based on four efforts: Build a world-class product; drive  efficiencies; think forward/lead forward; and make culture a competitive advantage.
The fourth effort, improving the culture, is most important, he said. "This is fixed with leadership," he said. "This is the one where we need to spend the most effort."
More of What's Trending on TheStreet:
This article is commentary by an independent contributor. At the time of publication, the author held no positions in the stocks mentioned.