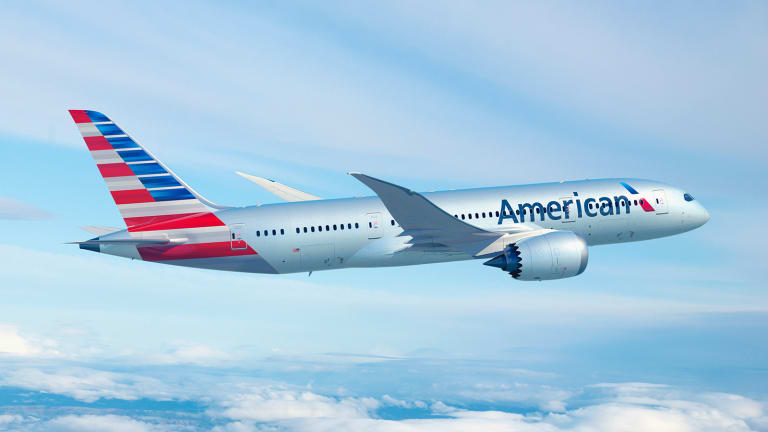 American Airlines' Pilots, Falling Behind Peers, Will Ask to Reopen Contract Talks
American Airlines' pilots union says it wants to reopen contract talks in 2017 because members are falling behind peers at five other airlines. The airline is reluctant to do so.
Corrects the APA president's name in the fourth paragraph.
American Airlines (AAL) - Get American Airlines Group, Inc. Report pilots are falling behind their peers in pay rates, and their union president said Thursday that he will ask that talks on contract improvements begin in 2017.
In 2015, the Allied Pilots Association signed a five-year contract that would become amendable in 2020. Opening talks had been scheduled for 2019.
But new contracts or tentative contract deals at other passenger and cargo carriers mean American pilots have fallen to the sixth-highest-paid pilot group.
"No. 6 is someplace I don't care to be," APA President Dan Carey said on a video presentation email to pilots on Thursday.
"It's unacceptable to stay at No. 6 for the duration of the bankruptcy contract where we are today," Carey said. "We want to make some changes in 2017. We're not going to sit here and be No. 6 until 2020."
The airline's view is that in 2015 the two parties signed a contract that provided substantial pay raises, and that the contract should remain in effect.
"Our philosophy is to provide industry-leading pay when contracts are signed," said American spokesman Ron Defeo. "When we reached a [joint collective bargaining agreement] in January 2015, our pilots saw an average pay increase of 53%" above 2013 rates.
Many pilots from US Airways, which merged with American in 2005, received raises that were above the 53% average because they worked under a bankruptcy court contract since 2005.
"When other airline pilot groups negotiate increases in the years that follow our pilot contract ratification, it's only good news for our team moving forward," Defeo said. "When contracts become amendable and bargaining begins, those types of pay increases will follow."
Last month, Delta Air Lines (DAL) - Get Delta Air Lines, Inc. Report and its pilots reached a preliminary deal that would provide 30% raises and improved benefits. United pilots have a "me too" contract clause that would bring them to Delta's level.
Neither the Delta deal nor a deal between Southwest and its pilots, reached in August and calling for a 29% pay raise, has been ratified.
APA spokesman Dennis Tajer said American pilots have also fallen behind pilots at UPS and FedEx.
Under the tentative Delta contract, Tajer said, a Delta Boeing 777 captain would make $101,000 more annually than an American 777 captain, accounting for hourly salary, profit sharing and pension contributions. A Delta Boeing 737 captain would make $82,000 more than an American 737 captain, and a Delta Boeing 737 first officer would make $56,000 more than an American 737 first officer.
Delta pilots will get 18% pay raises effectively retroactively to Jan. 1, as well as three additional raises through Jan. 1, 2019. The cumulative impact of the four-step increases will be 30.2% pay raise, according to a Sept. 30 notice to Delta pilots.
Not only will Delta and United pilots soon have higher wages, but also the two carriers offer more-generous profit-sharing plans.
American CEO Doug Parker has consistently opposed the concept of profit sharing, saying employees should not have to depend on fluctuating airline profits for their income. But during a period of record airline industry profits, Parker's position has been unpopular.
In March, American reversed course, saying that even though its unions had not negotiated profit-sharing plans, it would act in the interest of better employee relations to establish one, putting "put 5% of every pre-tax dollar we earn into a profit-sharing pool" to be shared by about 118,000 American employees, not including upper management.
APA approved the profit-sharing plan last week, even though "the prevailing sentiment among our board members is that, in its current form, the profit-sharing plan is woefully inadequate," the union said in a letter to members.
"The tentative agreement now being considered by Delta pilots includes [the Delta profit-sharing plan] plus significant pay-rate increases, which means the compensation discrepancy between our two pilot groups may well continue to grow each year," APA said.
According to APA figures, if American had used its proposed formula to offer profit-sharing based on 2015 results, Delta pilots would have received 21% of wages, United pilots would have received 13% of wages and American pilots would have received 4% of wages.
This article is commentary by an independent contributor. At the time of publication, the author held no positions in the stocks mentioned.