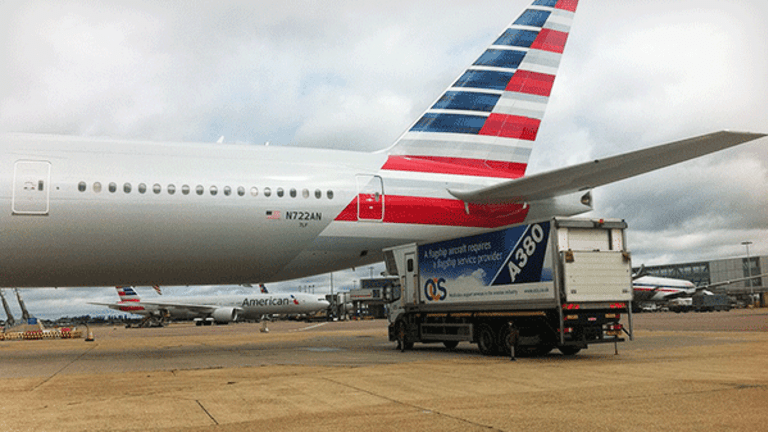 American Air Pilot Leaders Vote No Confidence in Management, Sources Say
The 22-member board of American Airlines pilot union unanimously votes 'no confidence' in management as flight attendants stage demonstrations four years after a Valentine's Day merger with US Airways.
Four years to the day after the announcement of a merger that created the world's largest airline, it's not a happy Valentine's Day for labor relations at  American Airlines (AAL) - Get American Airlines Group, Inc. Report .
Late Monday, the 22-member board of directors of the Allied Pilots Association, which represents American's 10,000 pilots, voted unanimously for a resolution that expresses no confidence in management, pilot sources said.
The vote came as the Association of Professional Flight Attendants, which represents 25,000 American flight attendants, plans demonstrations on Tuesday at the airline's Fort Worth, Texas, headquarters as well as at hub airports in Charlotte, Los Angeles and Miami.
Both work groups have a long list of problems that have surfaced since the 2013 merger with US Airways. That $11 billion deal was announced on Feb. 14, 2013.
"American's flight attendants were instrumental in making this merger possible and it's high time that the new management team starts making good on its pre-merger promise to end the toxic labor relations and run a world class airline," said APFA President Bob Ross in a prepared statement.
Additionally, APFA said, "Unions were promised a relatively quick integration and a share in the synergies created by the merger. Neither has happened, resulting in a substandard product for customers and a continued source of tension for front-line employees."
The union cited "fatigue-inducing trips generated by a computerized optimizer that ignores the 'human factor,'" recurring software problems with the airline's bidding and scheduling systems and complaints that some flight attendants suffer allergic reactions to new uniforms rolled out last year.
A unanimous vote by APA's 22-member board is a rare event.
Pilots recently have expressed concerns regarding diminished operational performance relative to Delta (DAL) - Get Delta Air Lines, Inc. Report and United, a revenue disparity with Delta and a series of disagreements on contract interpretation.
Both pilots and flight attendants have both expressed unhappiness that at a time when the airline industry is producing near-record profits, other airlines pay more in profit-sharing than American does.
Last month, American reported $5.1 billion in full-year 2016 earnings, the second highest annual total in its history. Additionally, the carrier reported a unit revenue gain of 1.3%, the first year-over-year increase for a major airline in two years.
However, American's costs, primarily labor costs, are rising quickly. In the fourth quarter, American's mainline cost per available seat mile (CASM) excluding fuel and special items rose by an eye-popping 10.3%. For the full-year 2016, mainline CASM rose 6.1%.
"Our unit cost increased more than we'd like," CEO Doug Parker said on the carrier's fourth-quarter earnings call in January. "That's certainly more than we'd like to see on a run-rate basis. But that is almost entirely due to increases in our employee expenses.
"But look, our people deserve these compensation increases and more," Parker said. "They are doing an incredible job of taking care of our customers and managing through this integration."
In the current quarter, consolidated CASM excluding fuel and items is expected to rise 9%.
This article is commentary by an independent contributor. At the time of publication, the author held no positions in the stocks mentioned.