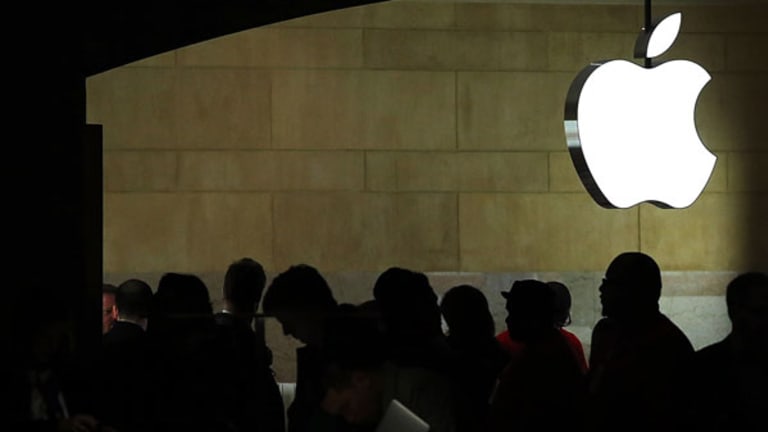 America Was Unprepared for a Drop in Apple Earnings
Do-it-yourself investors were too optimistic, it turns out.
NEW YORK (
) -- When it comes to forecasting
Apple's
(AAPL) - Get Apple Inc. Report
, the average investor sitting at home incorrectly bet that the tech titan would continue to increase earnings.
Heading into an all-important fiscal first-quarter earnings release, estimates submitted by non-professional investors expected Apple's earnings to rise from a year earlier. That optimism conflicted with Wall Street's consensus estimates of the first profit drop in roughly a decade.
The mismatch between expectations and Apple's actual earnings -- and an over 7% decline in the company's stock below $480 a share -- might be an indication the average investor managing a
TD Ameritrade
(AMTD) - Get TD Ameritrade Holding Corporation Report
or
E-Trade
(ETFC) - Get E*TRADE Financial Corporation Report
account might not be prepared for earnings to fall at the Cupertino, Calif-based company, after years of enviable growth.
Still, "homebrew" stock analysts once again appear to be stiff competition to the "suits" on Wall Street in forecasting Apple's earnings -- the numbers weren't that far off, all things considered.
In the fiscal first quarter, Apple reported earnings per share (EPS) of $13.81 on revenue of $54.5 billion, indicating a mixed report that missed on the top line but beat expectations on profits. According to analyst forecasts compiled by
Thomson Reuters
, Apple was expected to earn $13.47 a share on $54.7 billion in revenue.
The headline-grabbing figure from the earnings report is the $13.81 in EPS Apple earned.
The company's quarterly net income of $13.1 billion was flat from year-ago levels.
Those figures and a fiscal second-quarter earnings guidance of continued margin and growth pressure indicates ordinary investors may be unprepared for a turbulent 2013 for Apple, after years in which the company was the darling of the stock-investing public.
According to hundreds of DIY forecasts submitted to
, investors expected Apple to post a profit of $14.19 a share, a 2%-plus gain on record revenue of $55.3 billion for the quarter. At
, independent investors pegged Apple's earnings at $14 a share, a 13-cent advance on the launch of the iPhone 5 and a fresh set of iPad and MacBook offerings.
Only
forecasts, which polled nine independent investors, predicted an earnings decline for Apple, albeit less than Wall Street estimates. WhisperNumber forecasts put Apple's earnings at $13.68 a share, about a 1% decline from 2012 earnings per share of $13.87.
Still, ordinary investors deserve credit. The average EPS forecast of $13.96 by Estimize, EarningsWhisper and WhisperNumber came closer to Apple's earnings than the $13.47 average estimate on Wall Street.
It isn't the first time Wall Street has taken a back seat to Main Street when it comes to forecasting Apple's earnings.
At this time last year, as Apple was rolling out its iPhone 4S and iPad product lines, estimates submitted to Estimize came closer to the company's earnings than Wall Street's consensus.
But that was when the good times were rolling at Apple, and its shares were marching toward $700.
In the first quarter, in spite of record quarterly iPhone and iPad sales of 47.8 million and 22.9 billion, respectively, gross margins shrank to 38.6% from over 44% a year earlier.
Fiscal second-quarter guidance indicates 2013 may be a challenging year for Apple. Apple is forecasting between $41 billion and $43 billion in revenue and gross margins between 37.55% and 38.5%, indicating a slowdown in growth and pressure on profit margins.
For more on Apple's shares, see why investor amnesia might make the company an
obvious 2013 value
.
Follow @agara2004
-- Written by Antoine Gara in New York.